This vegan stuffed butternut squash makes an eye-catching vegan centerpiece for the holiday season. Despite its impressive appearance, it's beginner-friendly, so don't feel intimidated if you're new to cooking. To really bring out those flavors, the squash is seasoned with poultry seasoning and served with a vibrant parsley chimichurri that everyone will love.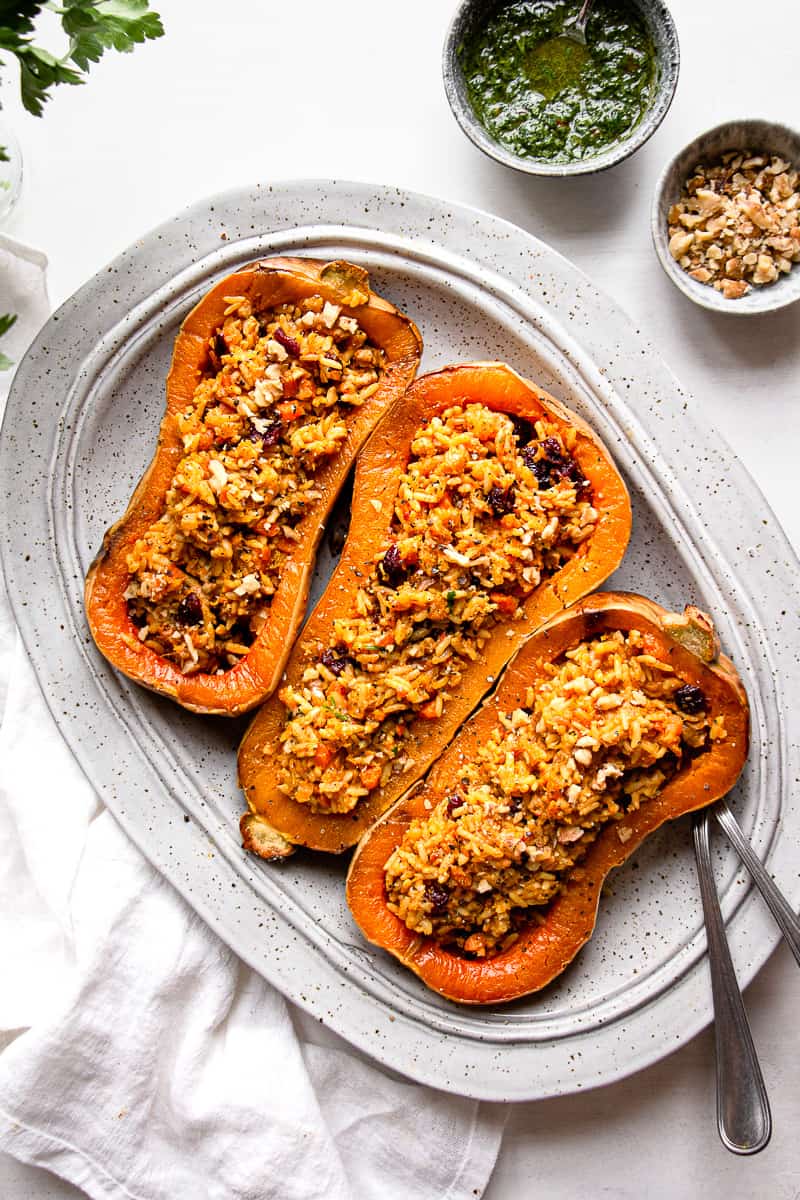 This vegan butternut squash recipe is done in 2 main steps: 1) roasting the butternut, and 2) making the stuffing. To help you make this recipe perfectly the first time around, you'll find detailed instructions with step-by-step pictures. So turn on your favorite fall/winter playlist and let's get started!
Jump to:
Why you'll love this recipe
This holiday recipe uses very simple ingredients that you can find at ANY grocery store.
It's a hearty meal that makes a great main course for your vegan Thanksgiving dinner or Christmas menu. Alternatively, you can also serve it as a side dish with my delicious vegan Christmas nut roast.
You can make it ahead of time and store the cooked squash and the rice stuffing in separate containers in the refrigerator for up to 2 days before serving.
It's allergen-friendly: it's gluten-free, dairy-free, and can easily be made nut-free (see ingredients and substitutions below).
It reheats beautifully and makes great leftovers.
Key ingredients and substitutions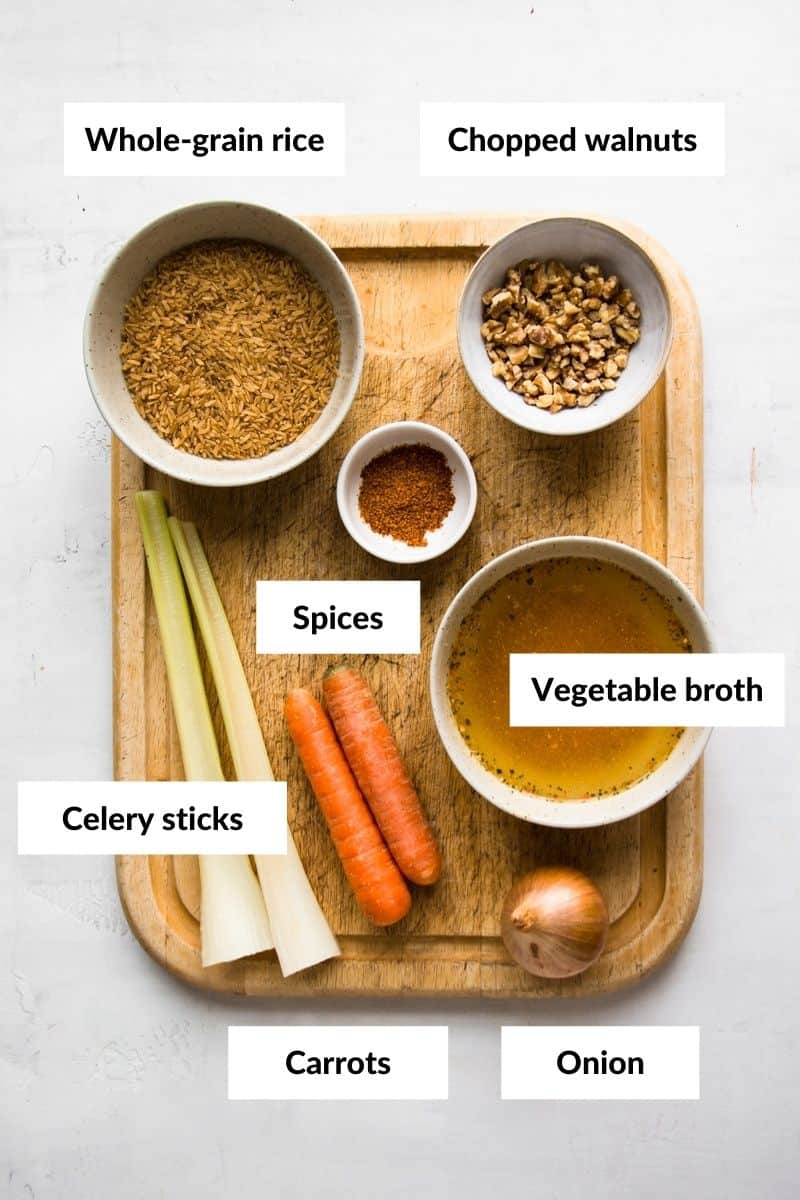 Butternut squash: I like to use a medium-sized butternut squash that can hold quite a bit of stuffing. Plus, medium squashes are mostly completely cooked in less than 1 hour.
Whole-grain brown rice: It adds texture to the vegan stuffing. You can substitute it with white rice or a wild rice blend if you prefer. Adjust the cooking time accordingly.
Vegetable broth: It's my liquid of choice to cook the rice and make the filling even more flavorful. You can use jarred or boxed vegetable stock or bouillon powder.
Veggies: Onions, carrots, and celery make the base of the stuffing.
Walnuts: They add some crunch to the filling. You can replace them with pumpkin seeds or sunflower seeds to make it nut-free.
Dried cranberries: Add a sweet touch to the filling.
Seasoning: I chose poultry seasoning to season the rice. It really brings out those Thanksgiving turkey flavors.
Elo's tips
Start by roasting the squash as this takes the longest. While the butternut squash is roasting, prepare the chimichurri first and then make the rice filling. You want to end with the stuffing because you'll add the butternut squash flesh to the pan once you scooped it out of the roasted squash.
Add brown lentils for some extra protein. Drain and rinse a can of lentils and add it to the cooked rice at the same time as the butternut squash flesh.
How to roast butternut squash
STEP 1: Cut the whole squash lengthwise in half by inserting your knife at the tip and pushing it down towards the base.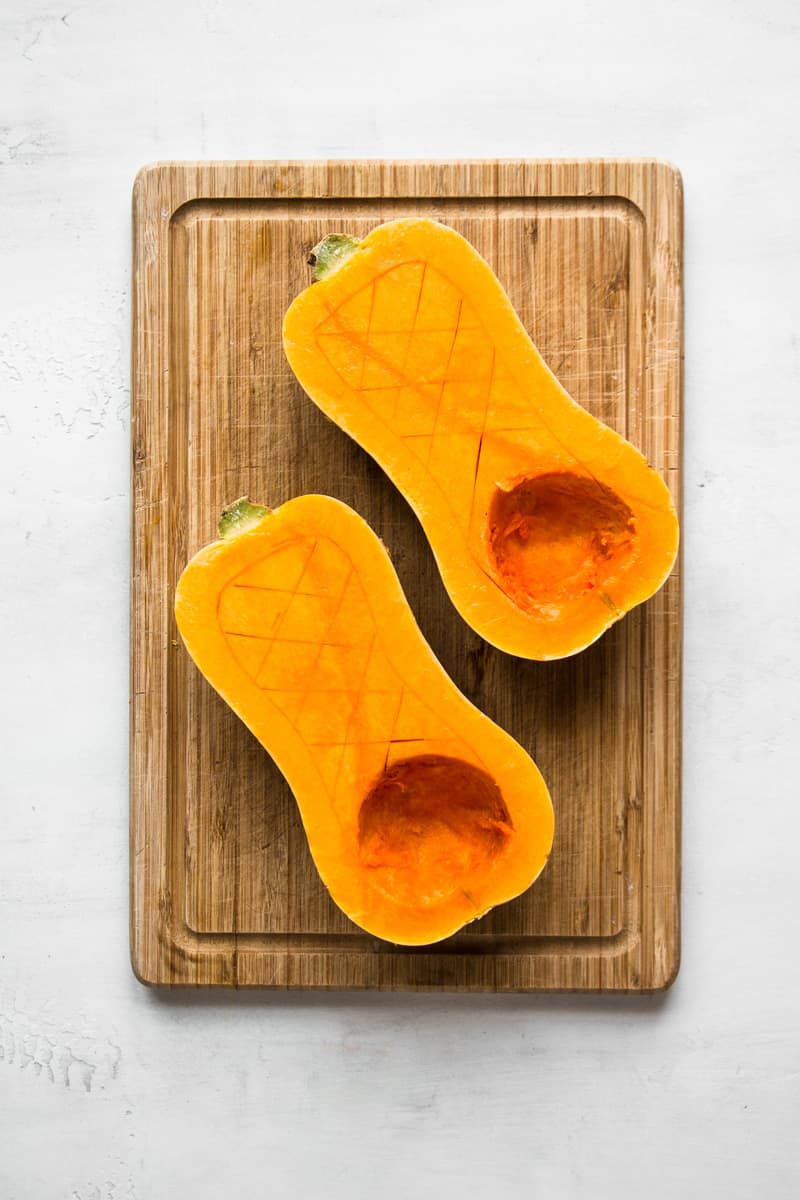 STEP 2: Scoop out the seeds with a fork. Then, score the center at about 0,5 inches deep (make sure not to score the edges).
STEP 3: Rub the cut side of the butternut squash with a little olive oil (sub avocado oil or coconut oil). Sprinkle with brown sugar for a light caramelization and season with black pepper and a pinch of salt.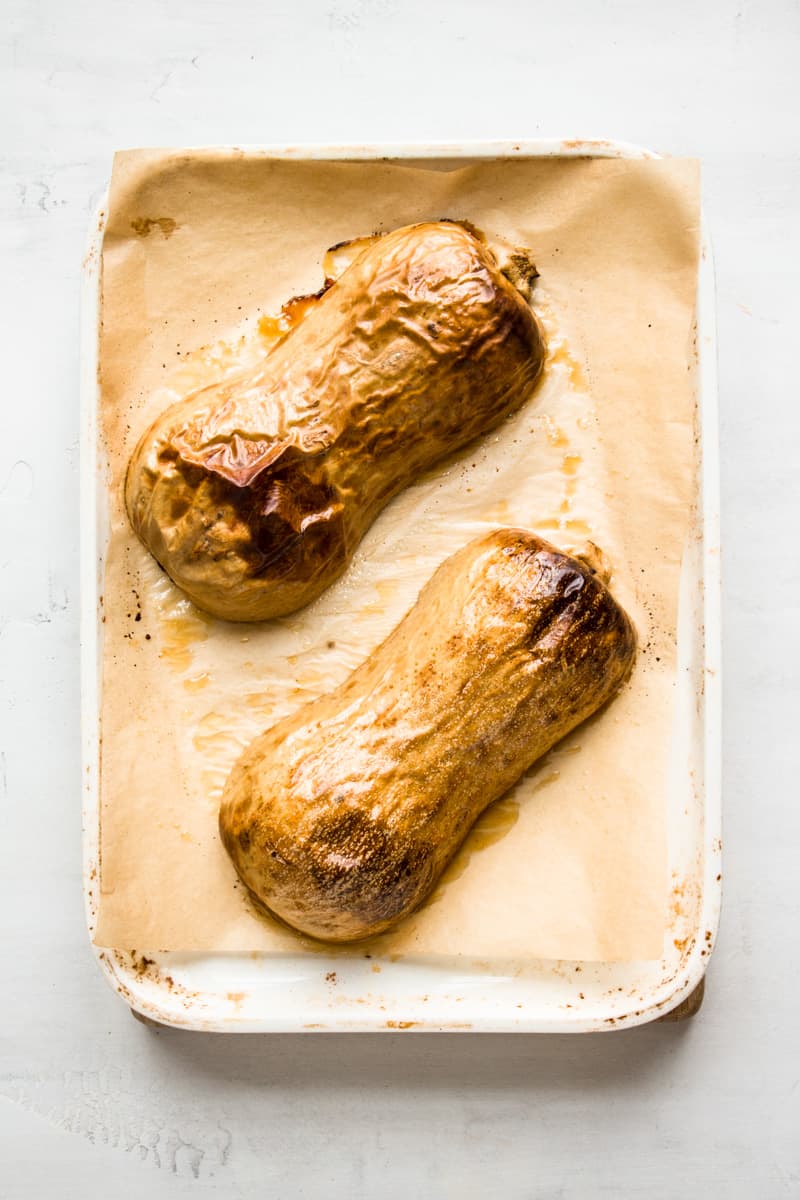 STEP 4: Roast the butternut squash. Place it cut side down on a parchment paper-lined baking tray and bake until fork tender and golden brown.
Elo's tip: Check doneness. Make sure the butternut squash is done by piercing it with a knife or a fork. The thicker parts at the top in particular should be tender. It's better for the squash to be really tender than a little too firm.
STEP 5: Let the squash cool down until you can touch it with your hands (about least 15 minutes).
STEP 6: Prepare the butternut squash boats. Scoop out the flesh at the center and leave about 0,5 inches (1,3 cm) of flesh on the edges. Finely chop the butternut squash flesh you retrieved to add it to the rice stuffing later on.
How to make chimichurri
STEP 1: Wash the parsley and remove thick stems. If using a whole chili, cut it in half and remove most seeds. Add everything to a food processor.
STEP 2: Pulse several times until everything is chopped and combined. Adjust seasoning if needed.
Elo's tip: If you don't have a food processor, finely chop the parsley, garlic and chili with a knife and combine with the other ingredients in a small bowl.
Make the brown rice filling
STEP 1: Chop the veggies. Peel the carrots and the onion. Wash the celery sticks. Finely mince the vegetables with a sharp knife or in a food processor/food chopper. I used a food processor with an S-blade to save time.
STEP 2: Sauté the veggies. Heat a large skillet with your preferred cooking oil. Add the onion and the veggies and sauté over medium-high heat for 5 minutes until colored. Stir continuously to prevent burning.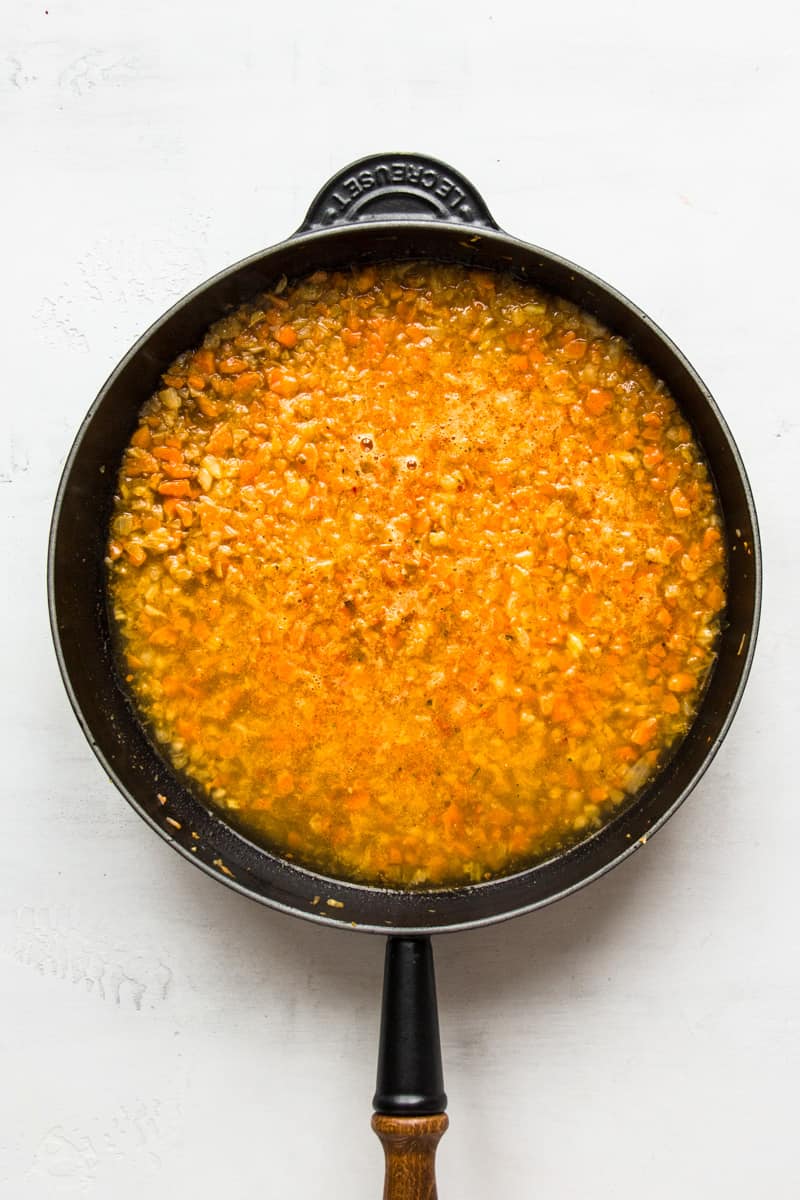 STEP 3: Cook the rice. Add the rice to the pan with the veggies and sauté it for several minutes. Then, cover it with the vegetable broth. Season with poultry seasoning (don't add salt yet as your broth might be salty enough). Cover with a lid and cook the rice over medium heat for the amount of time indicated on the package.
STEP 4: Add the butternut. Once the rice is almost cooked and the broth has been absorbed, add in the scooped-out butternut squash flesh, crushed walnuts, and tart cranberries. Give it a good stir.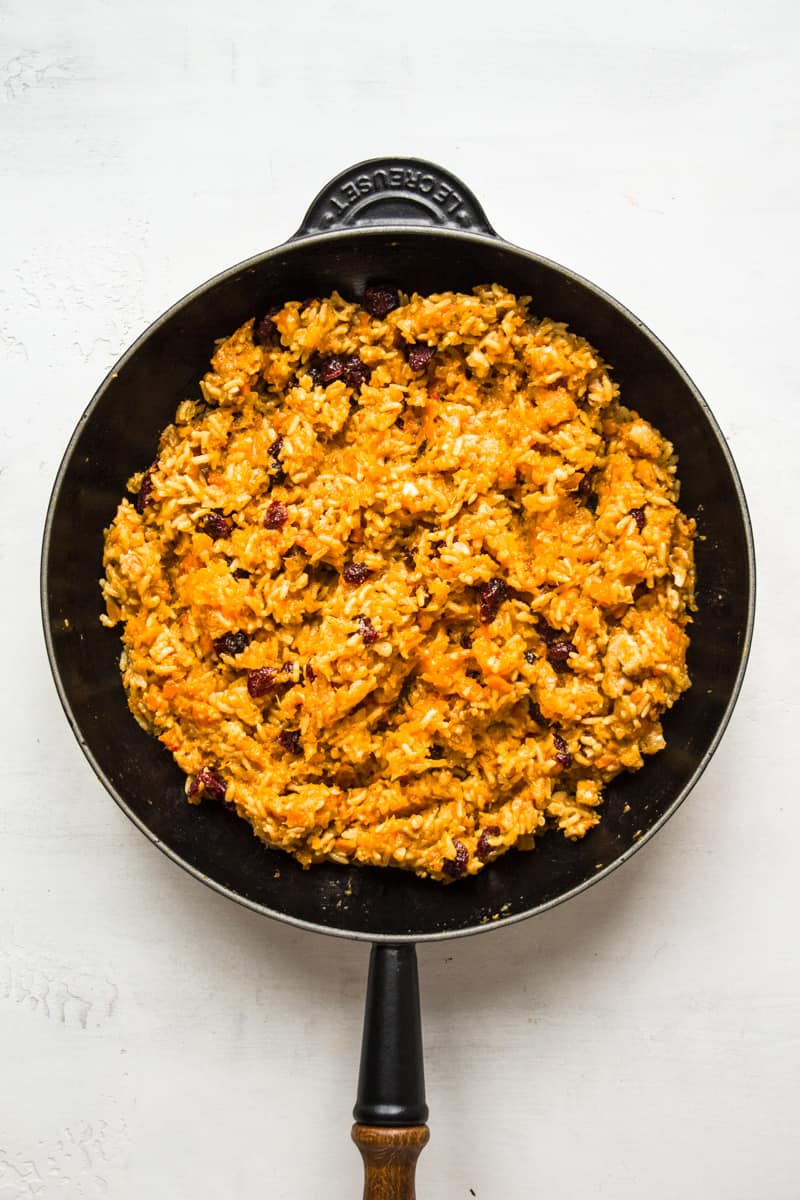 STEP 5: Adjust seasoning if needed. You may need to add some extra salt and poultry seasoning.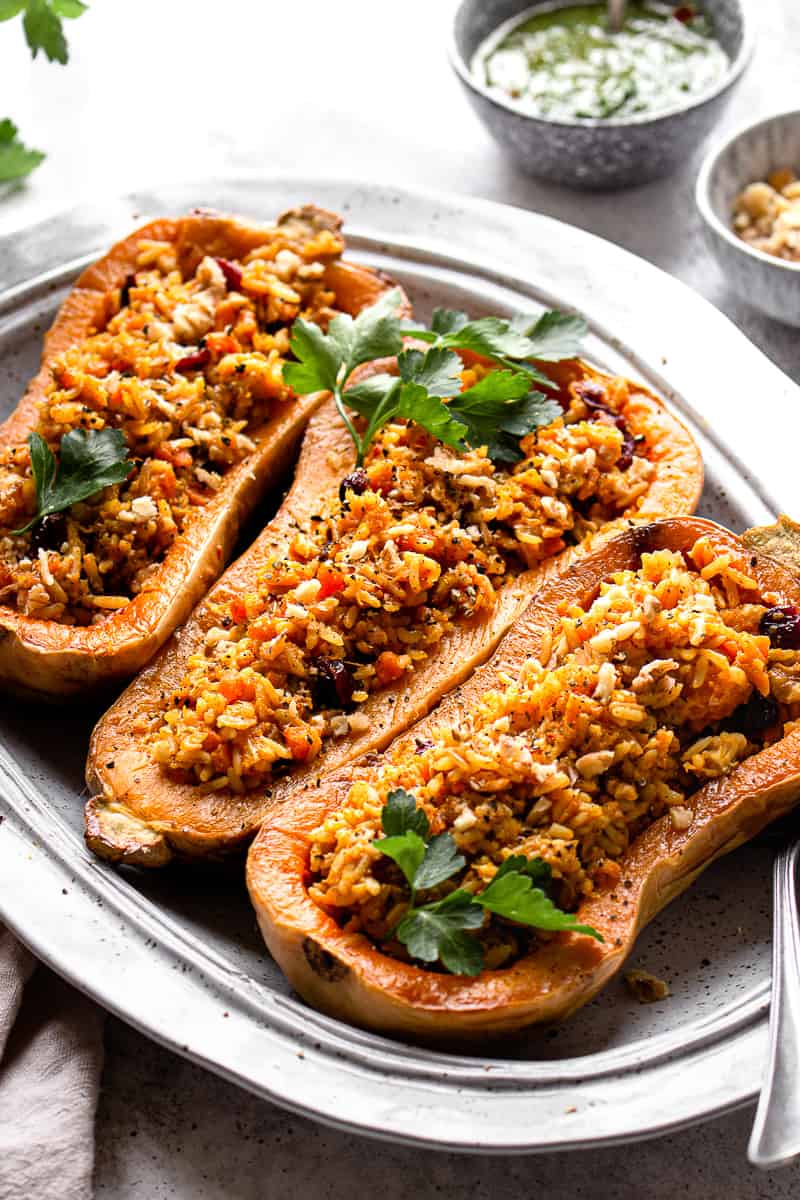 STEP 6: Fill the roasted butternut halves with the rice mixture. Serve right away or cover with aluminum foil and store the stuffed squash in the fridge.
Frequently asked questions
How to store stuffed butternut squash?
If you have leftovers, you can store them in an airtight container (or in a baking dish covered with foil) in the refrigerator for 2 to 3 days.
Can you make stuffed butternut squash ahead of time?
Yes, you can totally make the roasted stuffed squash up to 48 hours ahead of time. Once it's cooked, let it cool down and cover it with foil. I recommend storing the squash and the filling separately and assembling the boats shortly before serving. Store it in the fridge and reheat it in the oven before serving.
How to reheat stuffed butternut squash?
Reheat the stuffed butternut squash in the preheated oven at 350°F (180°C) for 10 to 12 minutes. You can also reheat the stuffed butternut squash boats in the microwave (one at a time).
Can you freeze stuffed butternut squash?
Stuffed butternut squash can difficultly be frozen. Preferably eat everything right away and store leftovers in the fridge for 2-3 days. You can however freeze the stuffing for up to 3 months.
Don't forget to join the Cooking With Elo newsletter. You'll get gluten-free and vegan dinner ideas sent right to your inbox.
The recipe
Vegan Stuffed Butternut Squash with Rice
This vegan stuffed butternut squash with rice, walnuts and veggies makes a spectacular vegetarian Christmas main dish. It's also gluten-free.
Print
Pin
Ingredients
For the roasted butternut squash
1

medium butternut squash

1-2

tablespoons

olive oil

or avocado oil or coconut oil

2

teaspoons

brown sugar

Salt, pepper
For the stuffing
1

small onion

1

carrot

2

celery sticks

⅔

cup

brown rice

preferably choose brown rice with a cooking time of 20 minutes

1

teaspoon

poultry seasoning

1 ⅓

cup

(

315

ml

) vegetable broth

½

cup

crushed walnuts

2

handfuls

dried cranberries
For the chimichurri
1

cup

(

20

g

)

parsley

1

garlic clove

more to taste

⅓

cup

(

80

ml

)

virgin olive oil

2

tablespoons

red wine vinegar

2

teaspoons

dried oregano

1

mild red chili

or ¼ teaspoon red pepper flakes

½

teaspoon

salt
Instructions
Roast the butternut squash
Preheat the oven to 400°F (200°C).

Prepare the butternut squash. Cut the butternut squash in half. Rub the cut side with a little oil and brown sugar (see step-by-step pictures). Place the butternut squash on a baking sheet cut-side down.

Roast the butternut squash for 45 minutes. When it's done, a fork should slide right through. If it's not done, roast it for 5-15 more minutes depending on its size.

Let it cool down. Then, scoop out the flesh at the center, leaving about 1 inch (1,3cm) of flesh on the sides.
Make the chimichurri
Make the chimichurri. Wash the parsley and remove thick stems. Cut the chili in half and remove the seeds. Chop them finely with a knife or in a food processor. Combine with olive oil, red wine vinegar, garlic clove (leave it whole), oregano, and salt.
Make the rice filling
Chop the veggies for the stuffing. Peel the onion and the carrots. Wash the celery. Finely mince the onion, carrots and celery with a sharp knife or in a food processor.

Sauté the veggies. Heat a pan or skillet with olive oil. When hot, add in the vegetables and sauté for 5 minutes over high heat while stirring continuously.

Cook the rice. Reduce to medium heat. Add the rice and poultry seasoning to the pan with the veggies. Sauté for 2 minutes. Pour the vegetable broth on top, cover with a lid, and simmer for 20 minutes (or according to the cooking time of your rice).

Stir in the scooped-out butternut squash flesh, crushed walnuts, and cranberries. Give it a good mix. Adjust seasoning if necessary.

Fill the butternut squash boats with stuffing. They should be heaping full. Serve with chimichurri.
Notes
If you're serving it as a main dish, 1 stuffed butternut squash boat equals 1 serving.
If you're making it ahead of time, r

eheat the butternut squash boats for 10 to 12 minutes in a preheated oven at 350°F (180°C).
Nutrition
Calories:
458
kcal
|
Carbohydrates:
43
g
|
Protein:
7
g
|
Fat:
32
g
|
Saturated Fat:
4
g
|
Fiber:
8
g
|
Sugar:
9
g
|
Calcium:
7
mg
Leave a rating and comment below! Thank you!
Don't forget to mention @cookingwithelo on social media
More vegan christmas recipes
If you need more vegan Christmas dinner ideas (appetizers, starter, main dishes, sides dishes and desserts), check out our favorite Christmas recipes. This post also includes 2 full menus to make during the holidays.
Loved it? Please rate it!
If you tried this recipe or any other recipe from the blog, make sure to let me know how you liked it by leaving a star rating and a comment below. Your feedback really matters! To never miss a recipe, follow me on Instragram, Pinterest and Facebook.
Discover more recipes