Too busy to make yourself some healthier homemade snacks? I've got you! Here are the most epic no-bake snack recipes that you can make within 10 minutes!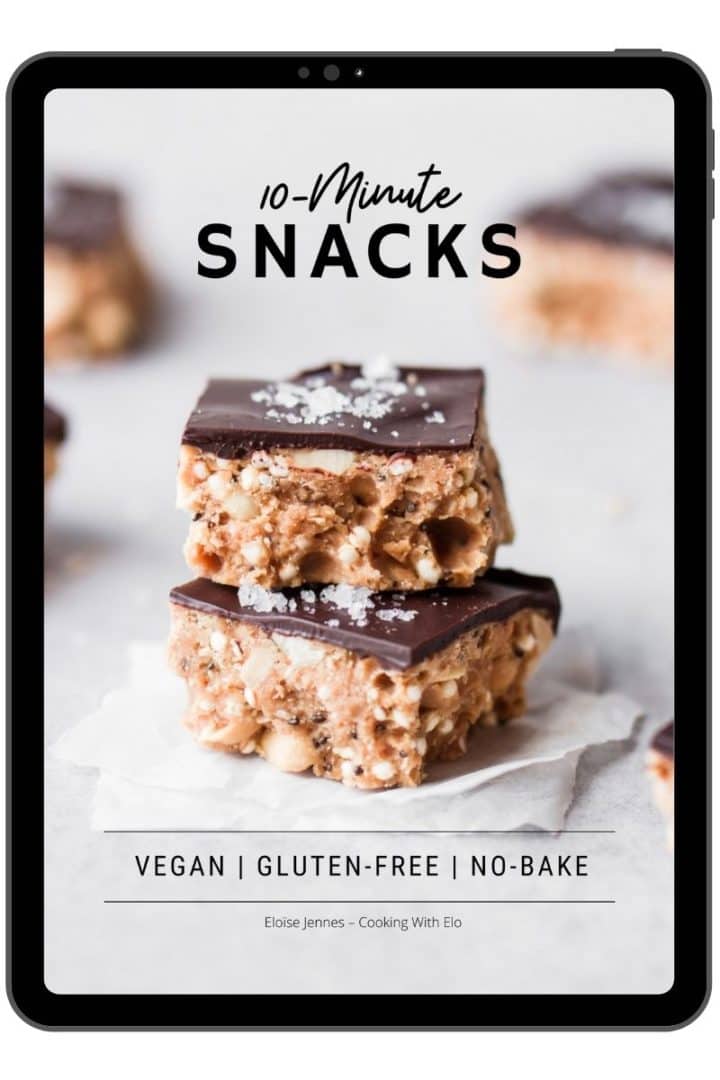 What you'll get
The "10-minute snack" e-book provides
No-bake treats that are ready in 10 minutes or less
Healthy-ish recipes loaded with your favorite flavors
Vegan and gluten-free snacks that DON'T require any specialty ingredients
But also ...
Instant access to the e-book PDF file
A grocery list to help you get started
Recipes given in volume (cups) and masses (grams)
Have a look inside
Frequently asked questions
What equipment do I need?
The most important piece of equipment you'll need is a food processor or a blender. For the rest, you'll need basic baking equipment such as measuring cups and spoons (or a scale) and bowls. All the recipes are "no-bake", which is why you won't need an oven to make them.
Can I still make the recipes if I am NOT on a gluten-free diet?
Although all the recipes from the e-book are vegan and gluten-free, you can still make them if you do not follow a specific diet. Simply replace the gluten-free certified oats with regular oats.
What if I can't eat gluten-free certified oats?
Half the recipes are made without gluten-free certified oats and would be suitable for you.
Can I print the e-book?
Feel free to print the e-book if you would like to have a paper version. I would advise printing 2 pages per sheet of paper. This layout allows you to have the picture and the recipe next to each other. The font size will still be readable. Print the e-book on relatively thick paper to prevent the text on the back page from shining through.
I didn't get an e-mail with the e-book.
If you didn't get the e-mail in your mailbox, make sure to check your spam folder first. Otherwise, send an email to elo[email protected] and I'd be happy to send you a new email.
I lost/deleted the email with the link to the e-book
If you accidentally lost or deleted the email with the link to the e-book, please send an email to el[email protected] and I'd be happy to send you a new link.