One of my favorite vegan broccoli recipes is this simple vegan broccoli potato soup. It only requires 4 ingredients (+ pantry items), is super creamy and nut free (no cashews).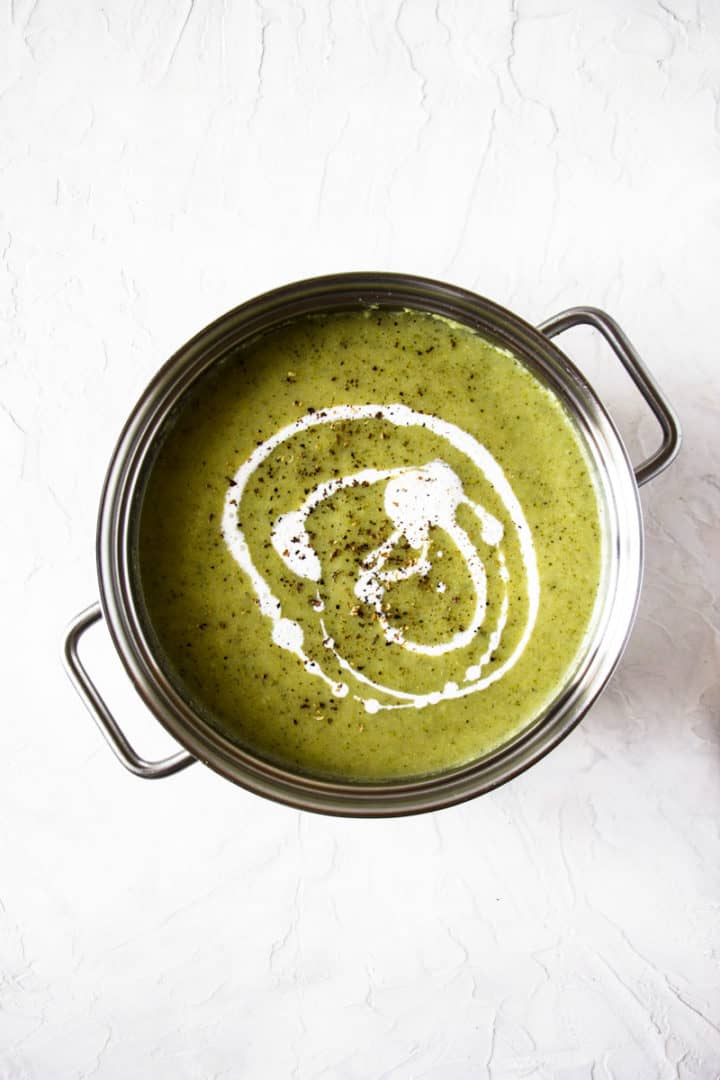 Jump to:
Quick and easy broccoli soup
All you need for this broccoli soup are 4 main ingredients and some pantry items (i.e., olive oil, salt and pepper). It requires only 10 minutes of preparation and is done after 30 minutes of cooking. It's the perfect light meal or weeknight dinner for the family. Soups are also great to keep in the freezer at any time. Don't hesitate to make a double batch and freeze half of it.
When is broccoli in season?
In Luxembourg, Belgium, Germany, France and the Netherlands, broccoli grows from late August to December. One can say that it's a fall and winter vegetable. These seasons are therefore perfect for all your broccoli recipes.
What to do when broccoli is not in season? If you want to make this simple broccoli soup (or any other vegan broccoli recipe) at another time of the year, you can use frozen broccoli. You can add it frozen to the soup.
Which vegetable broth to choose?
To keep this soup vegan, you want to choose vegetable broth. Homemade veggie broth or store-bought ones are great options. They are usually very flavorful and contain fewer additives than bouillon cubes. Cubes are often made with oil, flavor enhancers and more salt. However, they are cheaper and a great option to always have on hand when dinner has to be prepared quickly.
Step-by-step with pictures
Cut and sauté the veggies. Start off by washing the vegetable. Peel the onion and the potatoes and cut them into large pieces. No need to dice them, but keep in mind that the smaller you cut them, the quicker they will cook and the easier they will blend. They suaté the onion and the potatoes in some olive oil. This will add some flavor to the soup.
Cook the soup. Add the broccoli and the vegetable stock. Cover with a lid to prevent evaporation and simmer for about 30 minutes. Make sure the potatoes are fully cooked before blending.
Blend until smooth. Use a hand blender to blend to soup until it's perfectly smooth. Alternatively, add the cooked soup to a high-power blender. Make sure to remove the centerpiece (feeder cap) of the blender lid and start blending on low when the soup is still hot.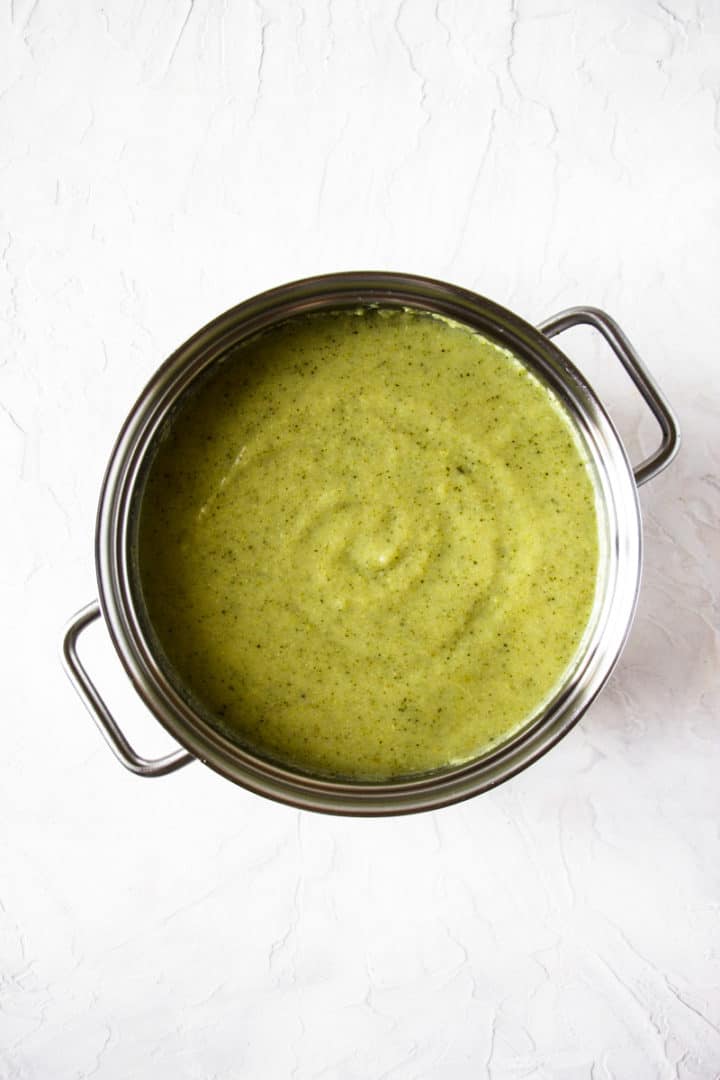 Toppings
Gluten free polenta croutons: these croutons are definitely my favorite soup topping. They are super crispy and delicious with this vegan broccoli soup. Croutons make from polenta are the best gluten free alternative to regular croutons.
Vegan cream: you can add a splash of vegan soy cream to the soup if you'd like. Cream alternatives made from rice or gluten free oats (known as "rice cuisine" and "oat cuisine") work great as well.
Seeds: a mix of sunflower seeds, sesame seeds, pumpkin seeds and other seeds are a great addition to any soup. They will make it slightly more filling while adding some crunch.
How to store and freeze broccoli soup
When cold, transfer the soup to one or more air-tight containers. You can keep it in the fridge for up to 3 days. You can also freeze it for up to 6 months. I usually recommend freezing portions equaling 2 servings. Smaller portions thaw more quickly and make great diners when there is no time to cook.
More vegan soup recipes
The recipe
Vegan Broccoli Potato Soup
Simply vegan broccoli potato soup made with only 4 ingredients (+ pantry items). It is super creamy and nut free (no cashews).
Print
Pin
Ingredients
1

onion

2-3

potatoes (approx. 250 g

1

broccoli (approx. 500 g)

Olive oil

1,5

vegetable broth

or 2 bouillon cubes + 1,5L water

1

pinch

of salt and pepper

depending on how salty the broth is
Instructions
Peel the onion and the potatoes. Cut them into large pieces.

Wash the broccoli and cut into chunks.

Heat a large casserole, stockpot or cocotte with olive oil. When hot, sauté the onion and the potatoes for at least 5 minutes over medium-high heat.

Add the broccoli and the vegetable broth. Cover with a lid and simmer for 30 minutes over medium heat. Use a fork to make sure the potatoes are fully cooked before blending.

Blend until smooth. Adjust seasoning with salt and pepper if necessary.
Notes
*Serve with vegan cream (e.g., soy cream) or gluten free polenta croutons.
Leave a rating and comment below! Thank you!
Don't forget to mention @cookingwithelo on social media
If you tried this hummus trio or any other recipe from the blog, make sure to let me know how you liked it by rating it and leaving a comment below! Your feedback really matters! Follow me on Instragram, Pinterest and Facebook to never miss a recipe.
Discover more recipes