Who said that plant based dinner recipes aren't delicious? I've rounded up 10 of my favorite vegan meals that are super varied, don't require crazy ingredients and are far from boring! From pizza to pasta and burger patties, you can have all your favorite foods in a plant-based version!
Jump to:
Why eat plant-based?
With Earth Day 2021 being just around the corner, it's time for us to remember to make little changes in our everyday life to support environmental protection. This includes changes in our diet by being more mindful of the foods we consume.
The facts: A Dutch study has shown that replacing meat and/or promoting the consumption of low greenhouse gas (GHG) emission foods could reduce GHG emissions. Replacing meat in healthy diets reduced GHG emissions by 34%. Consuming only low GHG emission foods reduced GHG emissions by 28%.
Source: Van de Kamp ME, van Dooren C, Hollander A, Geurts M, Brink EJ, van Rossum C, et al. Healthy diets with reduced environmental impact?–The greenhouse gas emissions of various diets adhering to the Dutch food based dietary guidelines. Food Research International. 2018;104:14-24.
Since consuming foods, whose production and harvest produce low GHG emissions can be beneficial, I highly recommend adapting the following recipes. Chose ingredients that grow in your country, are in season at the current time and avoid imported products.
Disclaimer: This website is not specialized in vegan recipes, sustainable diets or low carbon footprint recipes. This post is purely there for inspirational purposes to people who are trying to eat more plant-based and reduce their consumption of animal-based products.
Overview
Here's an overview of gluten free vegan dinner recipes you can have on a plant-based diet. All the plant based dinner recipes are linked below.
Vegan pizza and pasta recipes
Dahl and curries
Other vegan dinner recipes
Vegan pizza and pasta recipes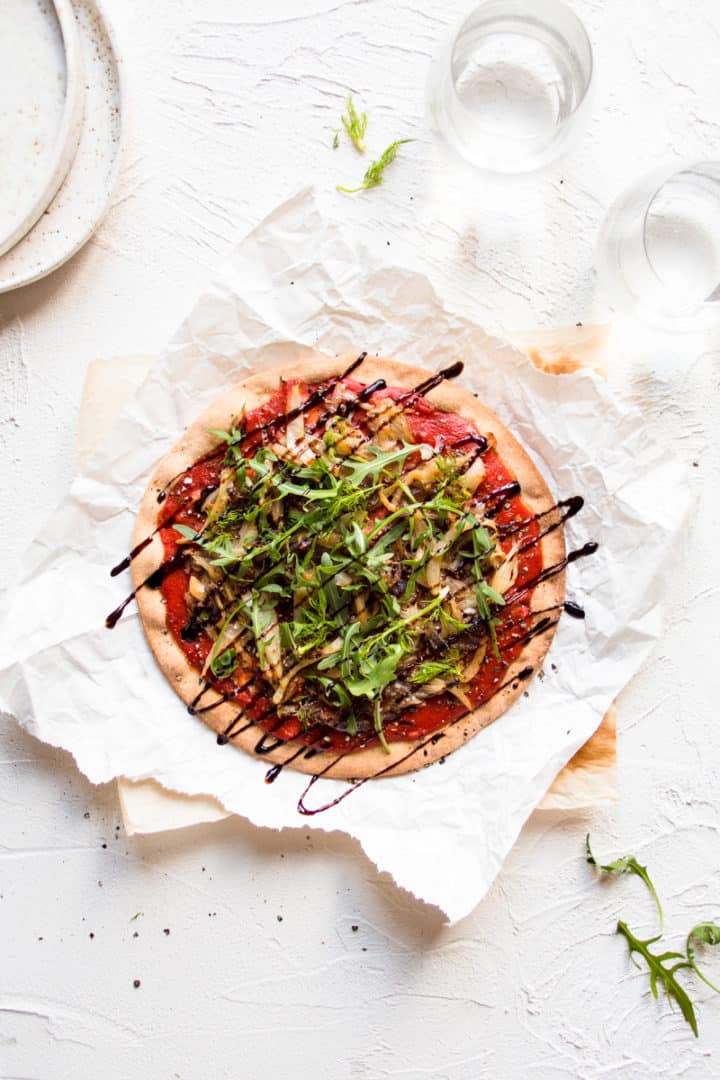 Delicious and flavorful cheeseless pizza with caramelized fennel and onions. It is the perfect vegan spring recipe.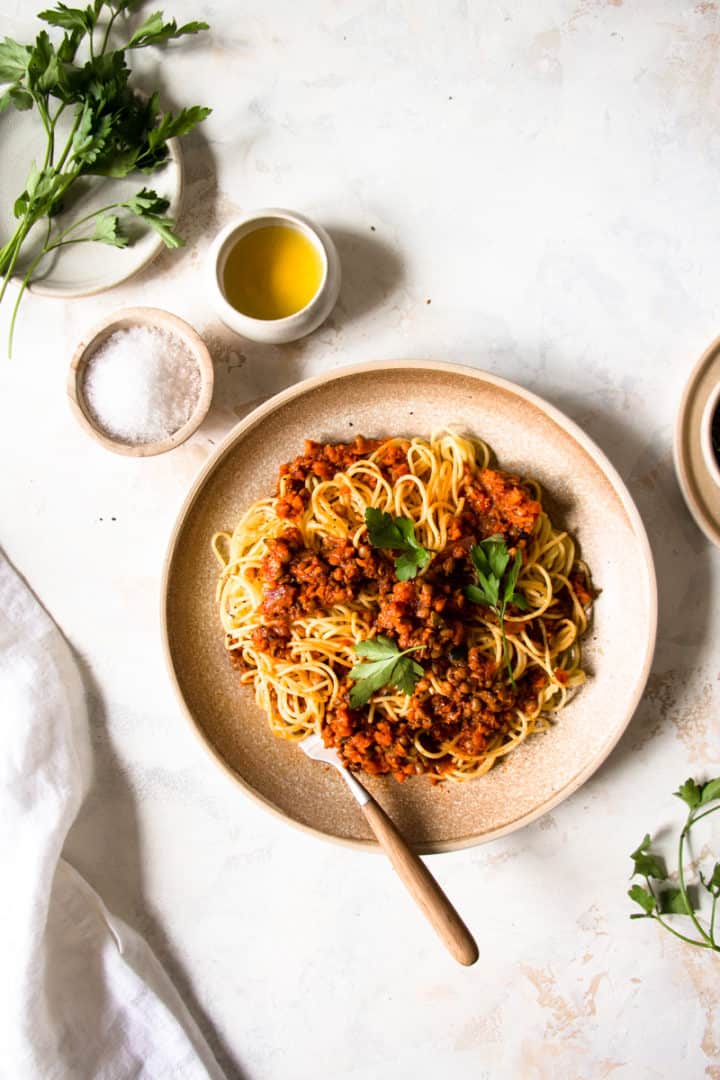 Quick and easy vegan lentil bolognese that tastes amazing on spaghetti. It's one of my favorite 30 minutes dinner and vegan pasta sauce recipe! There's no chopping required as you can simply do that in a blender, food processor or food chopper.
No time to cook pasta sauce from fresh tomatoes? Try this easy pasta sauce recipe with canned or diced tomatoes. Add onion, garlic and sun dried tomatoes to make it super flavorful!
You can't go wrong with this savory tomato and pesto tart! This recipe requires only 3 ingredients and a preparation time of 10minutes. Perfect for busy weeknights or quick lunches!
Dahl and curries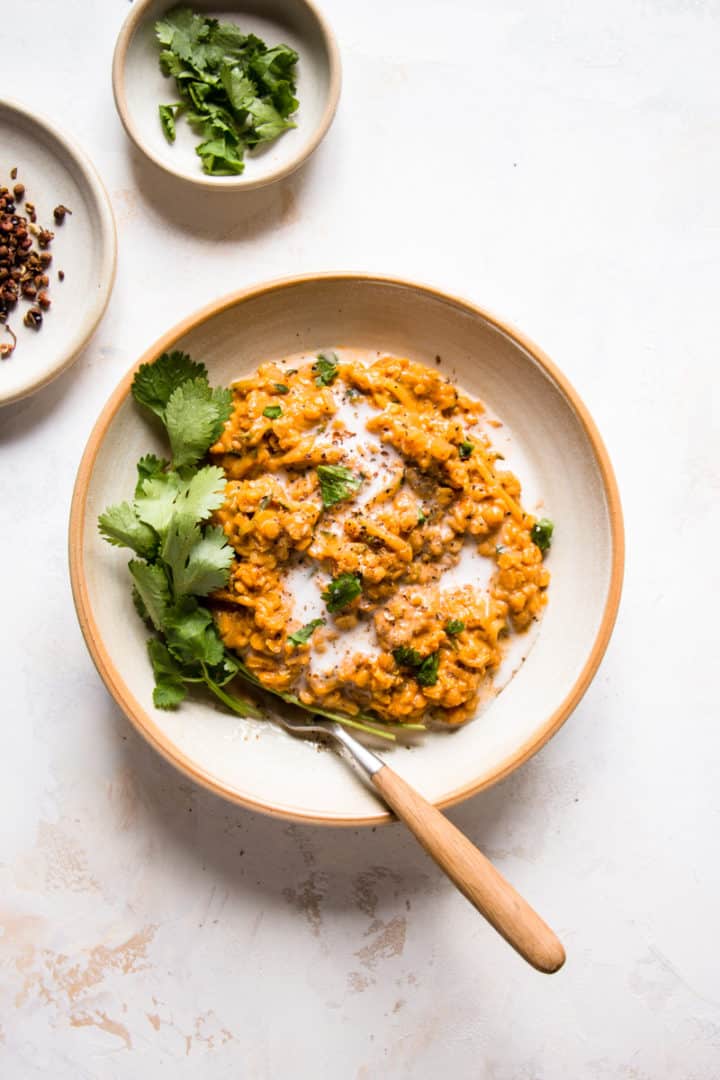 This red lentil and zucchini dahl is one of my favorite meals to make on busy weeknights! It has some grated zucchini for added veggies and only takes 30 minutes to make.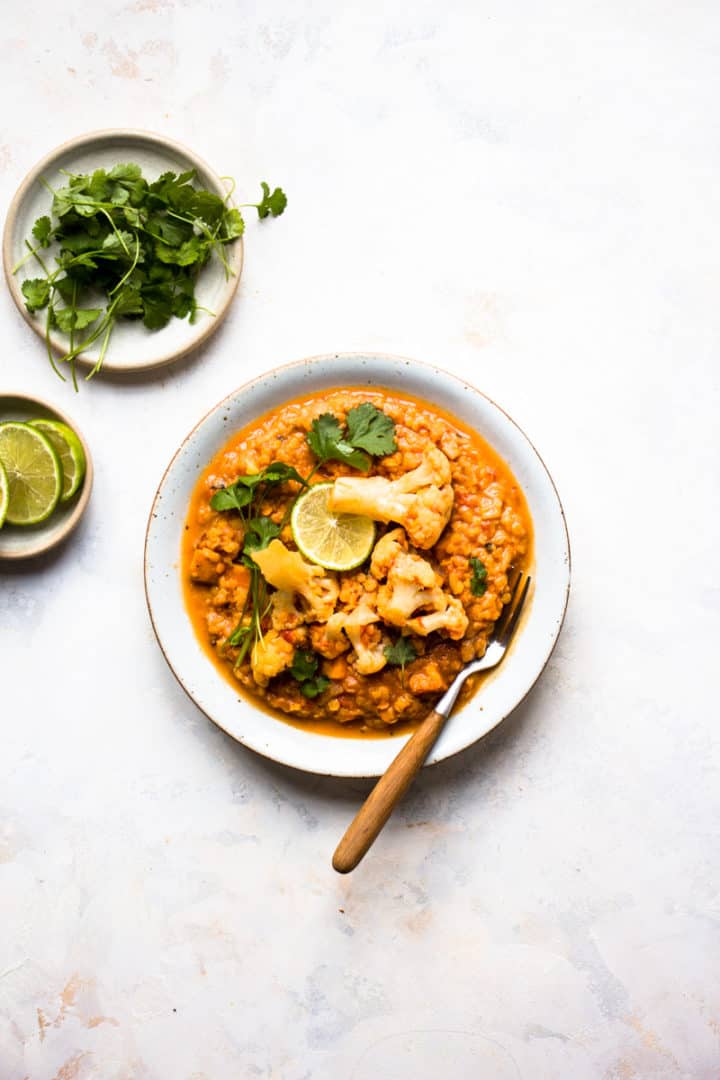 Delicious 1-pot cauliflower curry made with red lentils, coconut milk and thaï curry paste. It is the perfect quick and healthy weeknight dinner.
Other vegan meals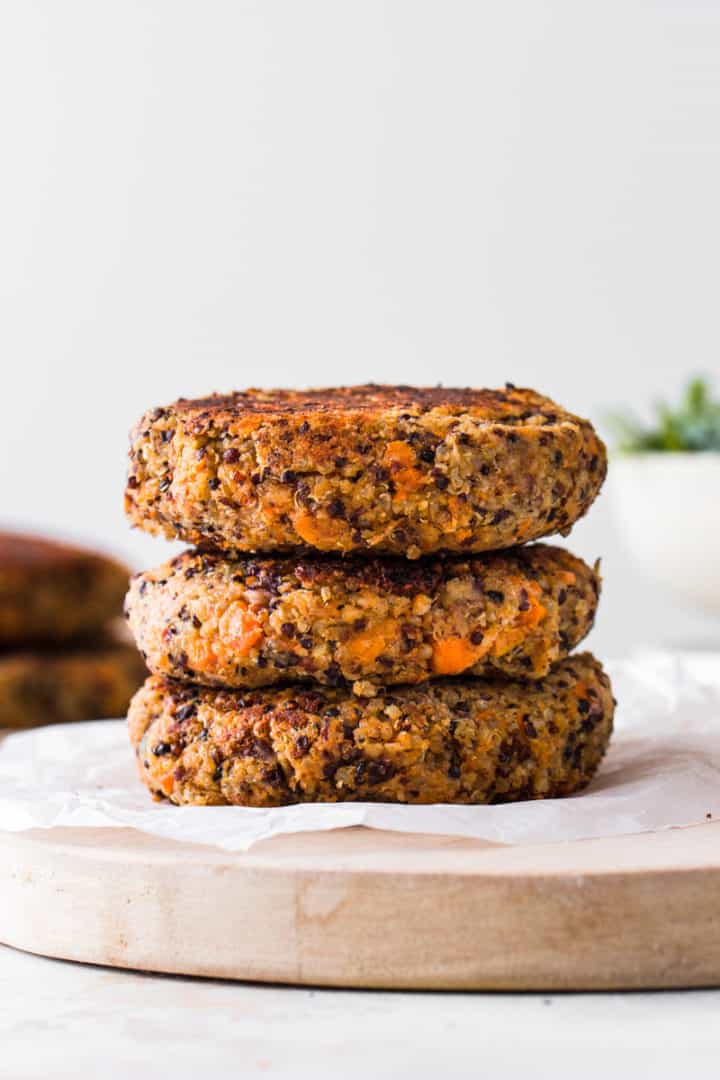 Delicious quinoa patties made with carrots, sweet potatoes and kidney beans. Spiced with 4-spice and served with apple sauce.
Vegetable spring rolls require very little preparation time and make the perfect vegan summer recipe. The vegan peanut butter sauce is made with simple pantry items and 100% addicting.
Gluten free buckwheat galette recipe made with 3 ingredients only. Keep the buckwheat crepes vegan by topping them with mushrooms, caramelized onions and parsley.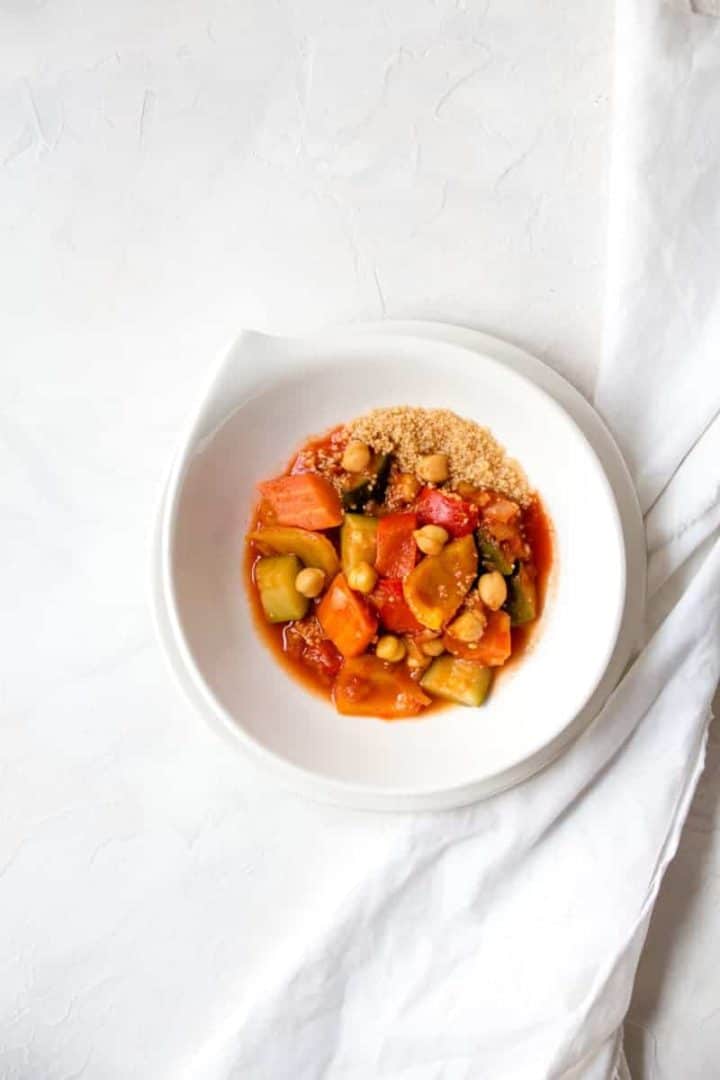 Warm gluten free couscous, soft vegetables, a spicy sauce and some extra chickpeas make this a delicious and nutritious dish. And the best part is that it takes less than 30 minutes to prepare.
If you tried this recipe, make sure to let me know how you liked it by rating it and leaving a comment below! Your feedback really matters! Follow me on Instragram, Pinterest and Facebook to never miss a recipe.
Discover more recipes