Who said that pizzas needed cheese? This cheeseless pizza with spring vegetables is the most delicious thin-crust pizza I've ever had. The caramelized fennel and onion add so much flavor and make it perfect for pizza night on Fridays.
Whether you don't like vegan cheese alternatives, can't find them at the grocery store or simply want to save money, this cheeseless pizza is for you! Continue reading to discover how to make pizzas taste incredible, even without cheese.
If you're looking for more vegan pizza recipes, you may also like this vegan white sauce pizza. It was actually inspired by this specific recipe and is also made without cheese. The vegan bechamel sauce is the star of the dish and an absolute must-try in my opinion!
Jump to:
Why you'll love this vegan pizza
Cheeseless pizza is actually healthier than traditional pizza. I take that as a bonus (and maybe as an excuse to eat pizza more often)!
This pizza also doesn't have vegan cheese. Personally, I find the flavor of vegan mozzarella and vegan parmesan overpowering (probably due to the nutritional yeast, which I'm not a fan of) and the consistency not very satisfying when melting. Focusing on flavorful vegetables, herbs and oils will make your pizza a lot more flavorful than vegan cheese.
Fennel on a pizza is (surprisingly) incredibly delicious! If you're tired of always eating pizzas with the same toppings, it's time to switch things up.
This recipe comes in handy if you or some of your family members have food allergies (e.g., lactose intolerance) or are on a plant-based diet.
Elo's tips
Double-check whether your ingredients are vegan. Most regular and gluten-free pizza crusts are vegan. However, as with many ready-to-eat products, you can never be certain and a quick glance at the ingredients list cannot hurt.
Bake the crust without toppings first, especially if you're using gluten-free store-bought pizza dough (like I did). The crust will get extra crispy on the edges and perfectly baked in the center.
How you prepare your toppings is decisive! Caramelizing the veggies (whether it's fennel, bell peppers or other veggies you love) makes all the difference and will bring your pizza to the next level. Plus, most raw vegetables end up uncooked after only several minutes in the oven.
You can drizzle some of this white sauce on top of your pizza if you absolutely want a cheese replacement. This turns your pizza into a "pink pizza" as it uses both red and white sauce.
Key ingredients and substitutions
Pizza crust: you can either buy it at the store or make it yourself. I tried and loved this gluten-free homemade pizza dough recipe. It has pretty basic ingredients and is based on rice flour.
Tomato sauce: as for every pizza, a simple tomato sauce serves as a base. If you're using plain tomato sauce, don't forget to add some Italian herbs.
Red onion: when caramelized with the fennel, the onion slices add a ton of flavor. Plus, caramelizing the onions makes them easier to digest.
Fennel: with its mild anise flavor, fennel makes this healthy cheeseless pizza really special. Once it's caramelized it even becomes slightly sweet. Depending on where you live, fennel is harvested from June to November.
Balsamic glaze: its syrup-like consistency and relatively intense flavor beautifully finish off this pizza. As an alternative, you can add a few drops of balsamic vinegar or use herb oil or spicy chili oil.
Arugula and fresh herbs (fresh basil, thyme, oregano) are great additional toppings. The bitterness of the arugula pairs extremely well with the sweetness of the balsamic glaze and the caramelized veggies.
More vegan pizza toppings
Red pepper is the perfect alternative to fennel for this recipe. Caramelize it in the pan first, then add it onto the base. Yellow and green peppers work, too!
Canned artichoke hearts are an amazing time-saving pizza topping. Simply drain them and cut them into quarters.
Pitted black olives are amazing if you love them.
Vegan pesto can be used instead of the pizza sauce or as an extra topping on top. You may want to dilute it with a little oil (or water) to have a drippy consistency.
Garlic is a flavor bomb that will make you forget that this pizza has no cheese. I love using minced garlic preserved in olive oil.
Elo's tip: If you're really short on time, I recommend veggies that are preserved in oil (such as tomatoes and bell peppers) as pizza toppings.
Step-by-step with pictures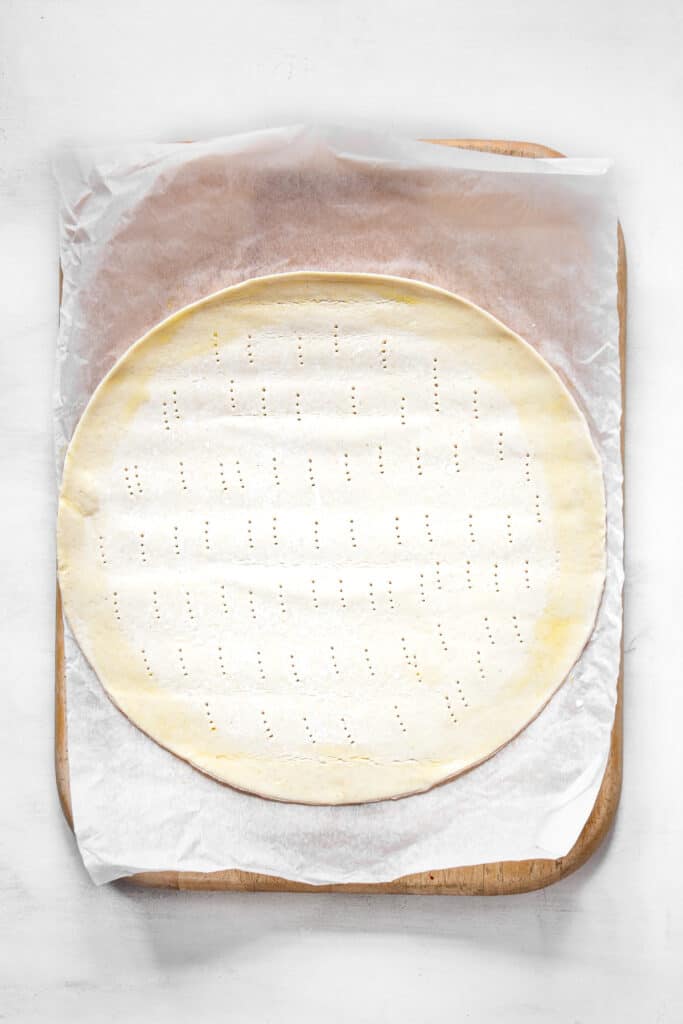 STEP 1: Roll out the (gluten-free) pizza dough onto a baking sheet and prick the bottom with a fork.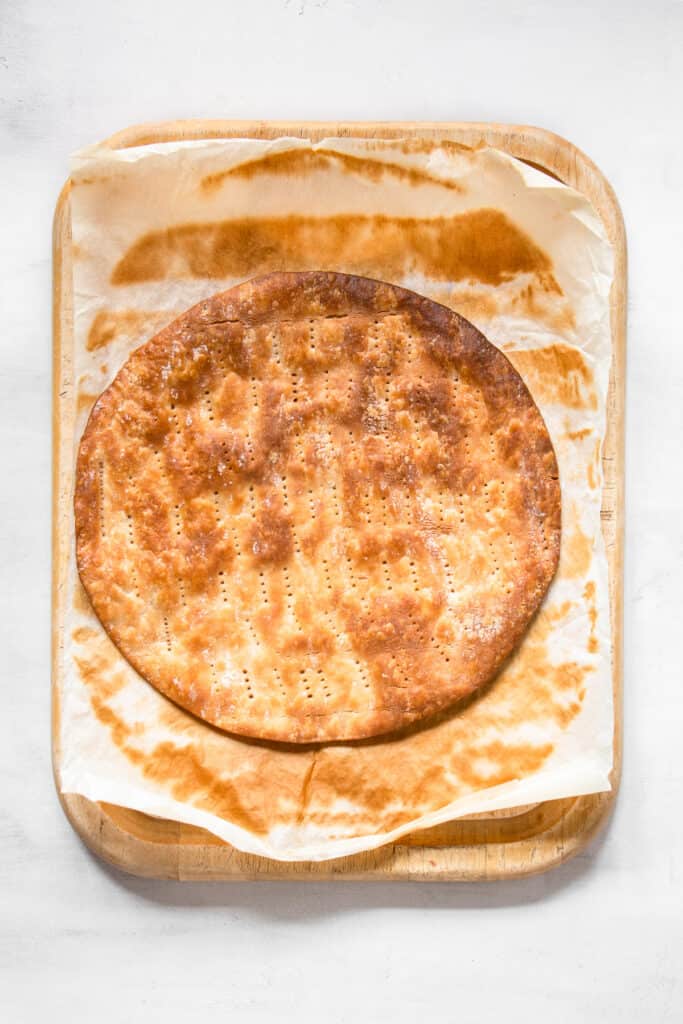 STEP 2: Pre-bake the pizza crust in a pre-heated oven while you prepare the veggies. This will make it extra crispy, prevents the vegetable from burning in the oven and saves you time. 12 minutes should be just about right for a store-bought pizza crust.
STEP 3: Prepare the vegetables. Start by washing the fennel. Cut it into very thin strips. Peel the onion, cut it in half and then in slices.
STEP 4: Caramelize the veggies over medium to high heat in a large pan or skillet with a healthy amount of olive oil. Stir regularly to prevent burning and wait until they are cooked and golden. It should take about 10 minutes.
STEP 5: Top the crisp base with your pizza sauce and sprinkle with some dried herbs. Once the fennel and the onions are caramelized, add them to the pizza. Put it back in the oven for several minutes only.
STEP 6: Finish it off with some balsamic glaze and arugula salad and serve right away.
Elo's tip: Use a pizza stone if you have one. It will make the crust extra crispy. This stone can be used in the oven or the grill.
Watch the video!
Frequently asked questions
Is cheeseless pizza healthy?
A thin-crust pizza without cheese and packed with vegetables usually has fewer calories than a regular pizza. To make it even healthier, use homemade pizza dough.
Is cheeseless pizza vegan?
Cheeseless pizzas are not necessarily vegan. While they are dairy-free free, other toppings could be animal-based (e.g., ham, salami). This specific recipe, however, is 100% vegan.
Can you order cheeseless pizza?
You most certainly can order cheeseless pizzas at restaurants if they are made fresh.
Don't forget to join the Cooking With Elo newsletter. You'll get gluten-free and vegan dinner ideas sent right to your inbox.
The recipe
Cheeseless Pizza With Caramelized Fennel
Delicious and flavorful cheeseless pizza with caramelized fennel and onions (no vegan cheese required). It is the perfect vegan spring recipe.
Print
Pin
Ingredients
For the pizza
1

gluten-free pizza crust

½

red onion

½

fennel

or red pepper

Tomato sauce

2

teaspoon

Italian dried herbs

(e.g., basil, oregano, thyme, majoram, sage)
Toppings (optional)
1

handful

arugula (or fresh basil)

Balsamic glaze
Instructions
Preheat the oven to 400°F (200°C) or as indicated on the package directions if using a store-bought pizza crust.

Peel the onion, cut it in half and then in slices. Wash the fennel (or red pepper) and cut it into very thin strips.

Roll out the pizza dough onto a baking sheet and prick the bottom with a fork. Place it on a baking sheet and bake for 12 minutes (or as indicated on the package).

Heat a large pan or skillet with olive oil. When hot, add the onion and fennel and caramelize over medium-high heat. Stir regularly to prevent them from burning. It should take about 10 minutes until they are cooked and golden brown.

Take the pizza crust out of the oven. Top it with tomato sauce and dried herbs. Add the caramelized vegetables and bake for 5-8 more minutes.

Remove the pizza from the oven, top with some fresh arugula and drizzle with balsamic glaze.
Video
Nutrition
Calories:
1036
kcal
|
Carbohydrates:
204
g
|
Protein:
33
g
|
Fat:
13
g
|
Saturated Fat:
3
g
|
Fiber:
12
g
|
Sugar:
32
g
Leave a rating and comment below! Thank you!
Don't forget to mention @cookingwithelo on social media
More vegan pizzas and quiches
If you tried this recipe or any other recipe from the blog, make sure to let me know how you liked it by rating it and leaving a comment below! Your feedback really matters! Follow me on Instragram, Pinterest and Facebook to never miss a recipe.
Loved it? Please rate it!
If you tried this recipe or any other recipe from the blog, make sure to let me know how you liked it by leaving a star rating and a comment below. Your feedback really matters! To never miss a recipe, follow me on Instragram, Pinterest and Facebook.
Discover more recipes