You will not believe that this vegan spinach quiche is made without eggs! It's filled with spring vegetables such as leek, spinach and peas to make it nutritious and healthy. Silken tofu provides a consistency that is incredibly similar to eggs and bakes really easily. If you like vegan egg recipes, you may also like this silken tofu scramble.
Jump to:
What is quiche?
Quiche is a savory tart made of a pastry crust that is filled with egg-based custard. It's commonly eaten in France and filled with meat, cheese and vegetables. The most famous French quiche is the "quiche Lorraine", made with bacon.
To create a vegan version of the traditional quiche, we are using silken tofu. It's amazing to reproduce the soft, creamy and slightly squishy texture of baked eggs.We like to add a little cornstarch to help it hold its shape while you cut it. If you're unsure about the tofu, let us reassure you: with its relatively neutral taste, you won't be able to taste it (especially if you add pesto to the filling)!
Vegan spinach quiche is the perfect dish to serve on a Sunday brunch, for Mother's day or a vegan Easter brunch. Cut it in slices and serve it alongside homemade vegan bagels, buckwheat galettes, and lentil waffles. It also makes a great breakfast pie for the whole family.
Why you'll love this recipe
Quiches are great for meal-prepping! You can make this vegan version up to 4 days ahead of time and store it in the fridge or freezer. Simply reheat it for dinner or grab a slice for lunch.
You can eat it warm or cold, which is super practical if you're eating it on the go.
This silken tofu quiche is extremely high in protein. The whole quiche has about 64 g of plant-based protein (from the silken tofu, shortcrust pastry spinach and green peas)!
The added pesto really brings the flavor combination to the next level. We love its fresh taste that really spreads spring vibes.
Key ingredients
Spring vegetables make this quiche healthy and nutritious. We like using a combination of spinach, leek, green peas and scallions. To make it easy and convenient, we used frozen spinach and green peas (plus, it's often a lot cheaper). You could however totally use fresh baby spinach if you prefer. You can also leave out the peas.
Silken tofu is a type of soft tofu that has a higher moisture content than firm block tofu. For this recipe, we used soft silken tofu but firm silken tofu would work as well (you can read more about the different types of tofu here). We do not recommend replacing silken tofu with regular firm tofu, as it will make the filling a lot firmer and drier.
Cornstarch makes the filling a little stiffer and helps it hold its shape while baking. Combined with the silken tofu, the filling really resembles eggs once baked.
Vegan pesto or fresh basil add a ton of flavor to the eggless quiche. No need to be sparse, you can add as little or as much as you like. If you don't have vegan pesto at hand, simply add a bunch of fresh basil to the filling.
Shortcrust pastry is a great base for a quiche. We often use a store-bought crust to save time. Feel free to make your own crust or to use a gluten-free alternative if you have dietary restrictions. This is our favorite homemade pie crust recipe.
Elo's tips
Drain any excess liquid from the vegetables (after you cooked them) to prevent them from making the crust too wet.
Use a round pie dish that is not larger than 9 inches (22 cm). If you use a pie pan that is too large, your quiche will end up being very flat. We actually like using a dish that's slightly smaller than 9" and a little bit deeper.
You may have to prebake (blind bake) the shortcrust pastry depending on the brand or recipe you're using. We didn't prebake the gluten-free shortcrust pastry that we used and obtained a perfectly baked and crispy crust. The fact that the quiche is baked at 400°F (200°C) for 40 minutes already helps a lot.
Let the quiche cool down for 5 to 10 minutes before you slice it.
Make a second quiche at the same time and freeze it. This makes a great dinner for busy days!
How to make vegan quiche (+ pictures)
Prepare the vegetables. Wash the leek thoroughly. Make sure there is no dirt in between the first few layers. Cut off the dark green leaves and save them to make vegetable broth from scraps. Keep the white and light green parts of the leek. Cut it lengthwise in half and into very thin slices. Wash the scallions and slice them. Sauté the white parts with the other vegetables and save the green parts as a topping.
Cook the vegetables. In a large skillet, sauté the leek with the white parts of the scallions over medium-high heat with a little olive oil (or your preferred cooking oil). Once they start to get soft and translucent, reduce to medium heat and add in the frozen spinach and green peas. Let it cook for 10 to 12 minutes until thawed. Drain excess water that may not have cooked off.
If using fresh spinach, make sure to use a really large pan to sauté the vegetables. Wash the spinach thoroughly. Once the scallions, leek and peas are almost cooked, add in the spinach bit by bit. Wait until it's wilted to add more.
Make the silken tofu filling. Add the silken tofu, cornstarch, vegan pesto (or fresh basil), a pinch of salt and a dash of black pepper to a blender or food processor. A small blender (e.g., Nutribullet) is large enough to make the filling. Blend until smooth and creamy.
Roll out the shortcrust pastry. Line a round 9"(22 cm)-dish and prick the bottom with a fork. Pour in a little bit of the tofu mixture. Then top with sautéed vegetables. Add more filling and vegetables as you go. This makes sure the veggies and quiche filling are distributed evenly.
Bake the quiche in the preheated oven. Top with the green scallions.
Watch the video!
Recipe variations
For the best basic vegan quiche recipe, use 14 ounces of silken tofu and ¼ cup cornstarch. You can use these proportions to make any quiche you'd like.
Make a tomato quiche with cherry tomatoes. We recommend sauteing them in a pan first until they release water and waiting until most of if has cooked off. This prevents the quiche from being watery.
Other great vegetables to add to quiches are redd peppers, artichokes, leeks, mushrooms and caramelized onions.
Play around with spices and add some garlic powder, onion powder and paprika powder to your filling.
If you're making a plain vegan quiche (without pesto) you can add ¼ teaspoon turmeric powder to the filling to give it a yellow color that resembles eggs.
If you like a cheesy flavor, add (at least) ¼ cup nutritional yeast.
For an eggy flavor, add a generous pinch of black salt, also known as kala namak. This Himalayan black salt is rich in sulfurous compounds that make food taste like eggs. Note that the intensity often diminishes the longer the food cooks.
If you like vegan cheese, you can stir a handful into the filling once everything is blended. Top the quiche with more vegan cheese if desired.
Frequently asked questions
Can you use the filling to make a crustless quiche?
While we have not tried making a vegan crustless quiche yet, we assume it would work. Do not omit the cornstarch, which will help the filling hold its shape when you remove the quiche from the mold. Make sure to grease your tart pan or line it with parchment paper to prevent the mixture from sticking.
How long does quiche last in the fridge?
Quiche usually lasts 3 to 4 days in the fridge if stored correctly. This vegan spinach quiche can be kept in the fridge for 4 days if covered with plastic wrap (or a sustainable alternative). You can also cut it into slices and store it in an airtight container.
How to reheat quiche?
You can reheat quiche in the oven or microwave. Preheat your oven to 300°F (150°C) and cover the quiche with aluminum foil to prevent it from drying. Reheat it for 15 to 20 minutes. Alternatively, reheat up to two slices simultaneously in the microwave (uncovered) for 2 minutes at 600-750W.
Can you freeze vegan quiche?
You can absolutely freeze quiche once baked. We recommend cutting it into slices and storing them in a freezer-safe container to save space. Freezing individual slices can be really practical, too. To defrost them, let them sit in the fridge overnight or you use the defrost function of your microwave.
What to serve with quiche?
You can serve quiche with a green salad, roasted vegetables, a bowl of tomato soup or some potato wedges.
What to do with leftover quiche?
You can freeze leftover quiche for a quick meal. Alternatively, cut it into small cubes and serve them as an appetizer.
Don't forget to join the Cooking With Elo newsletter. You'll get gluten-free and vegan dinner ideas sent right to your inbox.
The recipe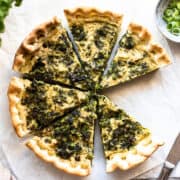 Vegan Spinach Quiche
This vegan spinach quiche is filled with spring vegetables such as leek, spinach and peas. Silken tofu provides a consistency that is incredibly similar to eggs and bakes really easily.
Print
Pin
Ingredients
For the filling
2

scallions

1

small leek

only the white and light green part

14

oz

(

400

g

)

frozen spinach

1

cup

(

150

g

)

frozen peas

1

tablespoon

olive oil
For the quiche
1

shortcrust pastry dough

gluten-free

14

oz

(

400

g

)

silken tofu

not regular firm tofu

¼

cup

(

30

g

)

cornstarch

4

teaspoons

vegan pesto

or 1 bunch of fresh basil

1

pinch

of salt
Instructions
For the filling
Thinly slice the scallions. Save the green part as a topping for later (see step-by-step pictures in post above).

Thoroughly wash the leek. Cut off the dark green leaves (save them to make vegetable broth). Keep the white and green parts. Cut the leek lengthwise in half and into very thin slices.

Heat a pan with olive oil. When hot, sauté the scallions and the leek over medium-high heat for 3-5 minutes.

Add the frozen spinach and green peas to the pan. Cook for 10-12 minutes over medium heat until thawed. Drain the veggies to eliminate excess water.
For the quiche
Preheat the oven to 400°F (200°C).

Blend the silken tofu with cornstarch, vegan pesto (or basil) and a pinch of salt until creamy.

Line a round dish or springform with the shortcrust pastry and prick the bottom with a fork.

Pour ⅓ of the silken tofu mixture into the dish and top with vegetables. Repeat until there are no veggies left.

Bake for 45 minutes. Top with green scallions.
Video
Notes
Depending on the shortcrust pastry you're using, you may have to prebake the crust first. 
You can eat the quiche warm or cold.
You can store it in the fridge for up to 4 days and in the freezer for 1 month. Cover it with plastic film or store the slices in an airtight container.
Nutrition
Calories:
371
kcal
|
Carbohydrates:
53
g
|
Protein:
16
g
|
Fat:
11
g
|
Saturated Fat:
2
g
|
Fiber:
7
g
|
Sugar:
5
g
Leave a rating and comment below! Thank you!
Don't forget to mention @cookingwithelo on social media
More silken tofu recipes
Loved it? Please rate it!
If you tried this recipe or any other recipe from the blog, make sure to let me know how you liked it by leaving a star rating and a comment below. Your feedback really matters! To never miss a recipe, follow me on Instragram, Pinterest and Facebook.
Discover more recipes