Gluten free and dairy free savory waffles made from red lentils and gluten free oats. I love to have these waffles for dinner with their 3 simple savory toppings.
Jump to:
Gluten free lentil waffles
Using red lentils to make waffle batter is quite unusual but so delicious. Since red lentils have a fairly neutral taste, especially when mixed with other ingredients, you can barely taste them in the waffles. Add some garam masala, an Indian spice mix, for a spicy touch and to enhance the savory flavors of the waffles.
If you're allergic to nuts, this recipe s for you. The lentils are replacing any type of nut flour, which is often added to gluten free waffles. The texture of these gluten free and nut free waffles remains very similar to classic waffles though.
I like to call these my 6-ingredient blender waffles because you can totally make the batter in a blender or food processor. You can make them for lunch or a healthy dinner and even reheat them the next day.
Ingredients you'll need
Red lentils: they serve as a base for the waffle batter. Compared to other types of lentils, red lentils cook very quickly, which allows you to make this recipe in 30 minutes. They are also rich in plant-based protein.
Oats: they make the batter thicker and replace flour. Simply grind them in a food processor before adding them to the batter. Choose certified gluten free oats if you're on a gluten free diet.
Cornstarch: helps the waffles crisp up.
Apple sauce: replaces oil in the batter. This limits the amount of fat to the plant butter required for greasing the waffle iron.
Baking soda: will help the waffle rise and be extra fluffy.
Garam masala: is an Indian spice mix that will add a subtle flavor to the waffles. It pairs really well with the avocado-cilantro cream and
Plant butter: prevents the waffles from sticking to the iron. You can leave it out if you have a non-stick waffle maker.
Step-by-step with pictures
Cook and drain the lentils. Rinse them first, then check the package for detailed cooking instructions. It should take between 6 and 10 minutes. Drain the lentils and rinse them under cold water once cooked.
Make the waffle batter. Add everything to a mixing bowl and blend with a hand blender or make the batter in a food processor.
Make the waffles. Once hot, add the batter to the waffle iron and bake until golden-brown. Repeat until there's no batter left.
Bake the waffles in the oven. When cooked in the waffle iron, place the waffles on a baking
Make the avocado-cilantro cream topping. Add the avocado, cilantro, lime juice and a splash of water to a food processor. Blend until creamy. Serve with the waffles and remaining toppings.
Helpful tips
Grind the oats first. You should obtain a flour-like consistency before adding it to the mixing bowl (or adding the other ingredients to the food processor). This will help you obtain a smooth waffle batter.
Generously grease the waffle iron. Make sure your waffle iron is evenly greased to prevent the waffles from sticking. It also makes them beautifully golden and crispy. You don't need to grease it if you have a non-stick waffle iron.
How to make gluten free waffles crispy
Gluten free waffles can look crispy once they come out of the waffle iron, but often soften as they cool down. The trick to keep them crispy is to bake them in the oven for 5 minutes after they were cooked in the waffle iron. Simply preheat the oven before you start making the waffles. When you remove the waffles from the waffle iron, place them on a baking grid and put them in the oven to crisp up. I highly recommend using a baking grid instead of a baking sheet as it will allow the heat to circulate evenly around the waffles.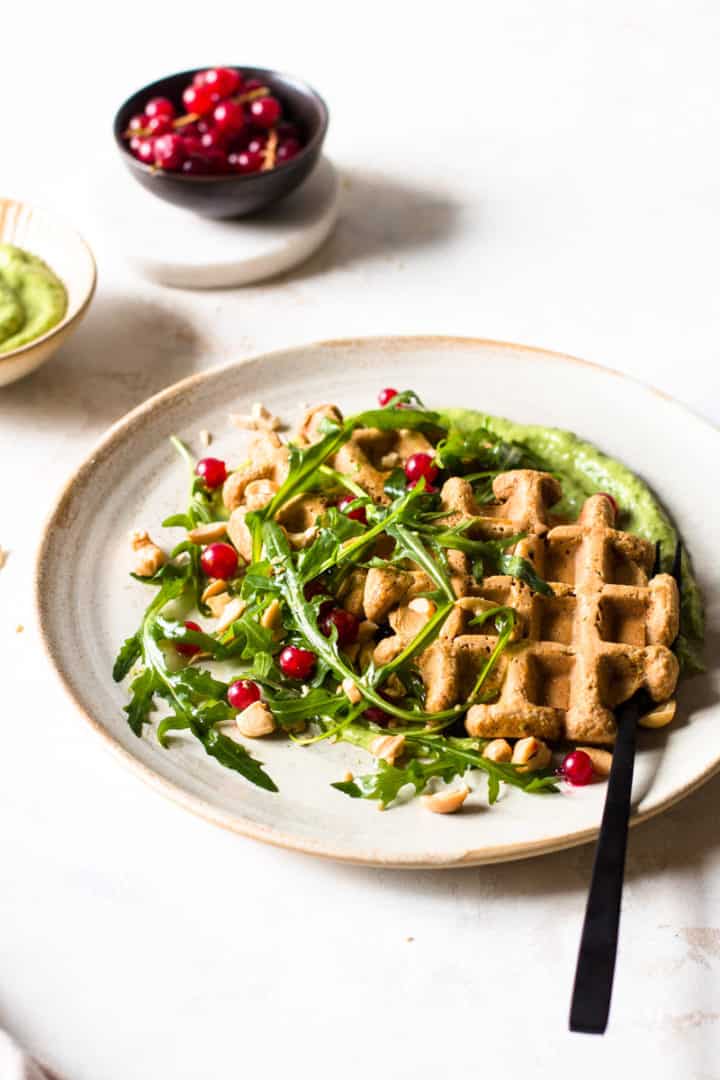 Savory waffle toppings
All you need are these 3 simple toppings make these savory waffles for dinner.
The avocado-cilantro cream is the perfect addition to these waffles. I personally think it's a great way to replace cheese (melted or cream cheese) and keep this dish vegetarian. Cilantro goes really well with the garam masala in the waffles.
Crushed cashews are the perfect crunchy topping that will add some bite to the meal.
Redcurrants or pomegranate seeds have that slightly acidic touch that finishes off the dish.
Substitutions and add-ons
Replace the apple sauce with carrot baby food. This will give your waffles a brighter orange color but won't affect the taste that much.
If you're not a fan of Indian flavors, you can replace the garam masala with some tomato paste and a teaspoon of Italian spices.
If you don't have plant butter for greasing, you can use coconut oil or any type of cooking spray. Make sure to coat the waffle iron evenly.
Replace cilantro with basil or mint in the
Substitute the cashews for any type of nuts. Use sunflower seeds if you want to keep the recipe nut free.
If you don't have redcurrants, you can top the waffles with raspberries or pomegranate seeds.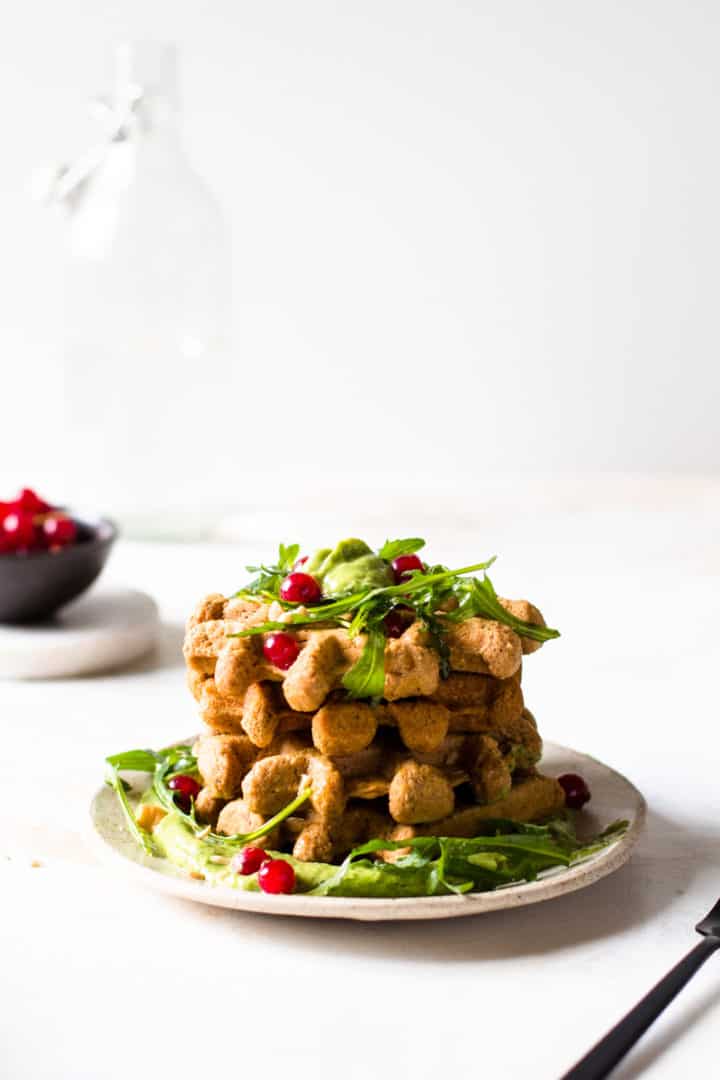 Storage and reheating tips
How to store the waffles: when cooled down, store the waffles in an air-tight container in the fridge. Keep the toppings separate. They will stay fresh for 2 to 3 days.
How to reheat the waffles: the best way to reheat them is to place them for another 5 minutes in a preheated oven until hot and crispy. You can also reheat them in the microwave for 1 minute but they might get a little soft.
Sweet gluten free waffle recipe
If you're looking for a basic gluten free waffle recipe that you can turn into a sweet version, these easy oat and chocolate chip waffles are a hit!
Healthy Gluten Free Waffles
Healthy gluten, dairy and refined sugar free chocolate chips waffles. Made with gluten free oats and sweetened with apple sauce and maple syrup. Adding dark chocolate chips to waffles is the best idea ever.
Get the recipe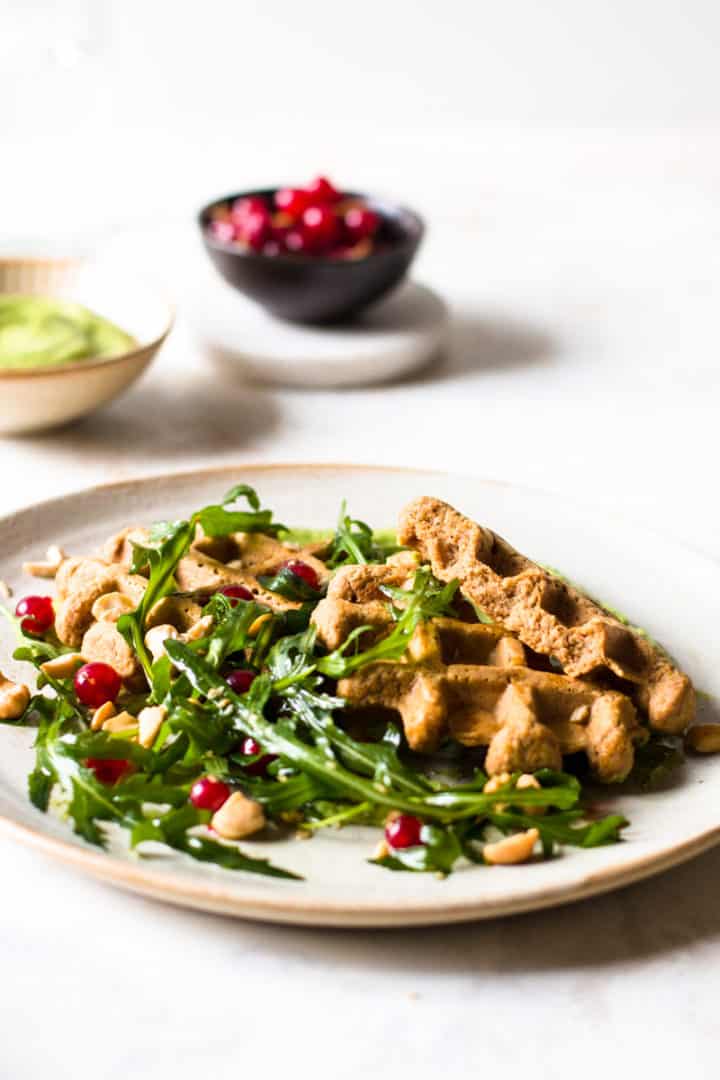 The recipe
Savory Waffles With Red Lentils (Gluten Free)
Gluten free and dairy free savory waffles made from red lentils and gluten free oats. They are the perfect waffles to have for dinner with their 3 simple toppings.
Print
Pin
Ingredients
For the waffles
100

g

raw lentils

50

g

gluten free oats

ground in a blender

10

g

cornstarch

¼

teaspoon

baking soda

50

g

unsweetened apple sauce

1

egg

½

teaspoon

garam masala

¼

teaspoon

salt

1

knob of margarine (plant butter)

for greasing
For the toppings
1

avocado

½

lime

1

handful

fresh cilantro

or basil or mint

1

pinch

of salt

2-3

tablespoon

water

3

handfuls

cashew nuts

or sunflower seeds to keep it nut free

100

g

redcurrants

or pomegranate seeds
Instructions
Make the waffles
Rinse the red lentils under cold water and cook according to the instructions on the package (usually cook in boiling water for 6 to 10 minutes). Drain and rinse under cold water.

Preheat the oven to 180°C.

Add all the ingredients to a food processor and blend until smooth. You can also add them to a mixing bowl and blend it with a hand blender.

Generously grease the waffle iron with margarine (plant butter) or spray with cooking spray. Preheat the waffle iron. Once hot, add about 2 tablespoons of batter into each square. Bake for 3 minutes. Repeat until you have no batter left. You should obtain 5 to 6 waffles.

Place the waffles on the baking rack (preferably don't use a baking sheet as this limits air circulation) and place them in the preheated oven for 5 minutes. This will make them extra crispy on the outside while keeping them soft on the inside.
Prepare the toppings
For the avocado cream, simply blend the avocado with the lime juice, fresh cilantro and a splash of water until creamy.

Roughly crush the cashew nuts with a knife and wash the berries.

Serve the hot waffles with avocado cream, crushed cashews and redcurrants (or pomegranate seeds.
Leave a rating and comment below! Thank you!
Don't forget to mention @cookingwithelo on social media
If you tried this recipe or any other recipe from the blog, make sure to let me know how you liked it by rating it and leaving a comment below! Your feedback really matters! Follow me on Instragram, Pinterest and Facebook to never miss a recipe.
Discover more recipes