Make your chimichurri even more refreshing by adding fresh cilantro. You can prepare it two different ways – traditionally chopped with a knife or in a food processor to save time. This parsley cilantro is ready in 5 minutes and makes an amazing green sauce or salad dressing.
Cilantro adds a fun twist to the authentic chimichurri recipe. It's made with just a few simple ingredients and is an absolute must-have to add to your favorite dishes during the hot summer months.
Homemade chimichurri is a versatile sauce that pairs beautifully with quinoa salads, roasted or mashed potatoes, sautéed zucchini, grilled corn, tofu, and so much more.
It's a great great, more herby alternative to basil pesto or red chimichurri.
Jump to:
Key ingredients and substitutions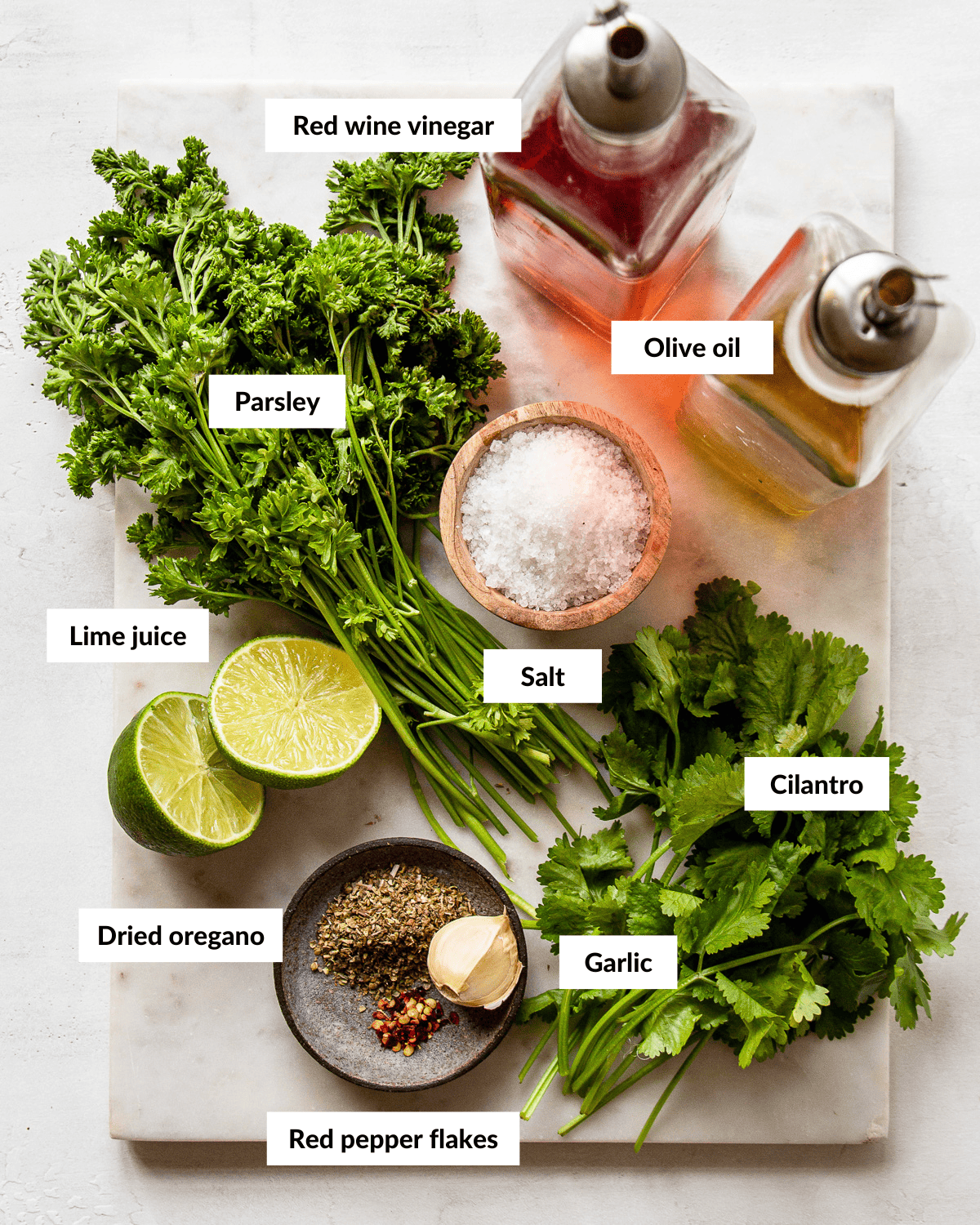 Fresh parsley is the key ingredient of this cilantro chimichurri recipe. It's robust, herby, and peppery. You can use curly or flat-leaf Italian parsley.
Fresh cilantro is fresh and citrusy and makes the chimichurri even more refreshing.
Extra virgin olive oil makes the base of a good chimichurri. I recommend using high-quality oil as you can really taste the difference.
Red wine vinegar for that authentic flavor. I don't recommend substituting it for fresh lemon juice or white wine vinegar.
Lime juice goes incredibly well with this cilantro version but it's totally optional. You can replace it with more red wine vinegar.
Fresh garlic adds a pungent kick. You can mince it if you don't mind raw garlic. I like to crush the clove with the flat side of a knife and add it whole to the green sauce.
Dried oregano or fresh oregano.
Red pepper flakes for some spice. You can replace it with a mild red chili.
Kosher salt and a touch of black pepper for seasoning.
Elo's tips
Make the chimichurri a day ahead of time. The flavors intensify as the herbs and garlic sit in the oil.
Add ¼ teaspoon of smoked paprika. It pairs really nicely with grilled food.
Step-by-step instructions
STEP 1: Wash the fresh herbs. Remove the thick stems and discard any damaged leaves. Pat them dry with a towel to avoid your chimichurri from being watery.
STEP 2: Chop the herbs as finely as possible with a sharp knife on a cutting board. You don't want your parsley to be too chunky. Alternatively, add them to the bowl of a food processor and blitz until chopped. I like using a food processor when I'm making a double or triple batch of chimichurri.
STEP 3: Combine. Add the herbs, oil, vinegar or lime juice, garlic, dried oregano, red pepper flakes, salt, and pepper to a medium bowl. Or add it to the food processor and pulse a few times. Don't overblend it.
STEP 4: Transfer to an airtight container (e.g., Weck jar, Mason jar) if you're not using it right away and store it in the refrigerator.
Serving ideas
Chimichurri tofu is a great plant-based alternative to chimichurri steak.
Chimichurri bowls with falafel, roasted veggies, and red onion are a must-try lunch or dinner idea!
Grilled everything! Chimichurri is the best friend of grilled foods, especially grilled veggies such as corn, eggplant, or cauliflower.
Potatoes in every shape and form – think mashed potatoes, oven-roasted potatoes, grilled potato wedges, or even French fries.
Vegetable stir-fries can go from basic to wonderful with some extra herby cilantro chimichurri sauce.
Crusty bread. It can be as simple as that. Make sure to try my gluten-free seed bread.
Frequently asked questions
How to store chimichurri?
The best way to store chimichurri is to keep it in an airtight container in the refrigerator. Note that the olive oil may solidify but it won't affect the taste or texture. Simply let it come to room temperature for the oil to turn liquid again and give it a good stir before using.
How long does chimichurri last?
Homemade chimichurri will last 2 to 3 weeks in an airtight container in the refrigerator. You can add a little layer of olive oil on top to prevent oxidation.
Can you freeze chimichurri?
Yes, chimichurri freezes really well. I like to portion leftover chimichurri in an ice cube tray. Once solid, transfer the chimichurri cubes to a plastic bag. You can add the frozen cubes to pasta, dressings, or sautéed vegetables.
Why is my chimichurri bitter?
Your chimichurri may be bitter if your parsley was bitter to start with, if you added the thick stalks, or if you overblended the mixture.
Is chimichurri spicy?
Chimichurri is usually not very spicy. It's bright, herby, and garlicky. It can however become spicy if you add too many red pepper flakes or fresh chili.
Don't forget to join the Cooking With Elo newsletter. You'll get gluten-free and vegan dinner ideas sent right to your inbox.
The recipe
Parsley Cilantro Chimichurri
Cilantro chimichurri is a refreshing and vibrant version of the classic Argentinian green sauce. It pairs beautifully with quinoa salads, mashed or grilled potatoes, roasted veggies, and tofu.
Print
Pin
Equipment
Small food processor

optional
Instructions
Prepare the herbs. Wash the parsley and cilantro. Remove the thick stems and gently pat the leaves dry. Chop them very finely with a knife or in a small food processor.

Combine. Add the chopped herbs to a bowl with olive oil, red wine vinegar, lime juice, oregano, red pepper flakes, and salt. Crush the garlic cloves with the flat side of a knife and add them in there (but don't eat them). Give it a good stir.

Store. If you're not using the chimichurri right away, transfer it to an airtight container and store it in the refrigerator for 2-3 weeks.
Nutrition
Calories:
333
kcal
|
Carbohydrates:
3
g
|
Protein:
1
g
|
Fat:
36
g
|
Saturated Fat:
5
g
|
Fiber:
1
g
|
Sugar:
0.3
g
Leave a rating and comment below! Thank you!
Don't forget to mention @cookingwithelo on social media
Loved it? Please rate it!
If you tried this recipe or any other recipe from the blog, make sure to let me know how you liked it by leaving a star rating and a comment below. Your feedback really matters! To never miss a recipe, follow me on Instragram, Pinterest and Facebook.