This poke bowl dressing is one of the best homemade sauces for poke bowls that you will ever try. It is loaded with tangy and spicy flavors and is really well-seasoned. It's also a 2-step recipe so you can whip it up in minutes when you are short on time.
This poke bowl sauce makes poke and sushi bowls pop. I really recommend trying it if you are looking to elevate your poke game with a spicy mayo with cleaner ingredients and no sriracha.
Jump to:
Key ingredients
Vegan mayo (or regular mayo): You can use vegan mayo if you prefer a plant-based option or regular mayo if you're not vegan. The mayo serves as the base of the sauce, it adds creaminess and richness.
Chili paste: Since you're leaving out the sriracha, the chili paste becomes the primary source of heat and spiciness in your sauce. You can adjust the amount of chili paste to control the level of spiciness to your liking.
Lime juice: This adds a bright and tangy citrus flavor. It also helps balance the richness of the mayo. You can use lemon juice as an alternative if you need to – although I really prefer lime juice.
White miso paste: Miso is a fermented soybean paste that offers a savory, slightly sweet, and salty taste. It is used to replicate the umami and depth of flavor that sriracha typically provides. It's essential for adding complexity to your sauce and I don't suggest you skip it. You can find it in most grocery stores in the Asian aisle, or at any Asian supermarket.
Toasted sesame oil: Sesame oil contributes a nutty and toasted flavor to the sauce. It's a common ingredient in Asian cuisine and complements the other flavors in your poke sauce. Use it sparingly as a little goes a long way.
Different types of chili pastes
Truly any chili paste will do for this recipe. Use the one you can find at your regular grocery store or Asian market. I recommend finding one with simple ingredients, such as red chili pepper, (rice) vinegar, garlic, and eventually alcohol, and making sure chili is one of the main ingredients. Don't use chili oil.
Japanese chili paste: In Japanese cuisine, there are a few types of chili paste. For extra heat, you can add "Shichimi Togarashi," which is a blend of seven different spices, including chili peppers. It's often used to add a mild to moderate level of heat and a complex flavor to dishes like soups, noodles, and grilled meats.
Thai chili paste: Thai cuisine is known for its vibrant and spicy flavors. Thai chili paste, often referred to as "Nam Prik," can vary in spiciness. If vegan, make sure to double-check the ingredients list as some contain shrimp paste.
Harissa: This is a North African chili paste that originated in Tunisia. It's made primarily from roasted red peppers, chili peppers, garlic, and spices like coriander. Harissa typically has a smoky, spicy, and slightly tangy flavor.
Tomato paste for no heat: Plain tomato paste (or eventually infused with chili) is a versatile option for adding mild heat and a rich, tomato-based flavor to dishes. It's a convenient choice for those who want zero or little heat without the intensity of traditional chili pastes.
How to make poke bowl dressing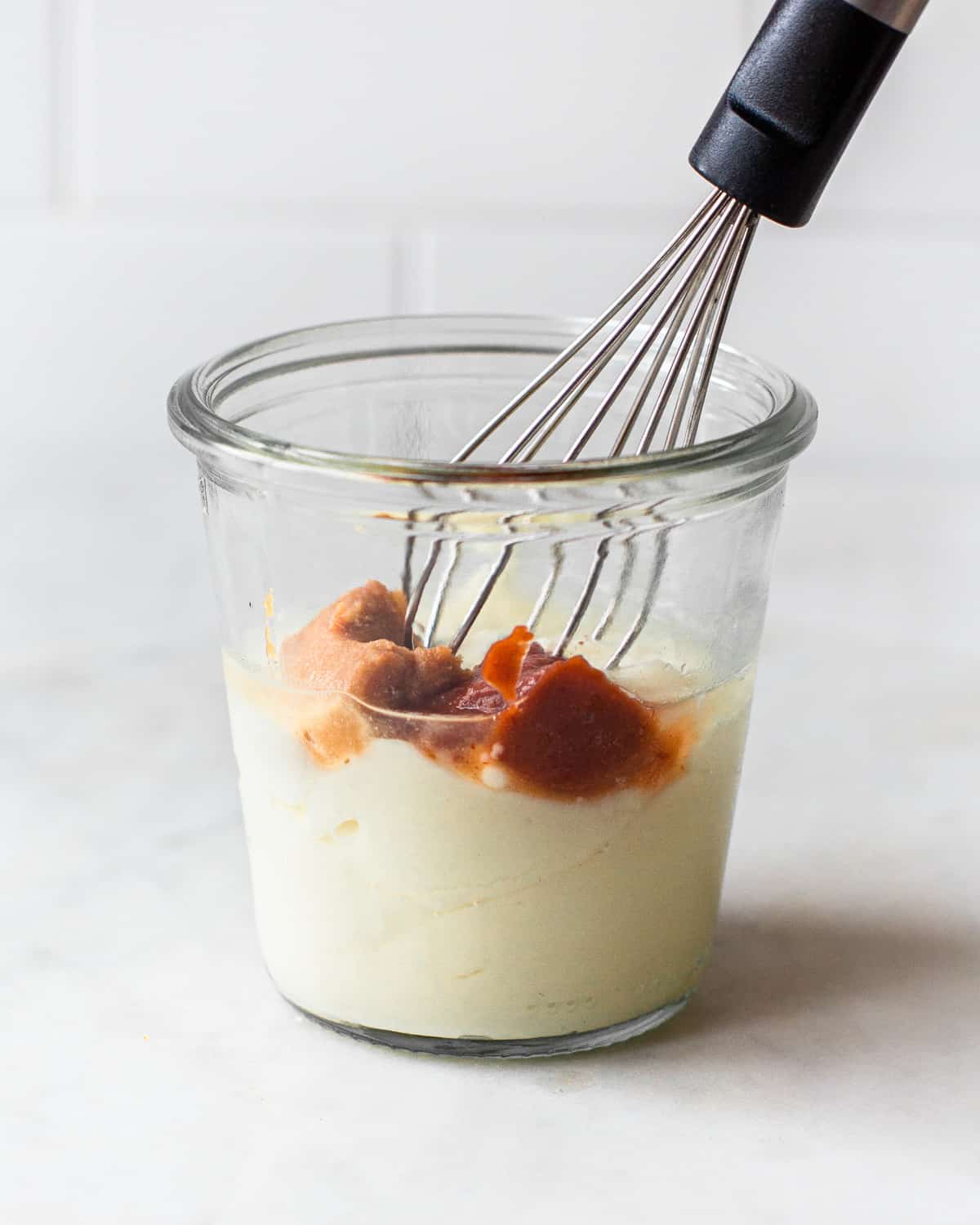 STEP 1: Add all the ingredients to a small or medium bowl. I like to add mine directly to a Weck jar to store in the refrigerator later on.
STEP 2: Stir or lightly whisk to combine.
What makes a good poke bowl?
As someone who loves to make vegetarian poke bowls at home, here are the components I suggest you focus on :
Base: Build a foundation of perfectly cooked rice – check out my sushi rice guide and this sushi bowl recipe for details on how to make it. I don't suggest you use regular white rice for this. Using sushi rice is key for that delicious poke flavor and sticky texture.
Veggies: Choose veggies that provide crunch, color, and flavor. Cucumbers, radishes, carrots, scallions, corn, zucchini, and sprouts, are some of my favorites. Creamy avocado, although not crunchy, is another delicious veggie addition. If you are making vegetarian bowls, don't skimp on the avocado. I also like to check out local Asian markets for any interesting fresh green veggies to experiment with.
Protein: crispy tofu and edamame are delicious veggie proteins. If not plant-based you can obviously go with fresh fish to make a raw fish salad like a salmon poke bowl recipe. Fresh tuna (yellowfin tuna) is an authentic addition – my recommendation is to go with sushi-grade tuna in this case.
Toppings: Try adding wakame (seaweed salad), nori, ginger, wasabi, green onions, and sesame seeds. You could also add nuts like chopped macadamia nuts for extra crunch.
Dressing: My favorite poke sauce or dressing is outlined below. The most important part of making a delicious sauce is that it must be well-balanced and bursting with flavor.
Serving suggestions
This poke bowl dressing tastes really delicious when drizzled on top of sushi rice bowls, in nori wraps, or on a deconstructed sushi roll. It's perfect with regular vegan wraps too!
Frequently asked questions
How to store this poke bowl dressing? 
In an airtight container in the refrigerator.
Can you make this poke dressing ahead of time?
Yes, you can make it up to 3 days in advance.
Is sriracha healthy?
No. Personally, I prefer not to use sriracha sauce because of the very long ingredient list and additives.
The recipe
Poke Bowl Dressing
This simple poke bowl dressing is the best sauce for poke bowls and sushi bowls. It's similar to spicy mayo but without sriracha.
Print
Pin
Ingredients
½

cup

(

125

g

)

vegan mayonnaise

1

tablespoon

lime juice

1-2

teaspoons

chili paste (see notes)

sub tomato paste for mild heat

2

teaspoons

white miso paste

½

teaspoon

toasted sesame oil

1-3

tablespoons

water
Instructions
Juice half a lime. Add the mayonnaise, lime juice, chili paste, miso paste, and sesame oil to a bowl.

Stir to combine. Do a taste test and add more lime juice or chili paste if needed. Add a splash of water to thin out the sauce if needed.
Notes
Chili paste: Truly any chili paste will do for this recipe. Use the one you can find at your regular grocery store or Asian market. I recommend finding one with simple ingredients, such as red chili pepper, (rice) vinegar, garlic, and eventually alcohol, and making sure chili is one of the main ingredients. Don't use chili oil. You can read more different types of chili pastes in the post above.
Storage tips: You can store the poke bowl sauce for up to 3 days in an airtight container in the refrigerator.
Not sure what to add to your poke bowl? Check out my list of topping ideas.
Nutrition
Calories:
194
kcal
|
Carbohydrates:
4
g
|
Protein:
0.5
g
|
Fat:
19
g
|
Saturated Fat:
2
g
|
Fiber:
0.2
g
|
Sugar:
1
g
Leave a rating and comment below! Thank you!
Don't forget to mention @cookingwithelo on social media
Loved it? Please rate it!
If you tried this recipe or any other recipe from the blog, make sure to let me know how you liked it by leaving a star rating and a comment below. Your feedback really matters! To never miss a recipe, follow me on Instragram, Pinterest and Facebook.