Chimichurri tofu is a vegan main dish that is full of bold and balanced flavors. I'll guide you through the best way to prep your tofu and show you how to make it in a pan or on the grill. Grilled tofu has a slightly smokey flavor that pairs beautifully with this garlicky and herby chimichurri and makes an incredible alternative to meat for BBQ season.
For more tofu recipes, check out this harissa tofu, miso tofu, BBQ tofu, or soy sauce tofu.
Jump to:
What is chimichurri exactly?
Chimichurri is a popular sauce originating from Argentina and Uruguay. A lot of people enjoy it served with grilled meats.
The sauce is made from a blend of finely chopped fresh herbs (such as parsley, oregano, and cilantro), garlic, vinegar, oil, and chili flakes or fresh chili pepper. It is a great complement to grilled proteins, including tofu, and other elements like veggies.
Ingredients and substitutions
Tofu: Use extra firm tofu that has the lowest moisture level.
Tamari: It gently seasons the tofu and adds a salty touch. You can substitute it with coconut aminos or dark soy sauce if you're not gluten-free.
Parsley: I use flat-leaf but curly fresh parsley is great, too. Cilantro is a common substitute for or addition to parsley in chimichurri. Check out my cilantro chimichurri recipe.
Fresh garlic: I add it whole to the chimichurri without mincing it to avoid garlic breath.
Red wine vinegar: It is key o provide that authentic chimichurri flavor. Don't substitute it with white wine vinegar or apple cider vinegar.
Mild red chili or red pepper flakes: Adjust the amount to your desired level of spiciness, or omit if you don't like spicy food.
Oregano: Use dried oregano for concentrated flavor.
How to prep the tofu
To start, press the tofu for 15 minutes. The goal is to remove as much of the water as possible. This step is relevant no matter the method you choose. The result will be a crispier, great texture.
Press the tofu (traditional method): Wrap the tofu block with paper towels or a kitchen towel and place it on a plate or cutting board. Add a heavy object, such as a cast iron skillet or a can of beans, on top of the paper towels. Wait for at least 30 minutes.
Press the tofu (easy method): Place the tofu block into the pierced container of a tofu press and close the lid tightly. Let it sit for 15 minutes. The excess moisture will be collected in the bottom container.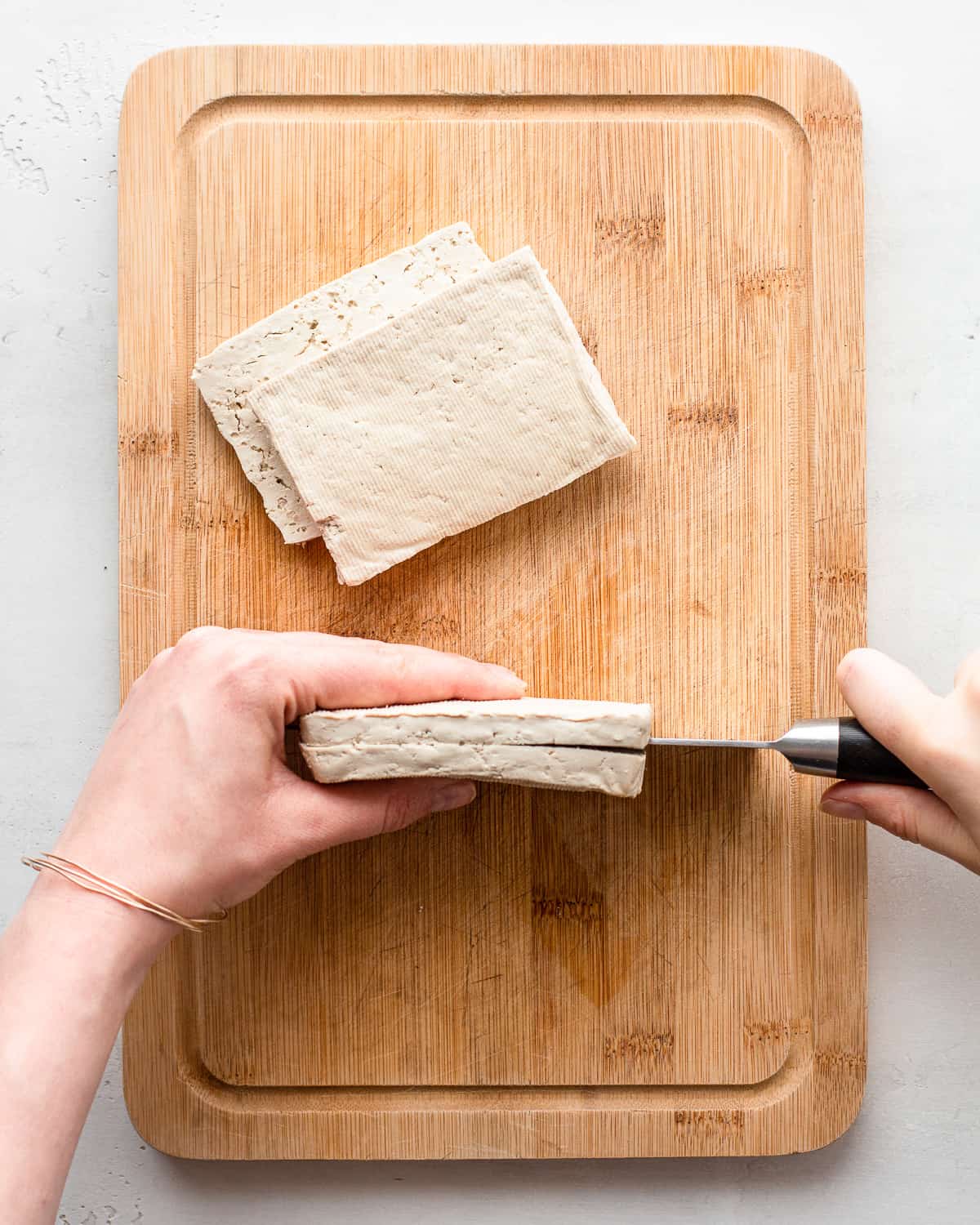 Slice the tofu block in half through the long edge. It should be about ½ (1,3 cm) thick. This thickness is great for grilling or pan-frying the tofu to create a crispy exterior and a tender interior.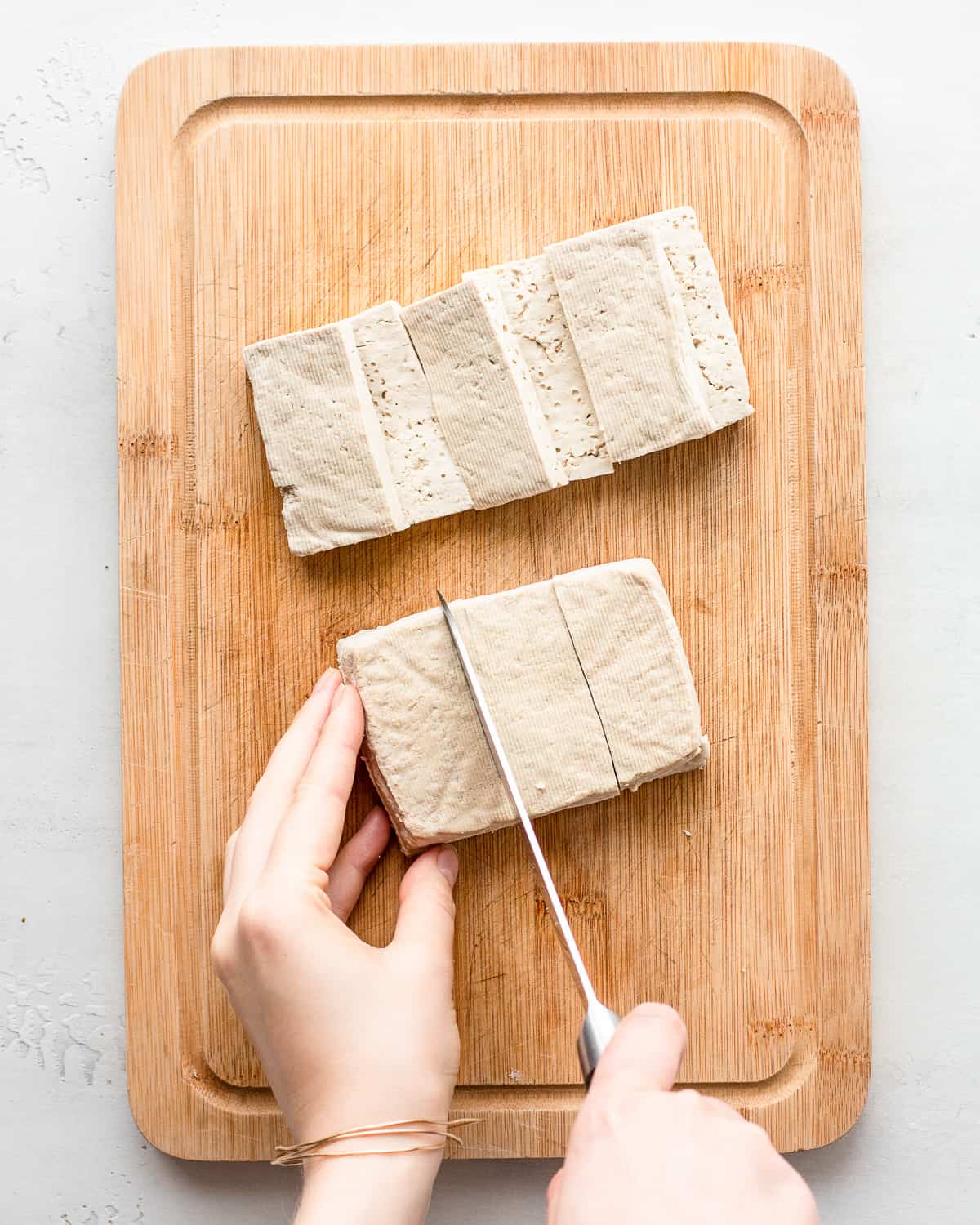 Cut each block into "tofu steaks". They are perfect if you making food for several people and easy to handle in a pan or on the grill.
How to make chimichurri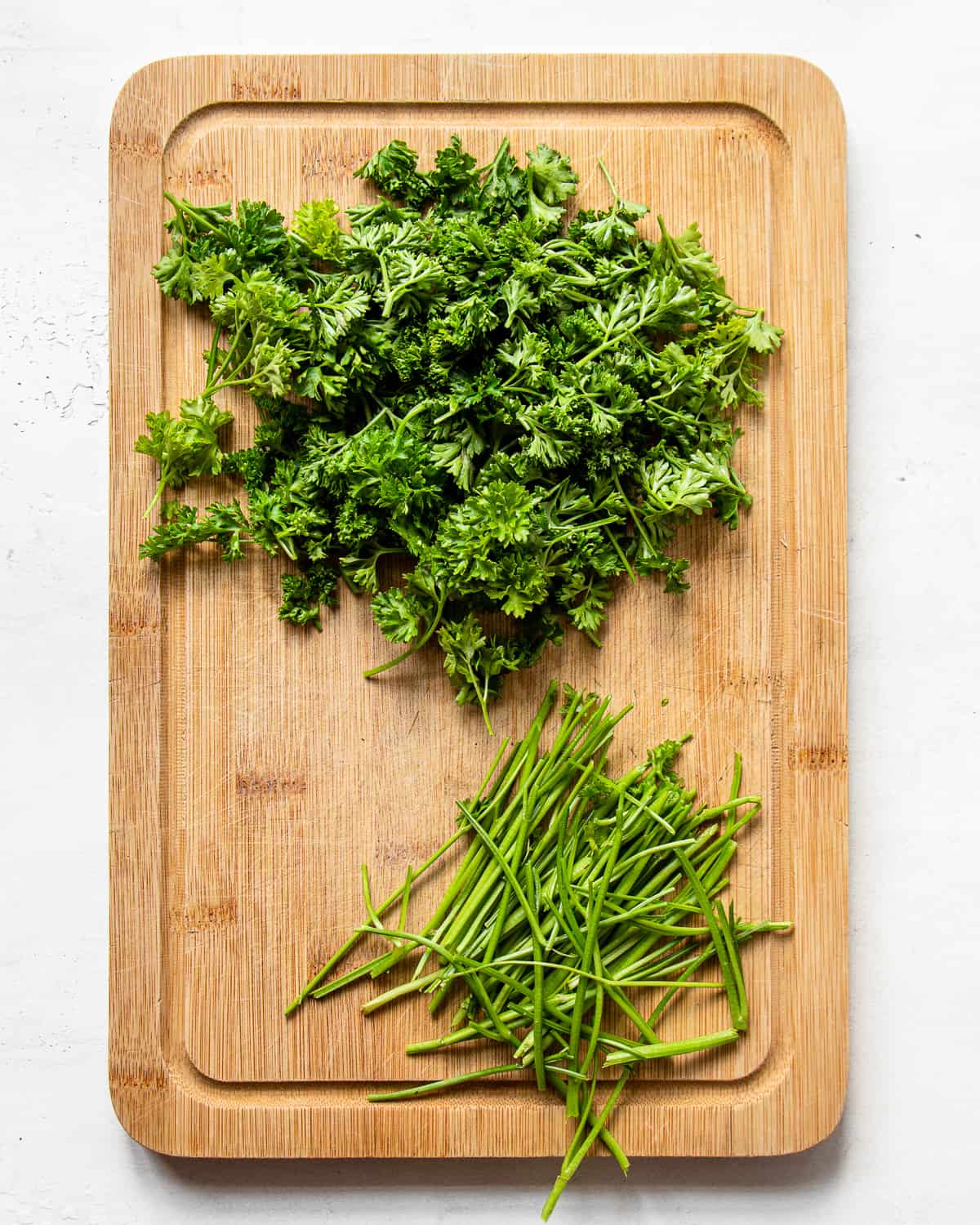 STEP 1: Remove thick parsley stems. You can do this by grabbing the stems at the bottom of the parsley leaves and pulling them off.
STEP 2: Next, chop the parsley leaves with a sharp knife into small pieces. Make sure to chop the parsley finely to achieve the right consistency for the chimichurri recipe. Alternatively, you can use a food chopper or a food processor to chop the parsley quickly and easily. This is a great option if you are making a large batch of chimichurri or if you prefer a smoother texture.
STEP 3: Add olive oil, vinegar, lime juice, and sea salt to the mixture. You can then add the garlic and red pepper. Mix well to combine all the ingredients.
STEP 4: Transfer to an airtight container if you're not using the chimichurri right away. Store it in the refrigerator.
Elo's tips
Make the chimichurri ahead of time: Allow the flavors to meld together by storing the sauce in the refrigerator overnight.
Add whole garlic cloves: This releases the garlic flavor without making the sauce too garlicky.
Mix parsley with other herbs: Try mixing parsley with cilantro for a unique flavor that works well with soy sauce-marinated foods. Use fresh produce and herbs for the best taste.
Use high-quality olive oil: The quality of the olive oil can make a big difference in the taste of the chimichurri. Use a good quality extra virgin olive oil for the best results.
Don't over-blend: Over-blending can result in a thin, watery chimichurri. It's best to pulse the ingredients a few times in a food processor or chop them by hand to get the desired consistency.
How to grill tofu in a pan (or in a grilling pan)
STEP 1: Heat a skillet or a grill pan. A heavy cast-iron skillet works best as it distributes heat evenly. Heat the pan until shimmering hot, over medium-high heat. Grease the pan with a small amount of vegetable oil to prevent sticking.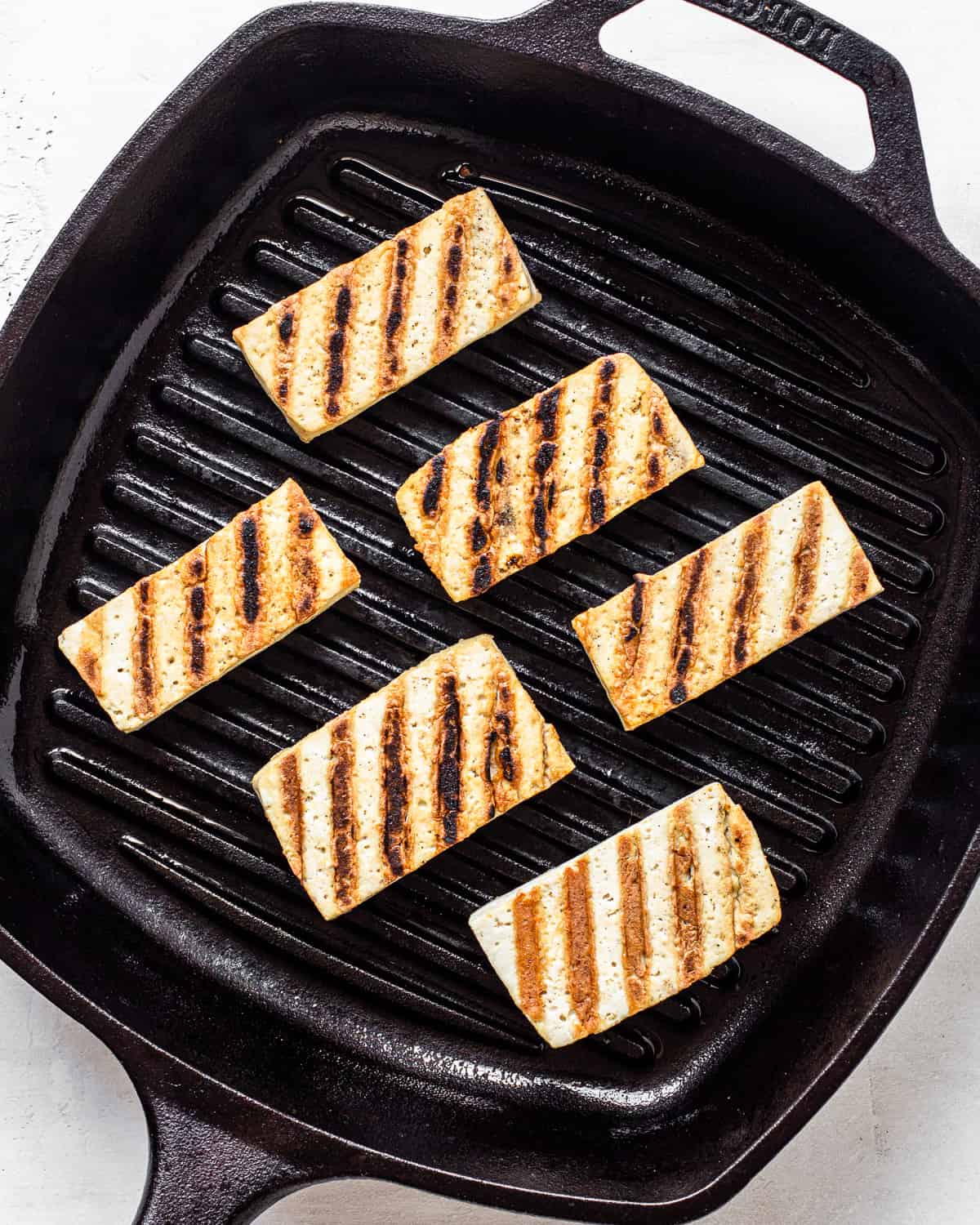 STEP 2: Cook the tofu for 2 minutes on each side over medium-high heat. They should turn golden brown, or if you're using a grilling pan, grill marks should appear. Use a spatula to flip the tofu slices over and cook it for an additional 5 on each side over medium heat.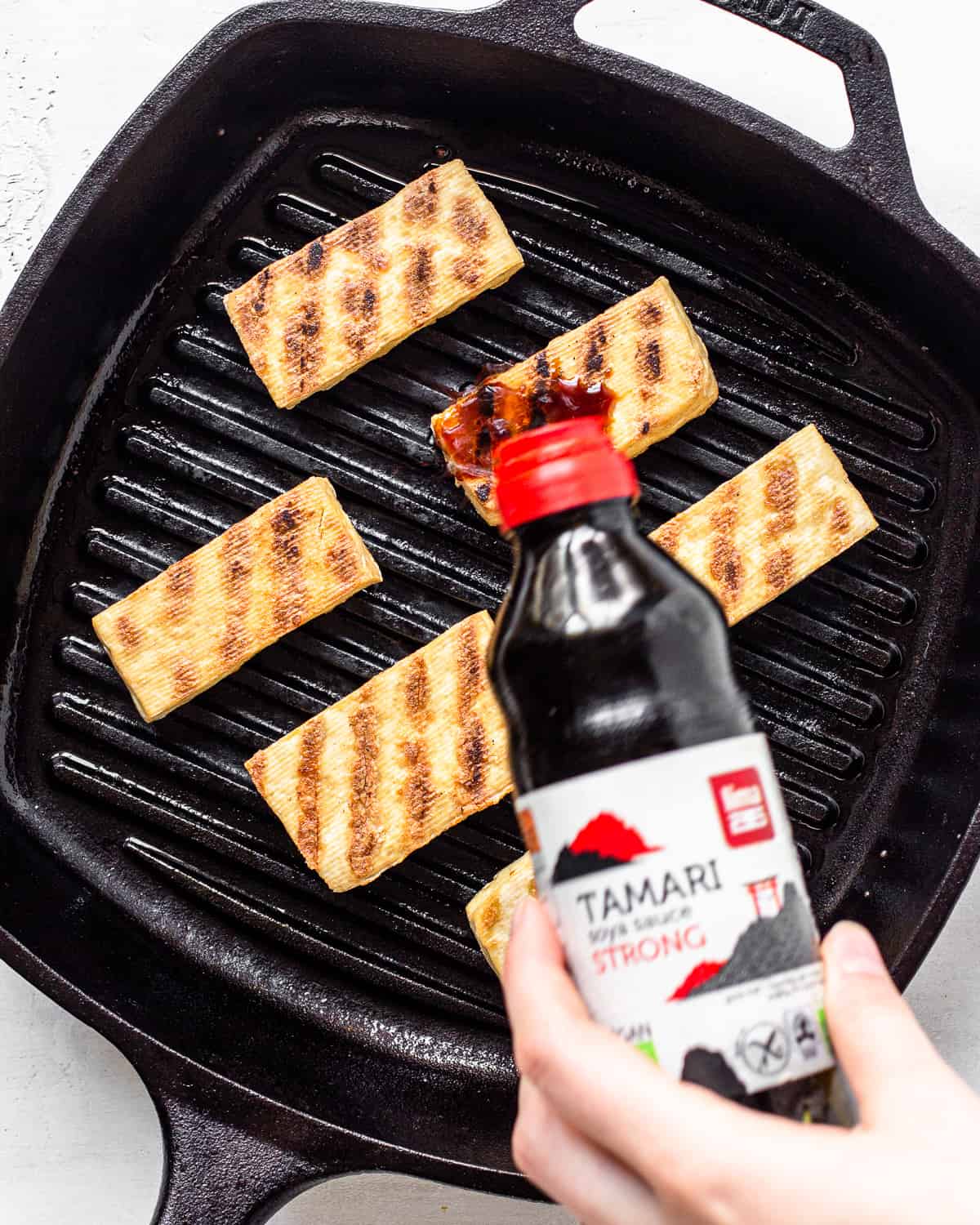 STEP 3: Season with tamari or dark soy sauce. This prevents the tofu from tasting bland. You can add a little bit of garlic powder, ground coriander, or ground cumin if you like.
STEP 4: Brush with half of the chimichurri sauce. Allow the tofu to sit for 5 minutes to let the flavors meld and the tofu to cool slightly. Serve the tofu with additional chimichurri sauce on the side.
How to grill tofu on a gas grill
STEP 1: Preheat the grill to high heat (500°F, 250°C).
STEP 2: Clean the grates with a wire brush if needed to remove any debris.
STEP 3: Brush the grill grates with oil to prevent the tofu from sticking.
STEP 4: Place the pieces of tofu on the grill grates, close the lid, and grill for 3-4 minutes or until grill marks form.
STEP 5: Use a spatula to flip the tofu over and grill for another 2-4 minutes on the other side.
STEP 6: For extra crispy results, grill the tofu for 5 more minutes over indirect heat. Place the tofu planks on the side of your grill and turn the closest burner to low heat or turn it off completely.
STEP 7: Take the tofu off the grill and place it in a baking dish. Drizzle tamari on top and flip it a few times to make sure it's well-coated.
STEP 8: Allow the tofu to sit for 5 minutes in the tamari (or soy sauce) before brushing it with chimichurri. Cover to baking dish with aluminum foil if you're afraid it's going to cool down.
How to serve chimichurri tofu?
As a main dish with a side of grilled veggies, green beans, yellow bell pepper, sweet potatoes or rice. You can serve the extra in small bowl on the side.
As a sandwich filling.
As a salad topper with romaine lettuce, cherry tomatoes, and red onions.
As an appetizer with skewers.
Frequently asked questions
How long can you store cooked tofu?
Cooked leftover tofu can be stored in an airtight container in the refrigerator for up to four days. It's best to store it separately from any sauce or seasoning to prevent it from becoming soggy.
How to store cooked tofu?
Transfer tofu into an airtight container and refrigerate it. If you want to freeze the cooked tofu, allow it to cool completely before storing it in an airtight container in the freezer. When you're ready to use it, thaw it in the refrigerator overnight before reheating it in a baking dish.
Don't forget to join the Cooking With Elo newsletter. You'll get gluten-free and vegan dinner ideas sent right to your inbox.
The recipe
Chimichurri Tofu (Grilled Or Pan-Fried)
Chimichurri tofu is a vegan main dish that is full of garlicky and herby flavors. It makes an incredible vegan alternative to meat for BBQ season.
Print
Pin
Ingredients
14

ounces

(

400

g

)

extra-firm tofu

4

tablespoons

tamari

sub dark soy sauce if not gluten-free
Instructions
Press the tofu. Use a tofu press or weigh it down with heavy objects. Alternatively, wrap it in paper towels and microwave it in 30-second increments for 2 minutes to draw out the excess moisture.

Make the chimichurri. Wash the parsley and remove the thick stems. Chop it very finely with a chef's knife or use a food chopper. Crush the garlic cloves with the flat side of a knife. Combine the parsley, olive oil, red wine vinegar, crushed garlic cloves, salt, and red pepper flakes.

Cut the tofu. Cut the tofu block through the long edge to obtain 0.5-inch (1,3 cm) tofu slabs. Then, cut them into smaller planks (see step-by-step pictures)

To cook it in a pan: Heat a pan over medium-high heat with olive oil. Sear the tofu planks for 2 minutes on each side (I like to set a time). Then reduce heat to medium and cook them for another 5 minutes per side until a golden crust forms. Add the tamari and let it cook for another minute.

To cook it on the grill: Preheat your grill to 475-500°F (245-260°C). Once hot, clean it with a grill brush and oil it to prevent the tofu from sticking. Place the tofu onto the grill grates and close the lid. Grill for 2-4 minutes to obtain nice grill marks. Flip the tofu and grill for another 2-4 minutes. For extra crispy results, grill the tofu over indirect heat for another 5-10 minutes. Place the tofu planks on the side of your grill and turn the closest burner to low heat or turn it off completely. Remove the tofu from the grill and drizzle with tamari. Let it sit for 5 minutes.

Serve. Brush the chimichurri onto the tofu and serve.
Leave a rating and comment below! Thank you!
Don't forget to mention @cookingwithelo on social media
Loved it? Please rate it!
If you tried this recipe or any other recipe from the blog, make sure to let me know how you liked it by leaving a star rating and a comment below. Your feedback really matters! To never miss a recipe, follow me on Instragram, Pinterest and Facebook.