Prepare yourself to master the art of marinated grilled tofu, featuring irresistible grill marks and smokey flavors. I'll share a simple approach to preparing tofu, starting with a soy-based marinade and enhancing it with a savory BBQ sauce. Continue reading to discover the best grilling technique and tofu marinade ingredients.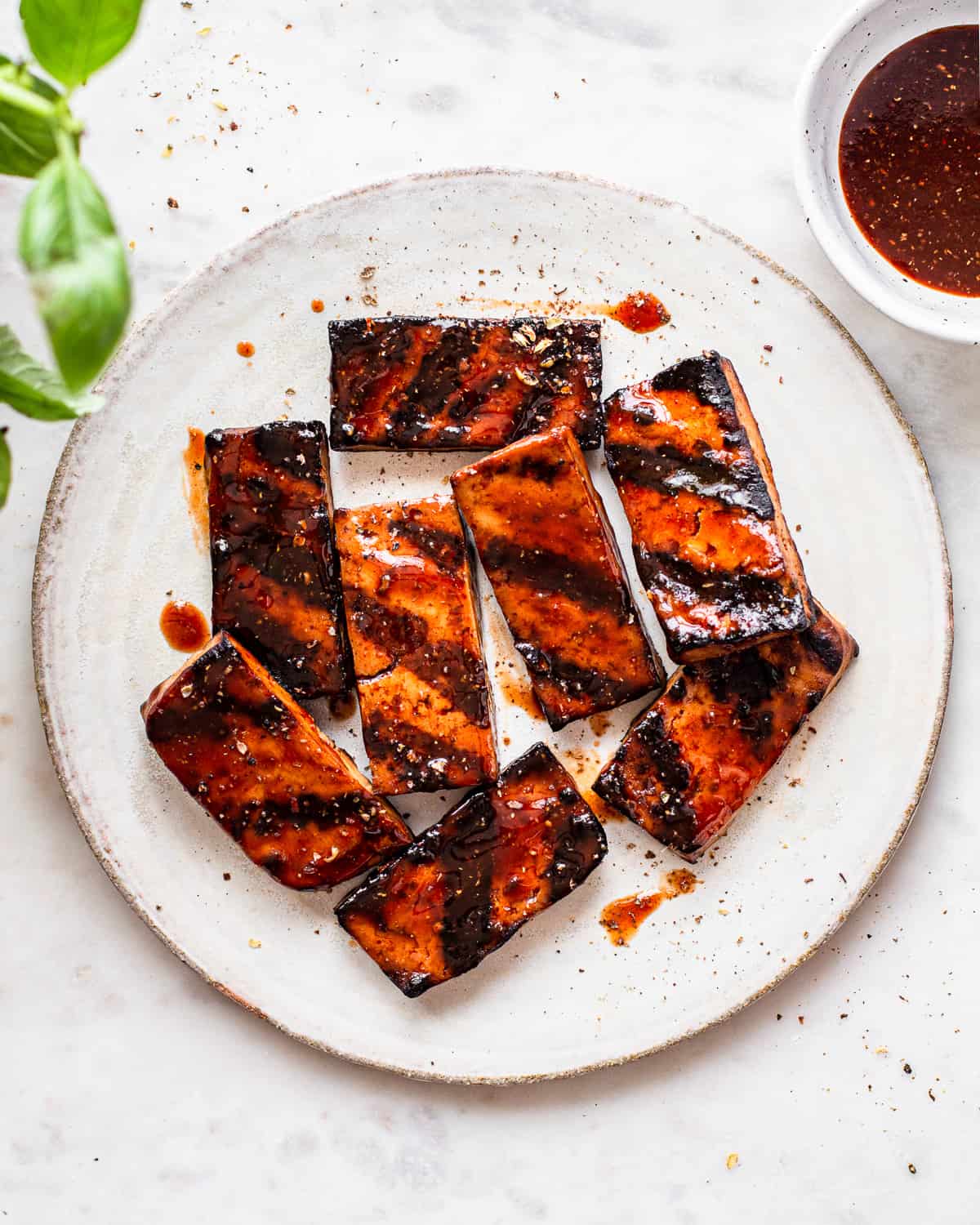 I've done all the testing for you and I'm so excited to share this ultimate grilling guide with you! Whether you're a tofu lover or trying some plant-based options for your next BBQ party, you're at the right place.
Jump to:
3 essential steps to marinated grilled tofu
Press the tofu: This is absolutely essential to remove excess moisture and obtain a crispy grilled tofu. I'm sharing all my tips and different methods below.
Make an oil-free marinade: Marinating tofu is a little different from marinating meat. During recipe testing, I discovered that when tofu was marinated in a thick oil-BBQ sauce marinade, the marinade tends to stick to the grill grates. Furthermore, the tofu doesn't really soak up the flavors (even after marinating overnight). You can read why and what you should do instead below.
Brush it with sauce: To intensify the flavors of the marinade, you want to brush your tofu with a thicker sauce when it's done grilling.
Which tofu is best for grilling?
Extra firm tofu or firm tofu are the absolute best and only kinds of tofu you should use for grilling. Other types of tofu (e.g., soft tofu, silken tofu) will be too difficult to handle on the grill. They could break or fall through the grates while cooking.
Note that even firm and extra-firm tofu should be pressed, so don't skip that step.
How to press tofu
Tofu press method: A tofu press is a kitchen gadget that applies pressure on the tofu block to press out water. It usually sits in a container that collects the water and makes pressing tofu really easy and convenient. Pressing it for 15 minutes is usually enough. In my opinion, it's 100% worth investing in a tofu press if you eat and cook tofu on a regular basis.
Heavy objects method: It's probably the most common way to press tofu (aka what I was doing when I didn't know better). Wrap the block of tofu in clean paper towels or a clean dish towel (that will soak up the excess water) and weigh it down with really heavy objects on top (e.g., a cast-iron skillet or Dutch oven, heavy books, canned foods) for 30 minutes to 1 hour.
Microwave method: It's the quickest way to draw moisture out of a tofu block. Place the tofu in a microwave-safe dish and wrap it in paper towels. Microwave in 30-second increments for about 2 minutes. Finally, dry the tofu with fresh paper towels. That's it!
How to cut tofu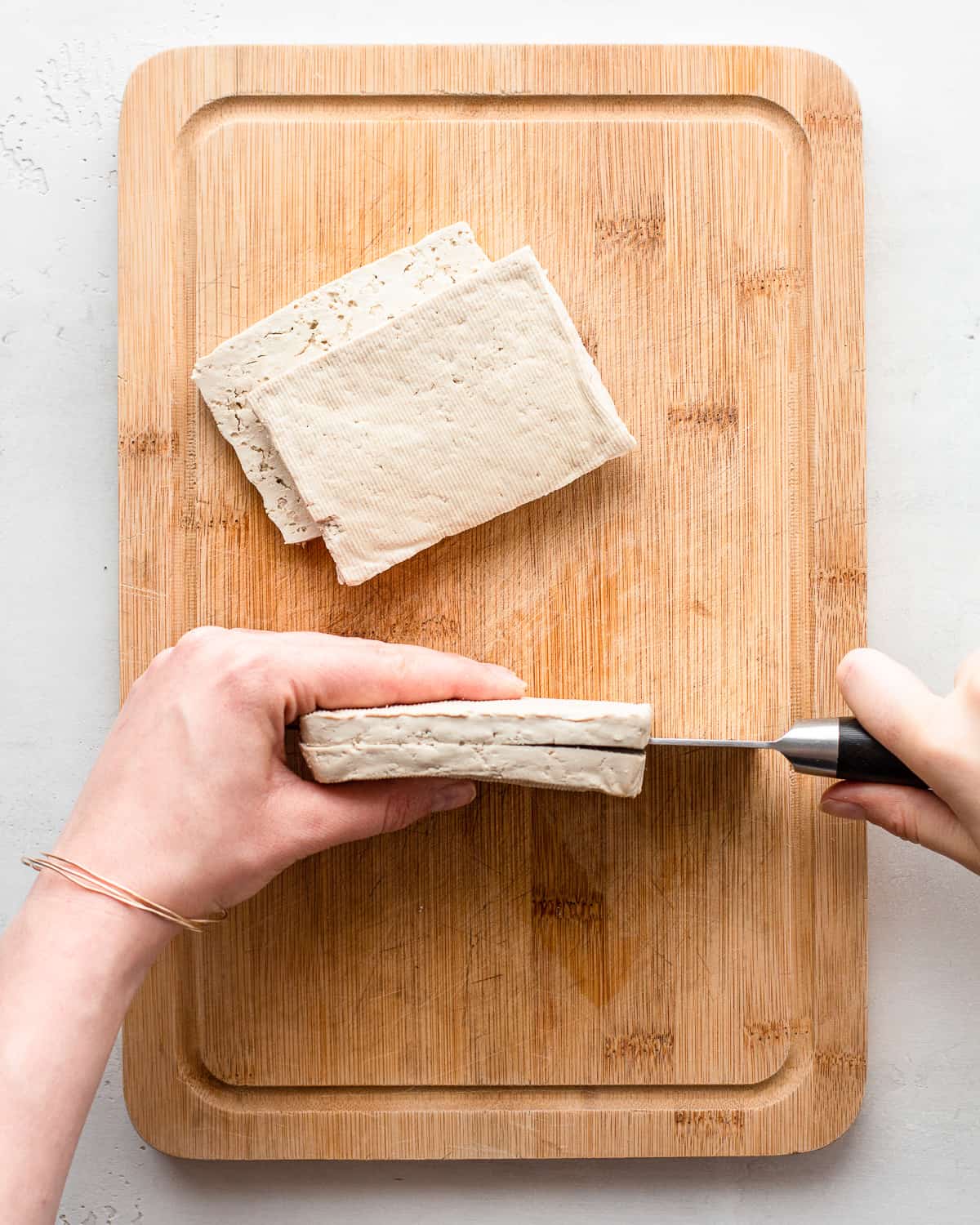 You don't want your tofu planks to be too thick. Therefore, start by cutting the tofu block in half through the long edge. This allows for a higher tofu-to-sauce ratio (which means more flavor, yay!).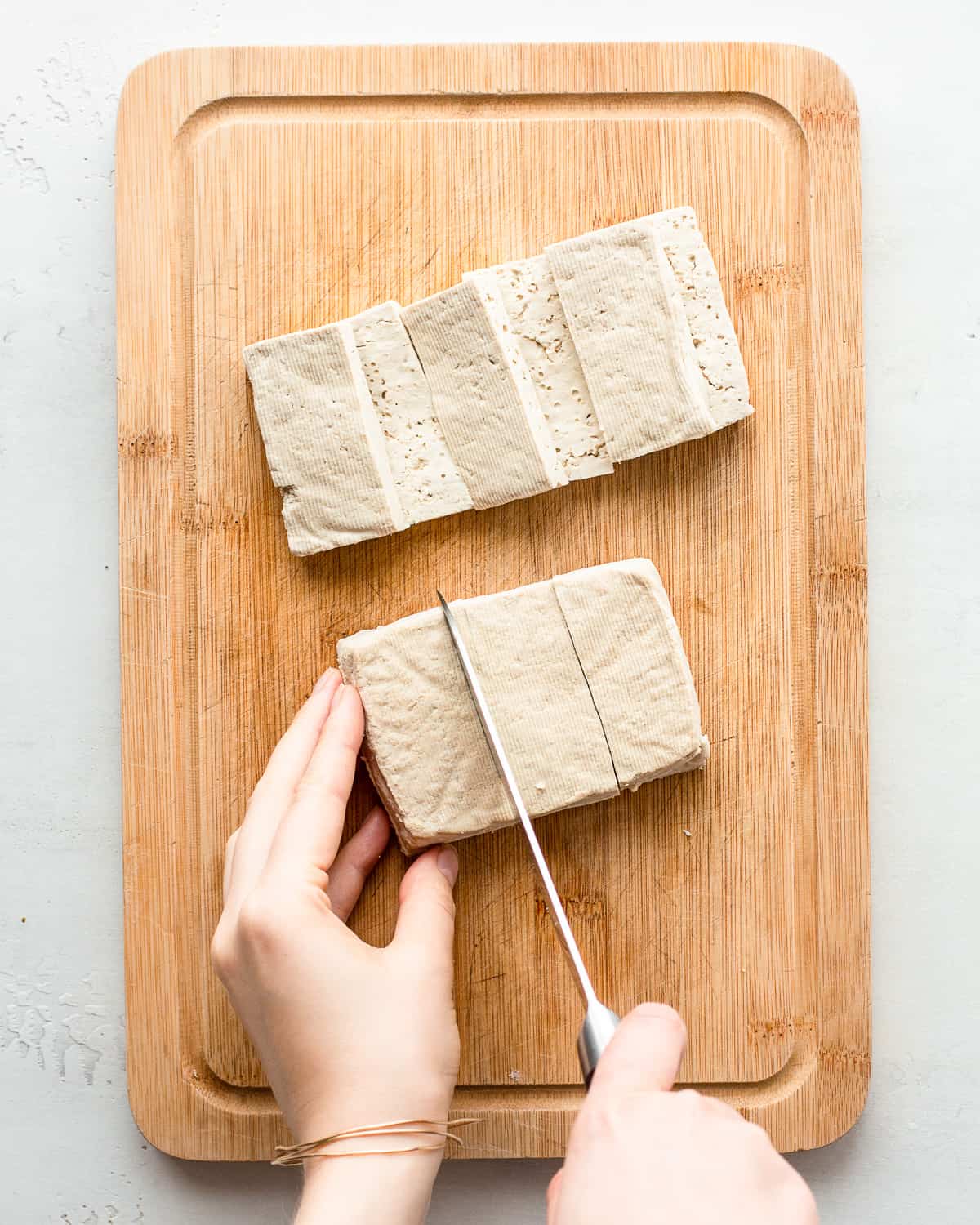 Next, cut it across into 3 pieces to form 6 tofu steaks. I find these smaller planks very convenient for BBQ parties but you could also leave them whole if you're only grilling for a few people.
Alternatively, you can make tofu kabobs, also known as tofu skewers. Cut the tofu into 1 ¼ inch (3 cm) cubes and thread them onto metal or bamboo skewers. Make sure to soak the wooden skewers in water for 30 minutes prior to using them to prevent them from burning on the grill.
How to make tofu marinade
Don't marinate tofu in oil. Tofu is like a sponge filled with water. Even after pressing, there's still some moisture left. If you place the tofu in an oil-based marinate, the oil-water repulsion will create a barrier that prevents the flavors from soaking in.
Don't use ingredients with a thick or sticky consistency (e.g., ketchup, barbecue sauce, maple syrup, tomato paste, chili paste, or Dijon mustard) unless it's thinned out with ingredients like soy sauce, lemon juice, lime juice, or vinegar.
Marinate the tofu for 2+ hours and preferably overnight. The longer you let it marinate, the more flavorful the tofu will be.
Place the tofu cut side down in the marinade. I found that it soaks up the marinade better that way.
For this marinade, I'm using a mix of tamari for saltiness, a little BBQ sauce for smokiness, and water to thin it out. You can substitute the tamari with (gluten-free) soy sauce or coconut aminos, and the red wine vinegar with apple cider vinegar.
Add the tamari, water, and BBQ sauce to a large rectangular container (that fits all the tofu pieces in a single layer) and whisk to combine.
Add the tofu to the marinade and flip it several times until well-covered. Cover the container with plastic film, aluminum foil, or a sustainable alternative and place it in the refrigerator.
How to prevent tofu from sticking to the grill
Prep your grill: Make sure your grill grates are clean. Leftover food and burnt pieces can make the tofu stick. If you didn't clean the grill the last time you used it, wait until it's warm and give it a good scrub with your grill brush.
Oil your grill: Generously brush the grates with oil. Unlike meat, tofu doesn't have a natural fat content that would keep it from sticking. I like to use a silicone brush to oil the grill, but you can also brush it with oiled paper towels that you hold with grilling tongs.
Don't rush: Wait for 2-4 minutes until grill marks have appeared before flipping the tofu. Once it's really firm and grilled, it will flip much more easily.
How to grill tofu
Preheat your outdoor grill to 475°F-500°F (240°C-260°C).
Prep the grill as described above (clean it and oil the grates).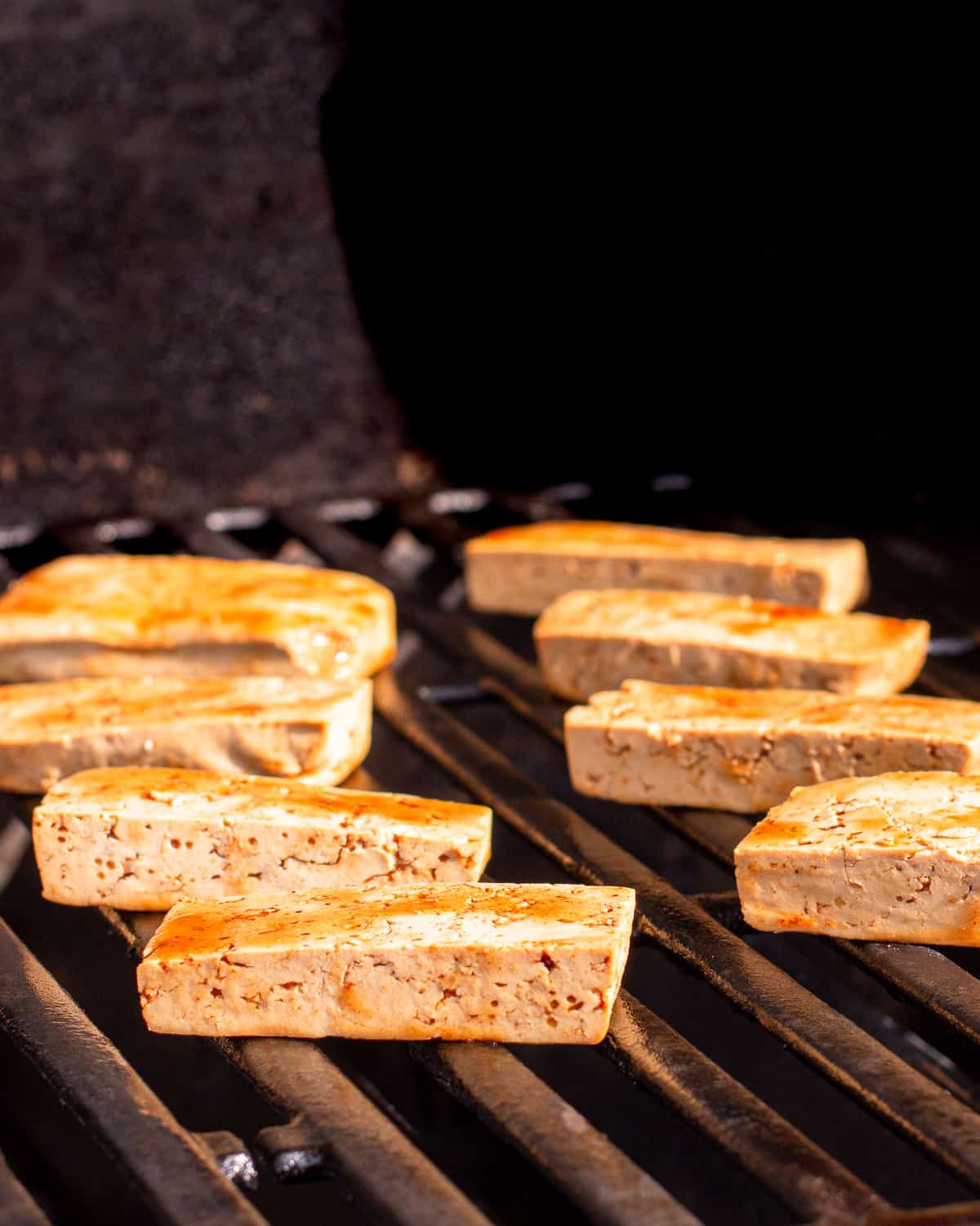 Place the marinated tofu slices on the grill at a 45° angle to obtain diagonal grill marks. Close the grill to keep the heat at about 500°F (250°C). Grill the tofu for 2-4 minutes on the first side.
Flip the tofu planks with grilling tongs or a thin metal spatula (e.g., a fish spatula). Grill for another 2 minutes. For extra crispiness, cook the tofu over indirect heat for 5 more minutes (see recipe card for detailed instructions or watch the video).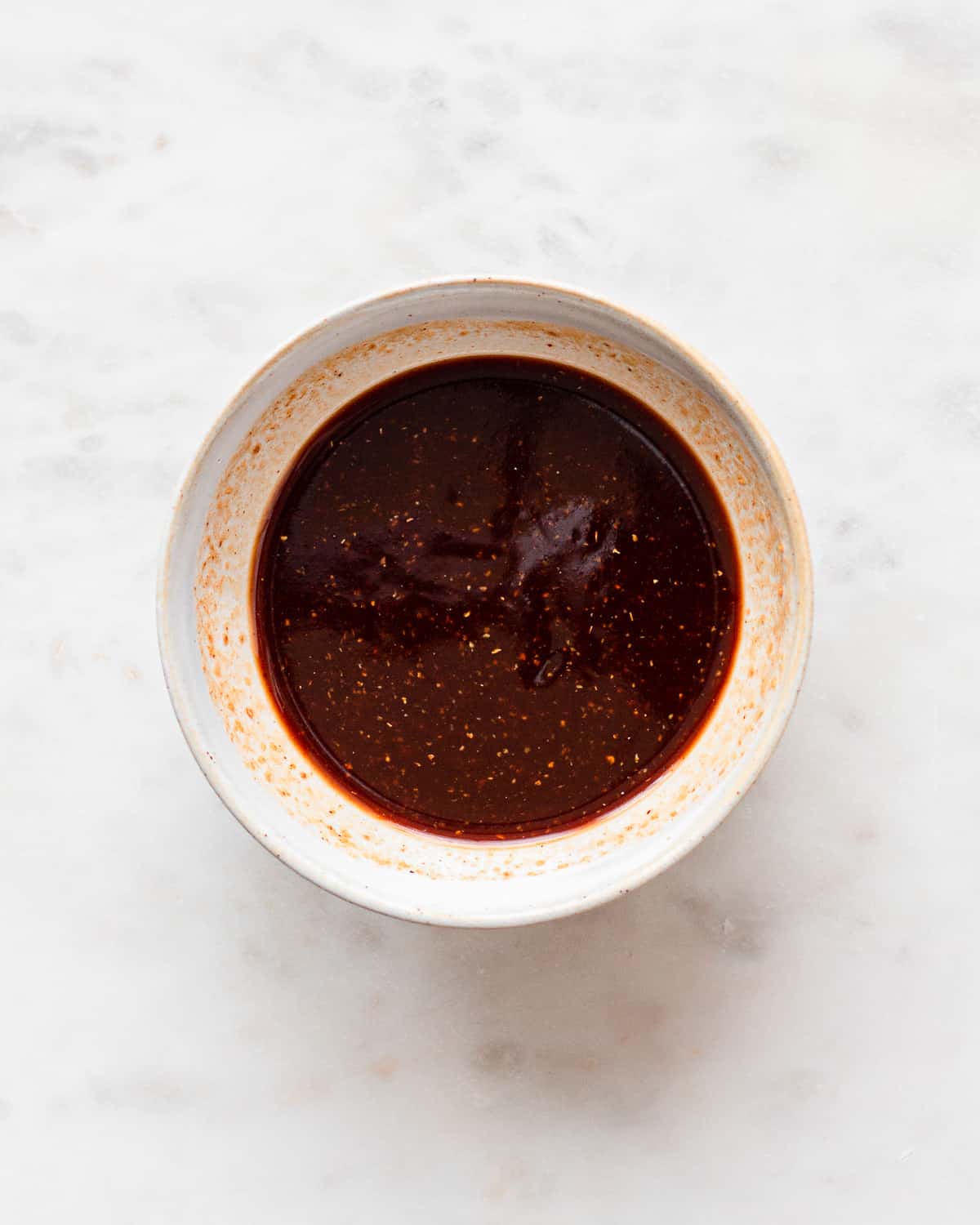 Make the sauce. In a small bowl, combine the leftover marinade with some more BBQ sauce, red wine vinegar, maple syrup, and spices (in this case, garlic powder and ground coriander).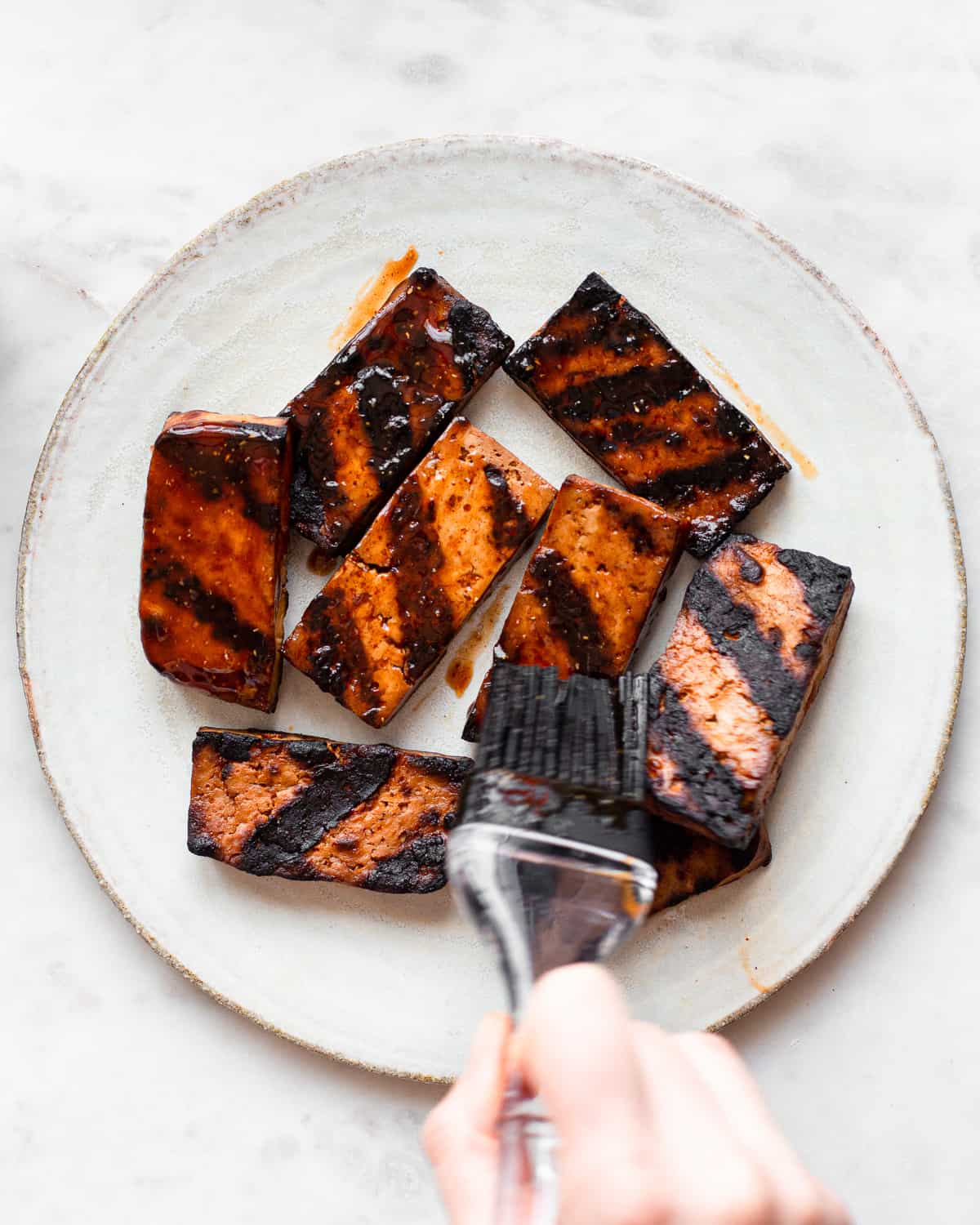 Remove the tofu pieces from the grill and transfer them to a serving platter. Brush with the BBQ sauce you prepared.
Feel free to variate the flavors by adding ground cumin, smoked paprika, cayenne pepper, or onion powder to the sauce.
When is tofu ready?
Unlike meat, tofu will not be "cooked through". It's ready as soon as you can see nice grill marks that indicate it's crispy and provide a smokey flavor. The spices and the sauce you add on top will provide more flavor.
How to make tofu in a grill pan
Heat your grill pan (or heavy-bottomed skillet) over medium-high heat. Brush generously with olive oil.
Place your tofu into the really hot pan. Sear for 2 minutes on each side.
Reduce heat to medium-low and cook for 5 more minutes on each side.
How to store grilled tofu?
You can store leftover tofu without sauce in an airtight container for 4 to 5 days. Note that it will lose its crispiness within a few hours of grilling.
You can eat the leftover tofu cold (e.g., add it to wraps) or reheat it in a pan and brush it with more sauce.
What to serve with marinated grilled tofu?
Summer salads and tabbouleh make a refreshing side dish that burst with flavor. They are perfect to feature vibrant seasonal produce.
Pickled vegetables are a plant-based grilling essential! They add a tangy contrast to grilled tofu and can easily be made ahead of time.
Grilled vegetables: vegetable skewers, marinated mushrooms, whole grilled eggplants, whole grilled cauliflower, grilled cabbage wedges.
Don't forget to join the Cooking With Elo newsletter. You'll get gluten-free and vegan dinner ideas sent right to your inbox.
The recipe
Marinated Grilled Tofu
This marinated grilled tofu with its crispy texture and smokey flavor is the perfect vegan grilling recipe for summer. You can make it on the grill or in a grill pan.
Print
Pin
Ingredients
14

ounces

(

400

g

)

extra-firm tofu
For the marinade (before grilling)
¼

cup

tamari

or gluten-free soy sauce

¼

cup

water

2

tablespoons

BBQ sauce
For the BBQ sauce (after grilling)
Instructions
Press the tofu. Use a tofu press or weigh it down with heavy objects for at least 30 minutes. Alternatively, wrap the tofu in paper towels and microwave it in 30-second increments for 2 minutes to draw out the excess moisture.

Cut the tofu. Cut the tofu block through the long edge, then into 0.5-inch (1,3 cm) planks.

Marinate the tofu. Combine the tamari, water, and BBQ sauce in a large rectangular dish. Add in the tofu planks and make sure they are completely covered. Let marinade for at least 30 minutes, preferably overnight.

Grill the tofu. Preheat your grill to 475-500°F (245-260°C). Once hot, clean it with a grill brush and generously oil the grates to prevent the tofu from sticking. Place the tofu over the burners at medium-high heat (save the marinade for later). Close the lid and cook the tofu for 3 minutes per side until beautiful grill marks appear. Then, flip the tofu again and move it away from the burners (e.g., on the sides or at the back of the grill). Reduce heat to medium-low and continue grilling for 5 minutes per side until crispy. Transfer to a plate.

Make the BBQ sauce. To the rest of the marinade, add the BBQ sauce, red wine vinegar, maple syrup, garlic powder, and cumin. Give it a good mix.

Serve. Brush the BBQ sauce onto the tofu planks and serve right away.
Nutrition
Calories:
128
kcal
|
Carbohydrates:
18
g
|
Protein:
9
g
|
Fat:
2
g
|
Saturated Fat:
0.3
g
|
Fiber:
1
g
|
Sugar:
13
g
Leave a rating and comment below! Thank you!
Don't forget to mention @cookingwithelo on social media
Loved it? Please rate it!
If you tried this recipe or any other recipe from the blog, make sure to let me know how you liked it by leaving a star rating and a comment below. Your feedback really matters! To never miss a recipe, follow me on Instragram, Pinterest and Facebook.