Is Aperol Tonic the new Aperol Spritz? Or simply a great alternative to the iconic drink when you're out of Prosecco? This cocktail is lighter, less alcoholic and just as refreshing as the original. You should absolutely give it a try! And if you love simple cocktail recipes, check out our famous apple cider whisky cocktail.
Jump to:
Who doesn't like a refreshing Italian drink on a hot summer day? Aperol Tonic is a slightly bitter sparkling cocktail made with 2 simple ingredients. We absolutely love it during the warm summer months. Plus, it's one of the easiest cocktails to make at home! You don't even need a cocktail shaker or fancy equipment.
Aperol 1-0-1
Before we dive into this cocktail recipe, let's answer all the questions you may have about this Italian aperitif.
What is Aperol made of?
The main ingredients of Aperol are gentian (an herb that produces fragrant orange-yellow flowers, used for its bitter compounds), rhubarb, and cinchona (a tree, whose bark is used for its high quinine content).
What does Aperol taste like?
Aperol has a refreshing bitter flavor, with hints of bitter orange, subtle rhubarb aromas and herbal scents. It's a light and citrusy liquor.
Aperol vs Campari
Both Aperol and Campari have a vibrant orange color and are characterized by bittersweet orange and herbal aromas. Campari is definitely the more bitter of the two. Aperol is a sweeter, fruitier and more refreshing liquor. It also has half the alcohol content of Campari (11% vs 20%). Both are owned and produced by the Campari group.
Is Aperol vegan?
Yes, Aperol is completely vegan as it does not contain eggs (or albumen), milk (or lactose or casein), honey or other animal-based products.
Is Aperol gluten-free?
Yes, Aperol is completely gluten-free. It's made with gluten-containing grains and not manufactured alongside such grains. People with celiac disease or gluten sensitivities can safely consume it.
What is Aperol Spritz?
Aperol Spritz is a classic Italian cocktail made from Aperol, prosecco, club soda and a slice of orange. This refreshing cocktail is extremely popular in Italy and is served at every bar and restaurant at aperitivo hour.
Did you know that the name Aperol comes from the Italian word aperitivo, often called apero in slang language?
Aperol Tonic vs Aperol Spritz
Aperol Spritz is a vibrant orange drink served in oversized wine glasses. It consists of Aperol, prosecco and soda water (or sparkling water). The Spritz gained worldwide popularity in 2018 and was ranked as one of the bestselling cocktails in 2019 by the website Drinks International.
This Aperol Tonic recipe is a twist on the classic Aperol Spritz. You make it with Aperol and tonic water. The bitter flavor of the tonic pairs extremely well with the fruity notes of the Aperol. It's slightly bitter with a hint of orange. You can vary the flavors based on the aromas of the tonic water you use. If you feel fancy, serve it in a large wine glass. Otherwise, you can use a highball glass and serve it like a Gin fizz.
Which tonic water to choose?
The classics
Fever-Tree's premium Indian tonic water is our top choice. It's rich in quinine, bitter and most importantly, not too sweet. You can find it in most stores but note that it's a little pricier than other brands.
Fentiman's premium Indian tonic water is infused with botanicals, which provide a very interesting flavor profile. The subtle kaffir lime leaves and lemongrass aromas perfectly complement the Aperol.
Schweppes' original Indian tonic is very sparkly and has a long-lasting bitter but almost neutral flavor profile. While you could consider it a weakness, it actually makes it versatile. You can find it in most grocery stores at a pretty affordable price point. It works great for an Aperol tonic cocktail.
Canada Dry's tonic water is a little sweeter than the one from its competitors. If you like a tonic that's a little less bitter, this one might be for you.
Flavored tonic waters
Fever Tree's Mediterranean tonic water is infused with rosemary and lemon thyme. It contains less quinine than other Fever-Tree tonic waters, which makes it a lighter, more fragrant tonic. We absolutely love it paired with Aperol.
Fever Tree's lemon tonic water is known for the sharpness of Sicilian lemons. It brings out the fruity notes of liquors. You can combine it with Aperol for a very zesty drink.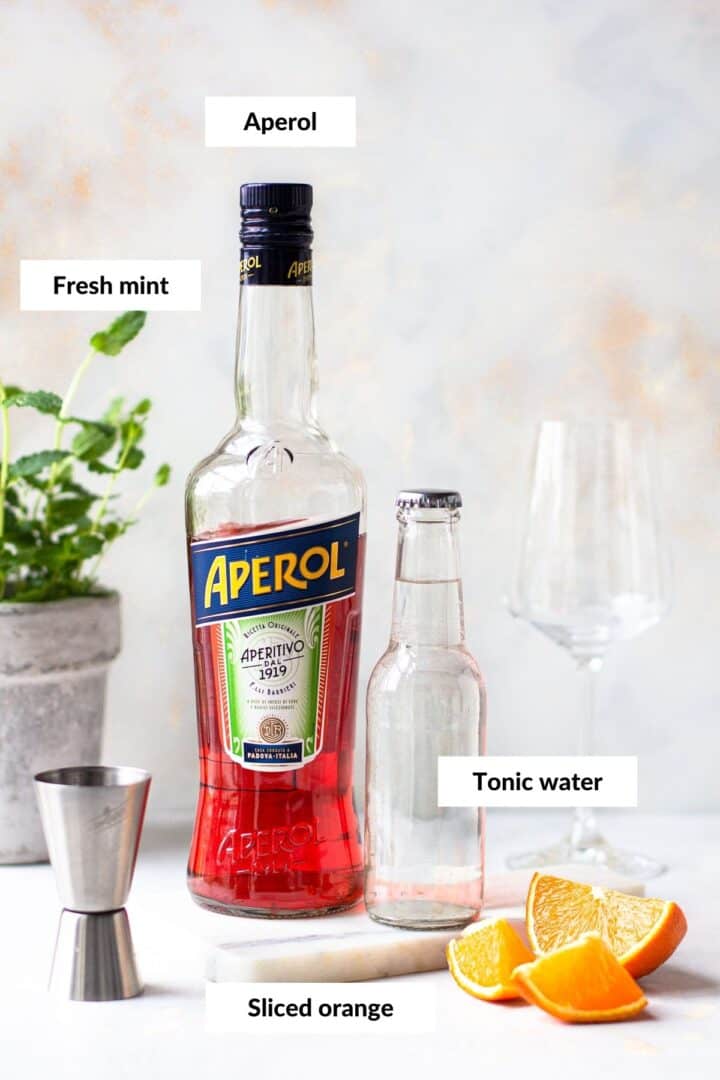 How to make Aperol Tonic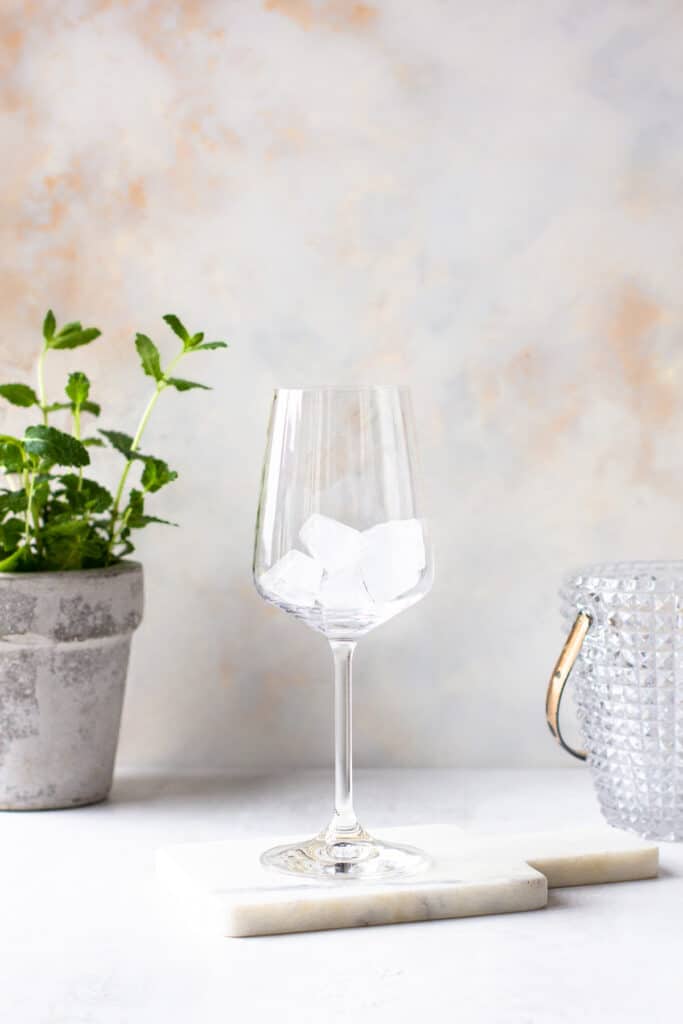 Fill an Aperol Spritz glass or highball glass with ice cubes.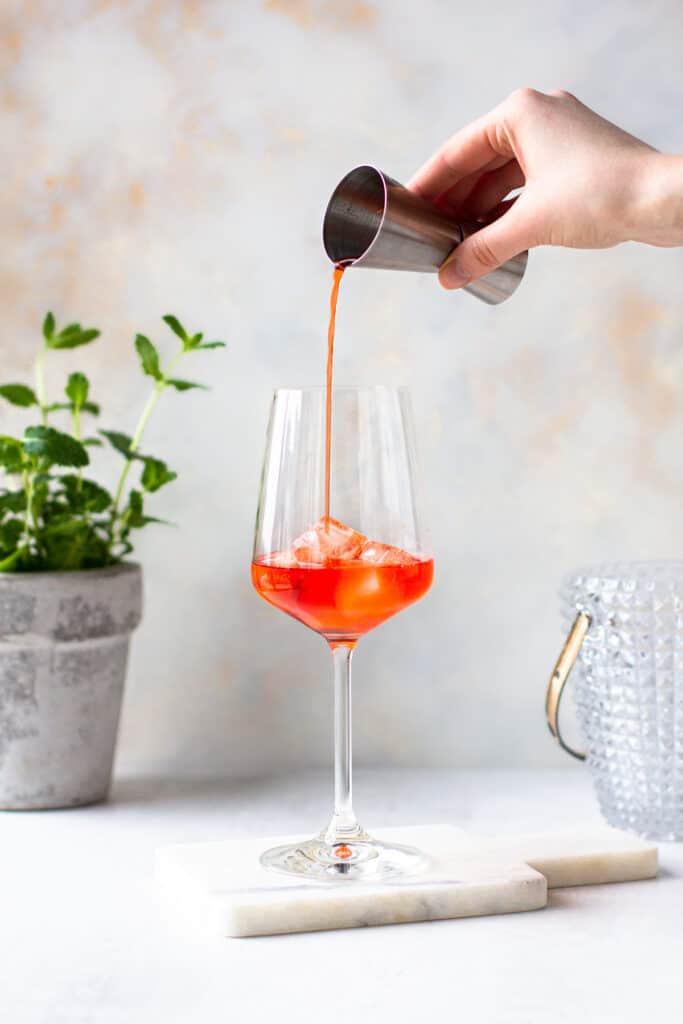 Pour 5 parts Aperol over the ice.
Fill it up with the tonic water of your choice.
Garnish with an orange slice or strip of orange zest and a rosemary sprig.
To make it less bitter, add a little simple syrup, a splash of club soda or sparkling water.
Frequently asked questions
Where can you buy Aperol?
You can buy a bottle of Aperol at most well-stocked liquor stores (in the liquor section, next to Campari). Alternatively, you can also buy it online. In Italy and other European countries, you can find it at every grocery store.
What is the best Aperol substitute?
Campari would be the best substitute for Aperol. However, it's stronger, less fruity and less sweet than Aperol.
What can you use instead of prosecco in Aperol Spritz?
Our favorite option is tonic water instead of prosecco. To recreate an Aperol Spritz, you could ale use champagne or sparkling wine (cava). Ginger beer is also a great alternative (if not gluten-free).
Don't forget to join the Cooking With Elo newsletter. You'll get gluten-free and vegan dinner ideas sent right to your inbox.
The recipe
Refreshing Aperol Tonic (Without Prosecco)
Aperol tonic is the new Aperol Spritz! This cocktail is lighter, less alcoholic and just as refreshing as a Spritz. It's also a great alternative if you do't have Prosecco.
Print
Pin
Ingredients
Ice cubes

2

oz

(

60

ml

)

Aperol

8.5

oz

(

250

ml

)

tonic water

see notes

1

orange slice
Instructions
Fill a large wine glass with 3-4 ice cubes.

Pour the Aperol into the glasse and fill it up with tonic water.

Garnish with an orange slice, orange zest and a sprig of rosemary.
Notes
You can use classic Indian tonic waters or flavored tonic water (see post above). Fever-Tree's premium Indian tonic water is our top choice. It's rich in quinine, perfectly bitter and not too sweet. You can find it in most stores but note that it's a little pricier than other brands.
Nutrition
Calories:
131
kcal
|
Carbohydrates:
13
g
|
Sodium:
10
mg
|
Potassium:
17
mg
Leave a rating and comment below! Thank you!
Don't forget to mention @cookingwithelo on social media
Loved it? Please rate it!
If you tried this recipe or any other recipe from the blog, make sure to let me know how you liked it by leaving a star rating and a comment below. Your feedback really matters! To never miss a recipe, follow me on Instragram, Pinterest and Facebook.
Discover more recipes