This gently-spiced mango millet salad has an irresistible lemony freshness to it. This zestiness pairs well with the beautiful Indian flavors of the curry in this healthy salad.
The minimalism of the ingredients results in maximum taste and impact in this wellness-giving recipe. Plus, it's actually onion- and garlic-free!
Jump to:
All about millet
Is millet a grain? 
Yes, millet (also known as foxtail millet) is a small, round, whole grain cultivated for thousands of years. It is a staple crop in many parts of the world, including Africa and Asia.
Is millet gluten-free?
Yes, millet is naturally gluten-free and a great option for people with celiac disease or gluten intolerance.
What does millet taste like? 
Millet has a mild, nutty flavor and a slightly crunchy texture. It is similar to quinoa or couscous in terms of taste and texture.
How to substitute millet?
Millet can be substituted for other grains in recipes, such as rice, quinoa, or couscous.
Is millet healthy?
Yes, millet is a nutritious whole grain that has high amounts of fiber, protein, vitamins, and minerals. It is also a good source of antioxidants and has a low glycemic index. It's also sometimes used in baked goods, such as muffins or bread, to add texture and nutrition.
Is millet low FODMAP?
Yes, millet is considered a low FODMAP food, which means it is safe for people with irritable bowel syndrome (IBS) who follow a low FODMAP diet. However, it is important to note that some people with IBS may still be sensitive to millet and should monitor their symptoms.
 Key ingredients and substitutions
Millet: It is gluten-free and rich in fiber, protein, and B-complex vitamins. I like to use large-seed millet vs small-seed millet. You can substitute it with brown rice or couscous (if you're not on a gluten-free diet).
Vegetable broth powder: This optional ingredient can add extra flavor to the millet. You can use a store-bought vegetable broth powder or make your own. If you omit the broth, add a pinch of salt to the water, at least.
Ripe mango: The star ingredient of this salad is ripe mango, which adds a sweet and juicy burst of flavor. It's important to use fresh, very ripe mango for this recipe. Canned or frozen mango won't have the same texture or flavor.
Corn: Canned corn is fine if you're short on time. Ideally, try sous-vide corn and heat it in a pan with a little vegetable oil (that's what I did; it's still quick and adds extra flavor). Alternatively, grill corn from scratch for a mild corn flavor. Leftover grilled corn from your BBQ party is perfect, too!
Cucumber: A great way to add freshness to this delicious salad. English cucumber or mini cucumbers work great. You can leave the skin if it's organic.
Lemon juice and zest: You can adjust the amount to your taste.
Curry powder: Use a high-quality curry powder with a mild flavor for this recipe.
Fresh cilantro: Substitute with fresh parsley or other fresh herbs.
How to cook millet (+ tips)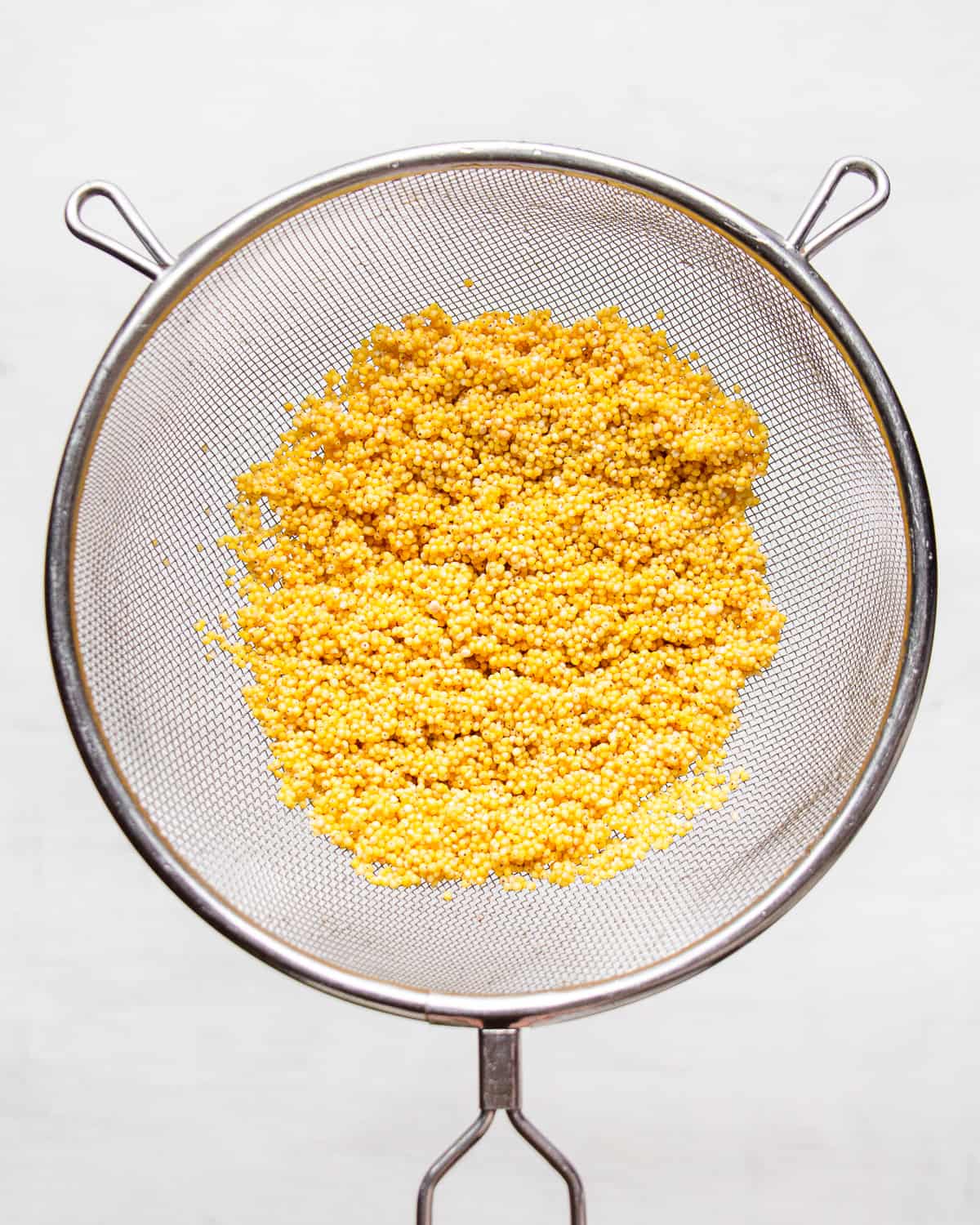 Rinse the millet thoroughly in a fine mesh strainer under cold running water to remove dirt or debris.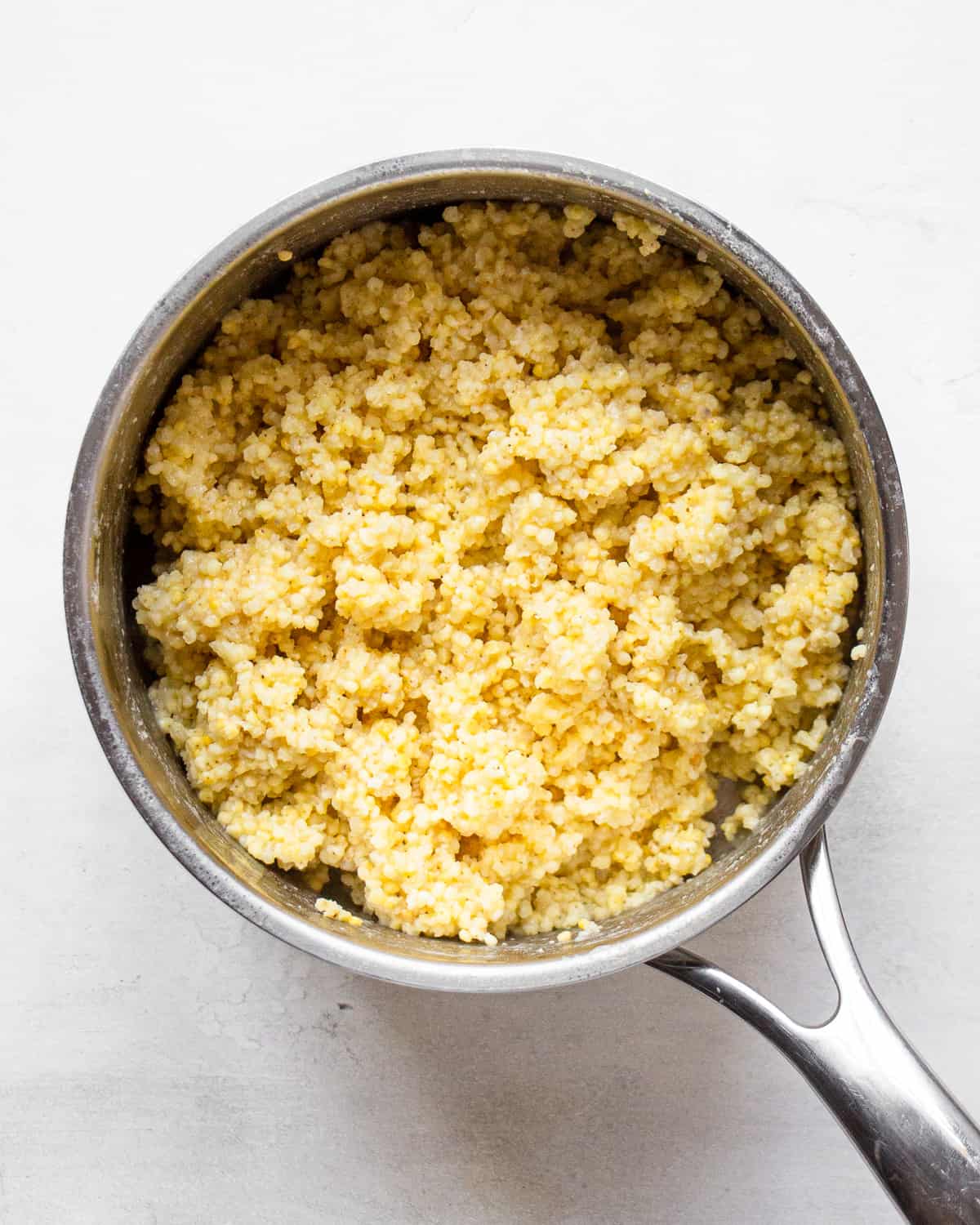 Bring the millet and water to a boil over medium-high heat, then reduce the heat to medium-low. Simmer for about 10-15 minutes (depending on the amount you're cooking), until most of the water has been absorbed.
Toast the millet (optional): Prior to cooking, you can toast the millet in a dry skillet over medium heat for a few minutes until it turns golden brown and fragrant.
The general water-to-millet ratio is 2:1 but be sure to check the package instructions for specific cooking times and ratios.
Add broth powder to the cooking water for extra flavor.
Let it rest: Once the millet is almost cooked, turn off the heat and let it sit covered for 10-15 minutes to absorb any remaining liquid. 
Do not lift the lid or stir the millet during resting.
Fluff the millet: After cooking the millet, fluff it with a fork to separate the grains and prevent clumping. This will help to give it a light and airy texture.
Step-by-step instructions
STEP 1: Prepare the mango by slicing it along the pip. Make lengthwise and crosswise incisions, then scoop out the mango pieces. Cut the cucumber into small dice. Prepare the corn. Ans zest the lemon with a fine grater.
STEP 2: Make the dressing by adding extra virgin olive oil, fresh lemon juice and zest, and curry powder to a bowl. 
STEP 5: Toss the cooked millet with the dressing for it to absorb all the flavors.
STEP 6: Add the rest of the ingredients and rest the salad for 15 minutes (if time allows).
Elo's tips
Make the millet ahead of time: To save time and ensure that the millet is cold when you make the salad, cook the millet ahead of time and let it chill in the fridge.
Don't rinse the millet under cold water after cooking: I know that it's a time-saving way to cool the millet, but it will make the millet harder and less fluffy.
Rest the millet salad for 15 minutes before serving: This will allow the millet to absorb the flavors of the other ingredients and the dressing.
Serve chilled: Millet salad tastes best when it's served chilled. Keep it in the fridge until you're ready to serve, and consider adding a few ice cubes to the salad bowl to keep it cool.
Use high-quality ingredients: Since the salad is simple, the quality of the ingredients matters. Use fresh, seasonal produce and good-quality olive oil to enhance the flavors of the salad.
Adjust the seasoning to taste: Taste the salad as you go and adjust the seasoning to your liking. You might want to add more salt, lemon juice, or spices depending on your preference.
Optional add-Ins 
Sunflower seeds or pumpkin seeds: These nutty seeds add crunch to the salad.
Green onions: Adds a sharp, oniony flavor to the salad, and also provide a pop of color. Red onion is lovely too. 
Ripe tomatoes: For color and a summery taste.
Roasted vegetables: Like sweet potatoes, carrots, or zucchini add a smoky and sweet flavor to the salad.
Green beans: Blanched or steamed green beans.
Green peas: Cooked green peas add a sweet and delicate flavor to this grain salad.
Vegan feta cheese: For a salty and tangy flavor.
Kidney beans: Cooked kidney beans add a hearty and filling element to bulk this easy millet salad up.
How long can I store millet salad?
This mango millet salad will keep for 3 to 4 days in the refrigerator.
How to serve curried millet salad?
Millet salad can be eaten as a main course, especially if you add extra protein such as oven-roasted chickpeas (the added protein makes it a complete meal). This go-to salad is a great side dish for barbecues or summer lunches.
Don't forget to join the Cooking With Elo newsletter. You'll get gluten-free and vegan dinner ideas sent right to your inbox.
The recipe
Mango Millet Salad
This gently-spiced mango millet salad has an irresistible lemony freshness to it. It makes a great side dish for BBQs or you can eat it as a main course, especially if you add extra protein (e.g., tofu, roasted chickpeas).
Print
Pin
Ingredients
For the salad
1 ⅓

cups

(

270

g

) millet

sub couscous if not gluten-free

3

cups

(

700

ml

)

water

1 ½

teaspoon

vegetable broth powder

optional

1

ripe mango

1

cucumber

1

can of corn

or kernels from grilled corn cobs (see notes)
Instructions
Rinse the millet and cook it according to package directions (see notes). Optionally add vegetable broth powder to the water for extra flavor. Once it's cooked, fluff it with a fork and let it cool down.

Slice the mango along the seed. Make lengthwise and crosswise cuts without cutting through the skin (see step-by-step pictures). Then, scoop out the mango chunks with a tablespoon.

Peel the cucumber and cut it lengthwise in half and cut it into small dice.

Rinse the corn if using canned or cut the corn kernels off the cob.

Wash the cilantro and remove the thick stems. Chop it very finely with a knife.

Add the olive oil, lemon zest, lemon juice, curry powder, and cilantro to a large salad bowl. Add in the cold millet and give it a good toss.

Next, add the cucumber, mango, and corn. Let the salad sit for 15 minutes if time allows. It allows the millet to soak up all the flavors and make it even more flavorful.
Notes
To prevent the millet from being dry or overcooked, remove it from the heat and cover the pot with a lid once it's almost cooked (most of the water should already be absorbed). The steaming process will make the millet extra moist and fluffy.
For the grilled corn, I like to use sous-vide corn that I briefly roast in a pan with a little vegetable oil until golden brown.
Nutrition
Calories:
422
kcal
|
Carbohydrates:
59
g
|
Protein:
8
g
|
Fat:
17
g
|
Saturated Fat:
3
g
|
Fiber:
7
g
|
Sugar:
8
g
Leave a rating and comment below! Thank you!
Don't forget to mention @cookingwithelo on social media
Loved it? Please rate it!
If you tried this recipe or any other recipe from the blog, make sure to let me know how you liked it by leaving a star rating and a comment below. Your feedback really matters! To never miss a recipe, follow me on Instragram, Pinterest and Facebook.