Is the Kitchenaid Artisan K400 the right blender for you? This review is here to help you make a reflective decision about whether this blender will meet your needs. I'm going to walk you through everything I love about the Kitchenaid K400, its pain points, and how it compares to other blenders. I made sure to include many examples of my personal use and experience to guide you in the best possible way.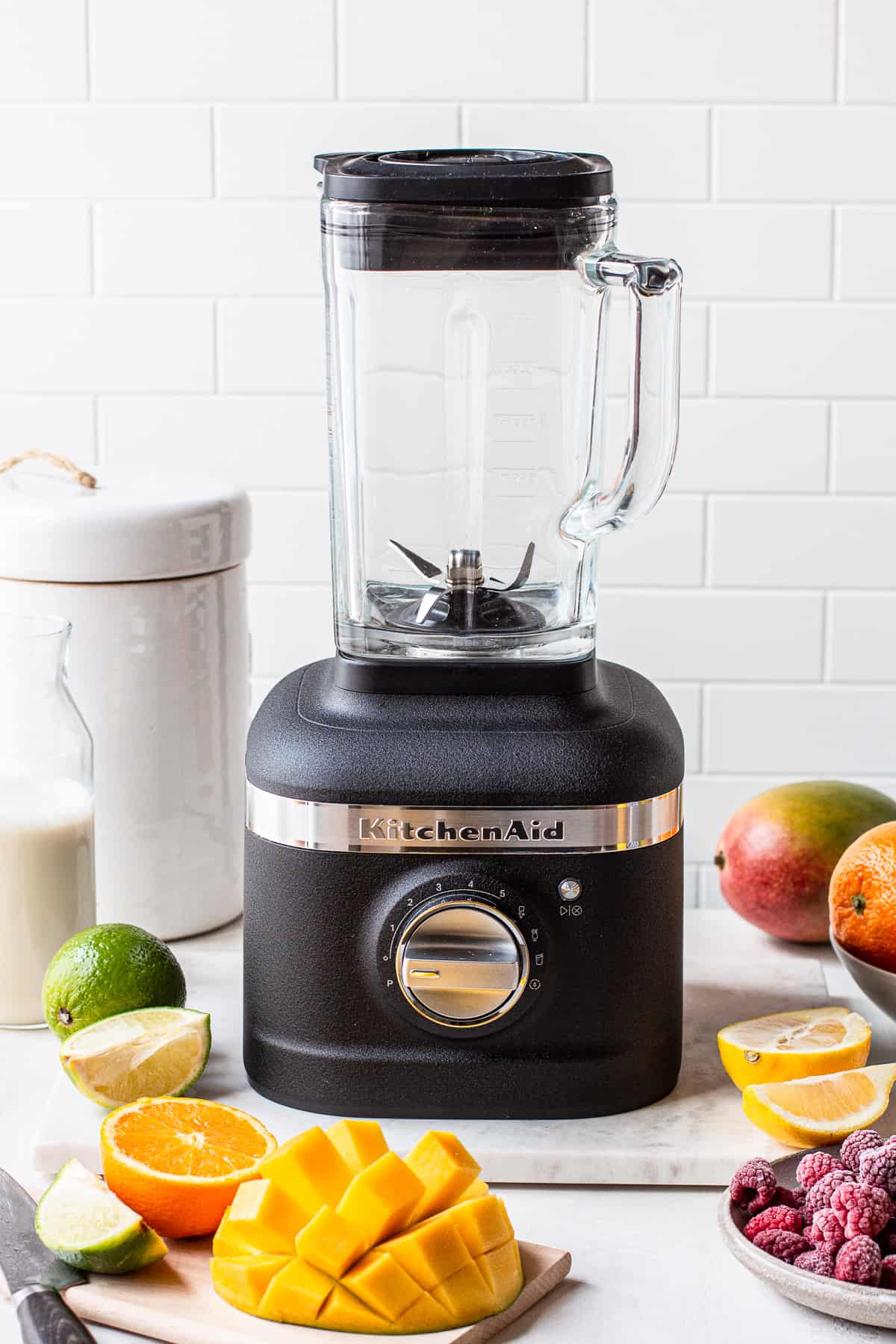 I've been using this blender for 3 years now and it has definitely brought my smoothies, soups, and sauces to the next level! As a reference, I use it on a daily basis for our 2-person household.
This is my true and honest opinion as an avid blender user and not sponsored by Kitchenaid in any way. This post contains affiliate links, which means that I may earn a commission if you use my link to buy the product.
Jump to:
The specifics
The K400 blender is Kitchenaid's high-end blender.
It has 5 different speeds, an on-off button and a pulse option.
It also comes with 3 integrated blending programs: an ice-crushing program, an icy drink program, and a smoothie program.
On top, it has an automatic cleaning cycle that makes cleaning your blender a breeze.
The 1200 Watt motor is equipped with Intellispeed technology. It allows the blender to sense the content of the jug and adjust and maintain the desired speed setting even with hard and fibrous ingredients.
It has a soft start feature that makes the motor start at a lower speed to draw the ingredients into the blades before increasing the speed.
The unique feature of this Kitchenaid blender is its asymmetric blade, where the 4 knives have different angles. This makes it possible to blend through the hardest ingredients, including fibrous and frozen stuff.
By default, it comes with a 56 oz (1,6 L) BPA-free plastic pitcher in the US and a 1,4 L glass pitcher in Europe and the UK.
How to use the Kitchenaid K400?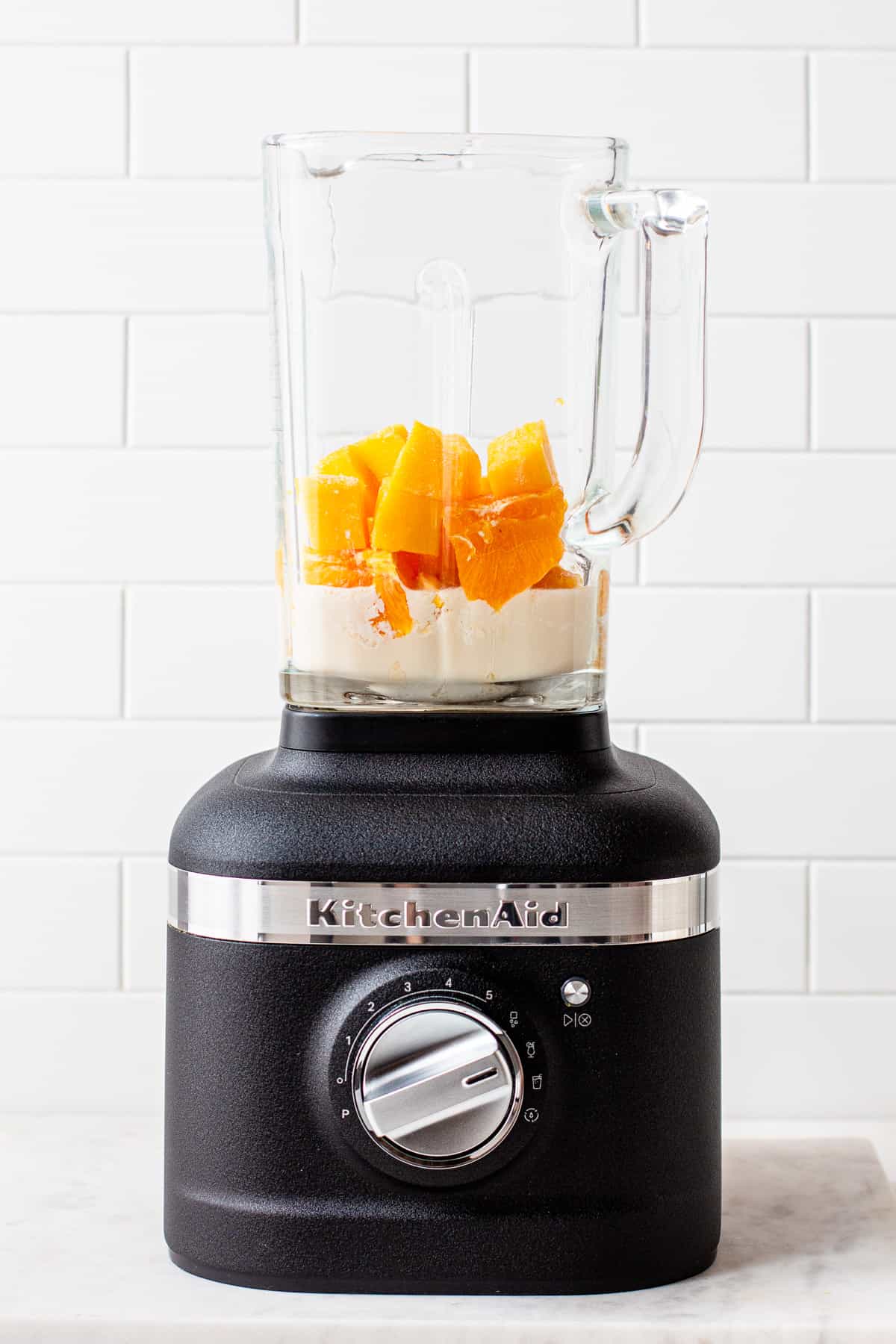 STEP 1: Add your ingredients to the blender jug. Always add the liquids first, then the soft ingredients, and finish with the hard or fibrous ones.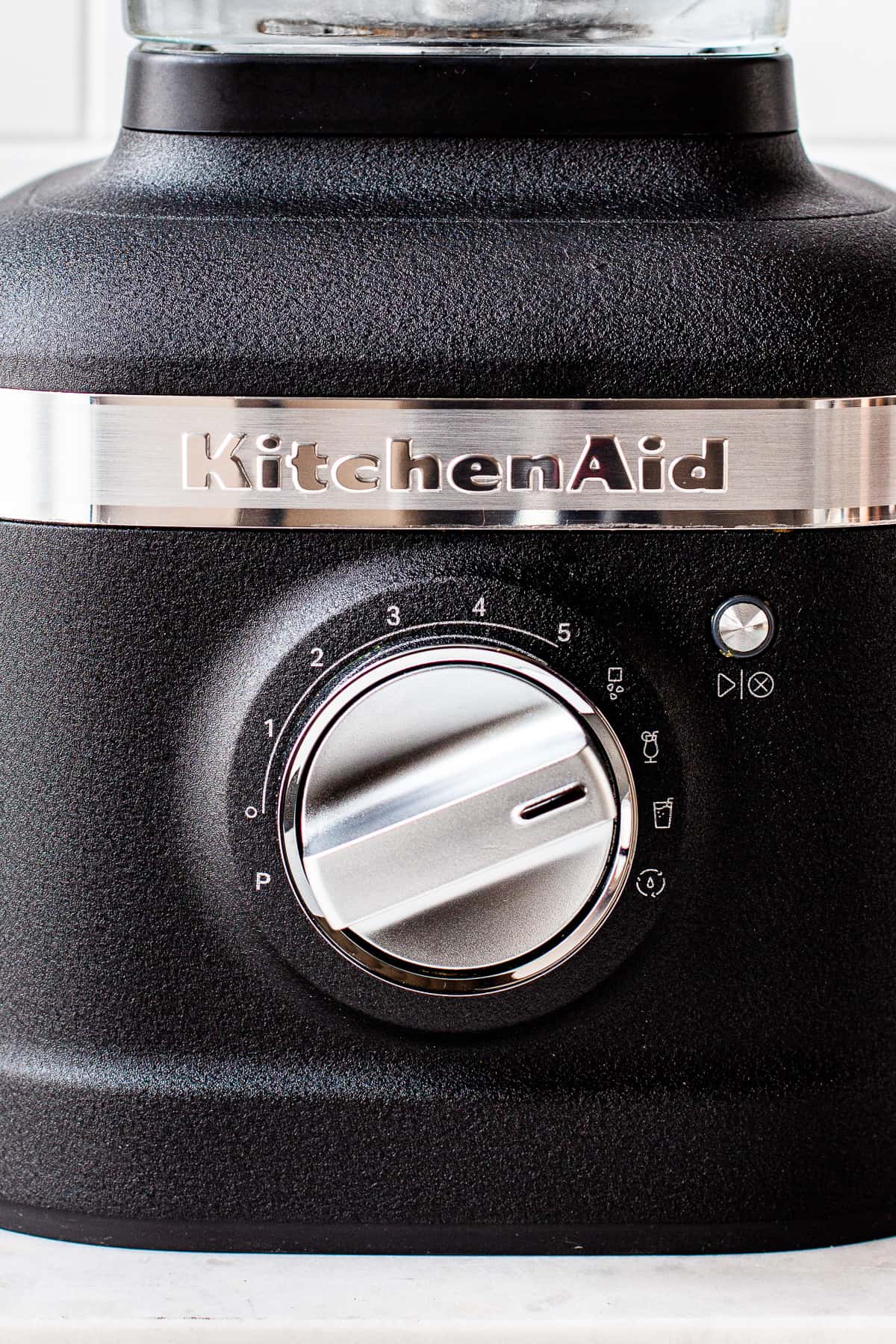 STEP 2: Place the jug on the moto base to secure it. Choose the appropriate program or the speed on the control dial and press the start button.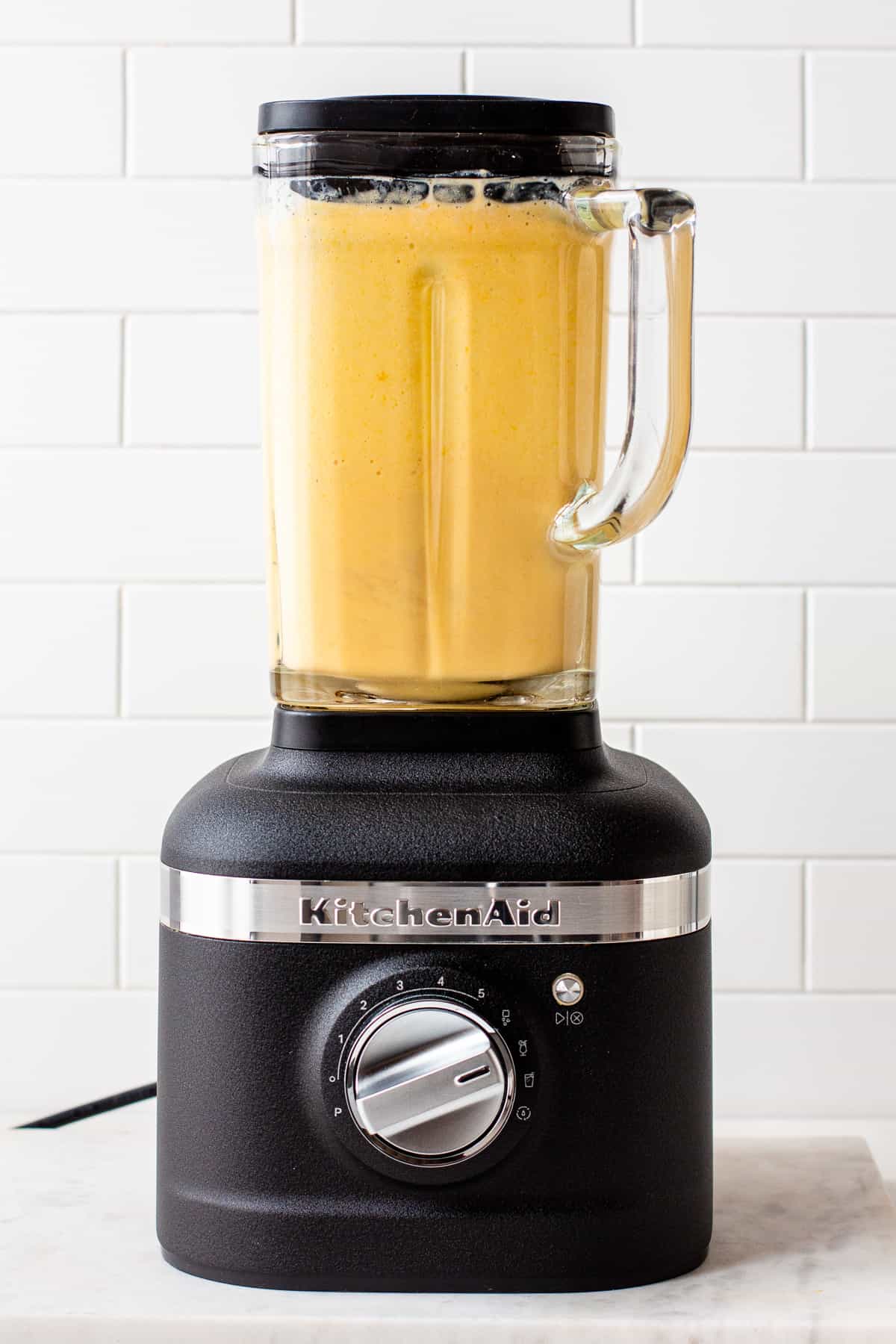 STEP 3: Blend until you obtain the desired consistency. If you used one of the 3 integrated programs, the blender will stop by itself.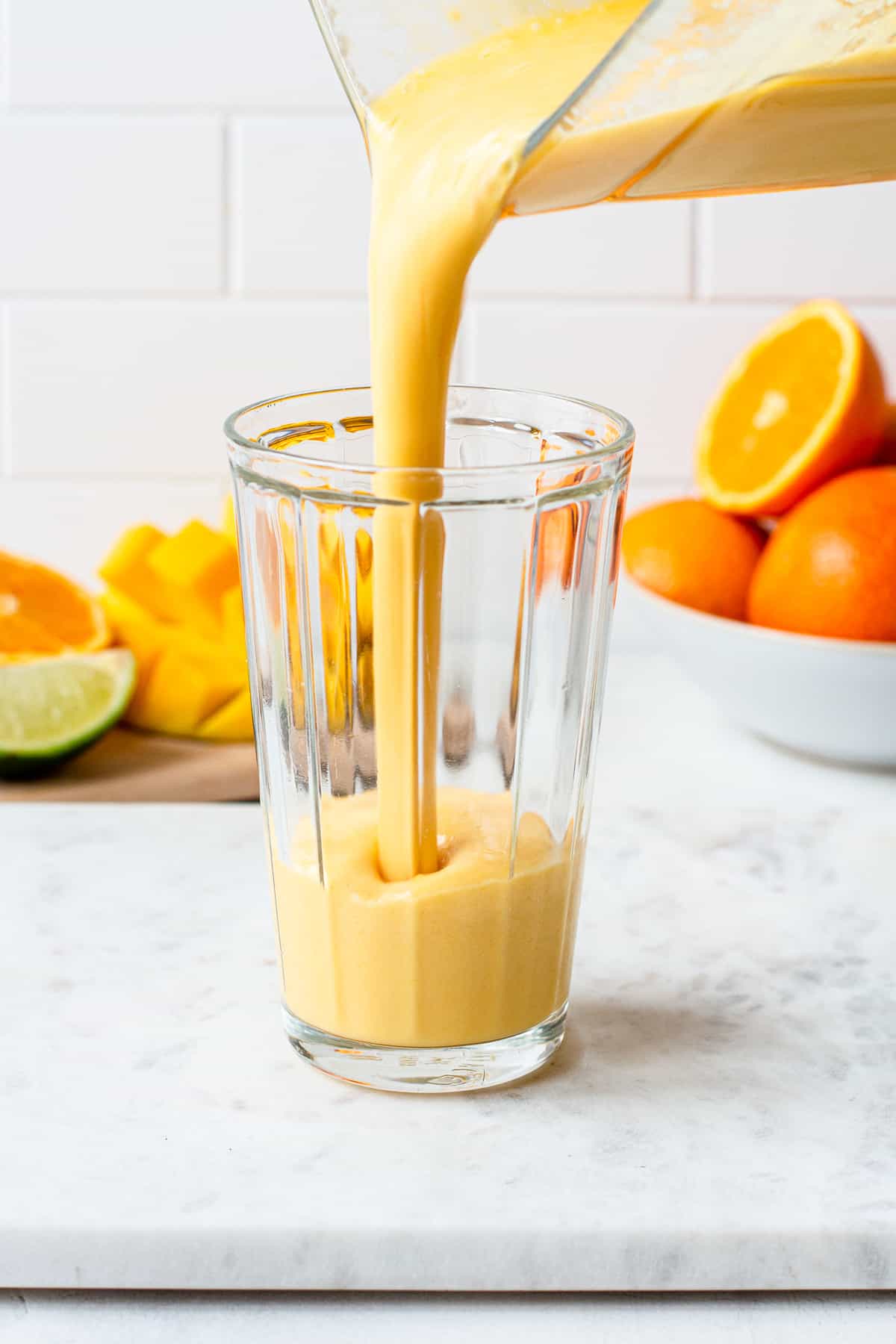 STEP 4: Pour the content into the glass, bowl, or container of your choice. Once empty, rinse the blender jug with cold water.
How to clean the Kitchenaid K400?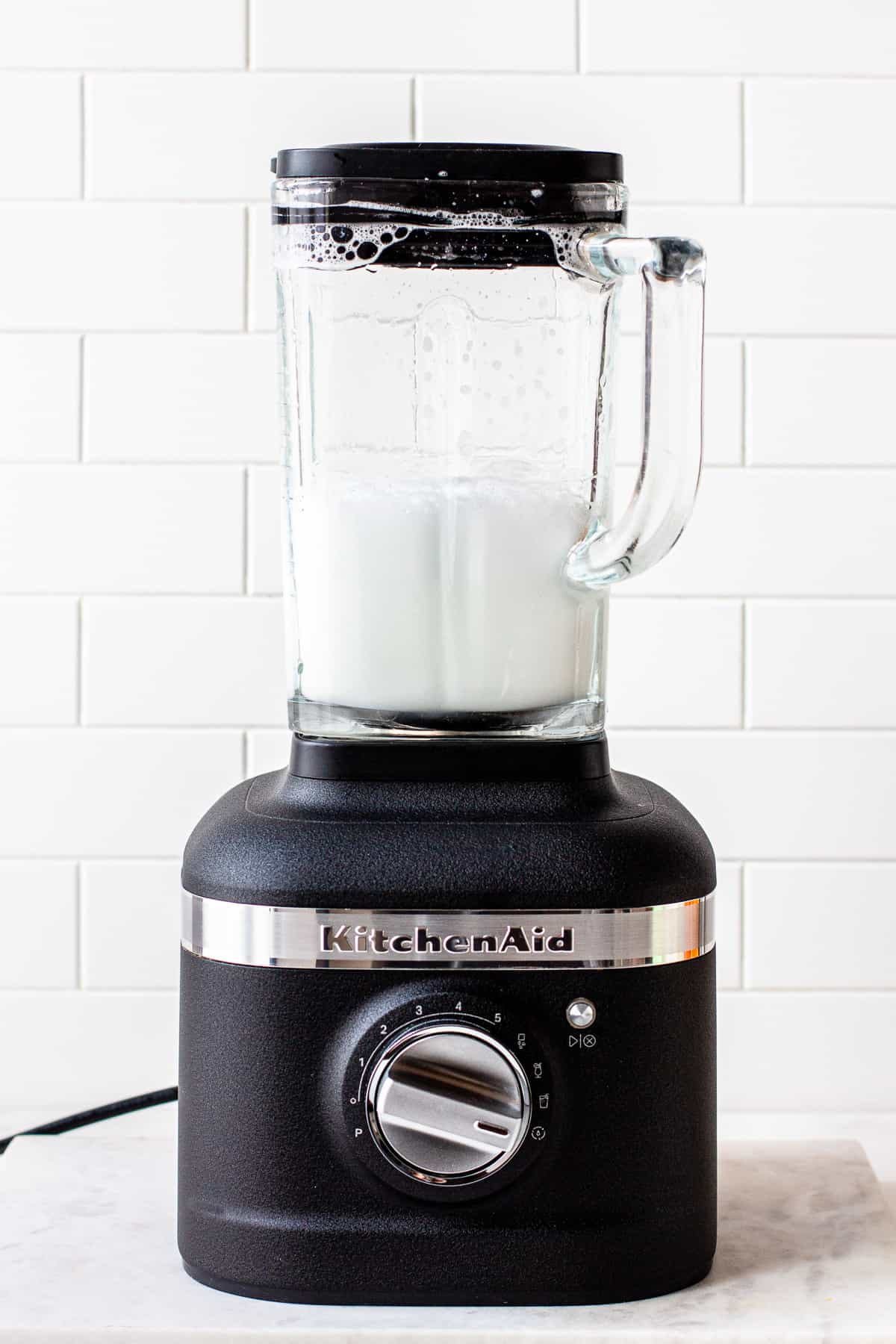 STEP 5: Fill the jug up to one-third with water and add a drop of dish soap. Select the cleaning cycle on the control dial and press start. Wait until the blender has finished running.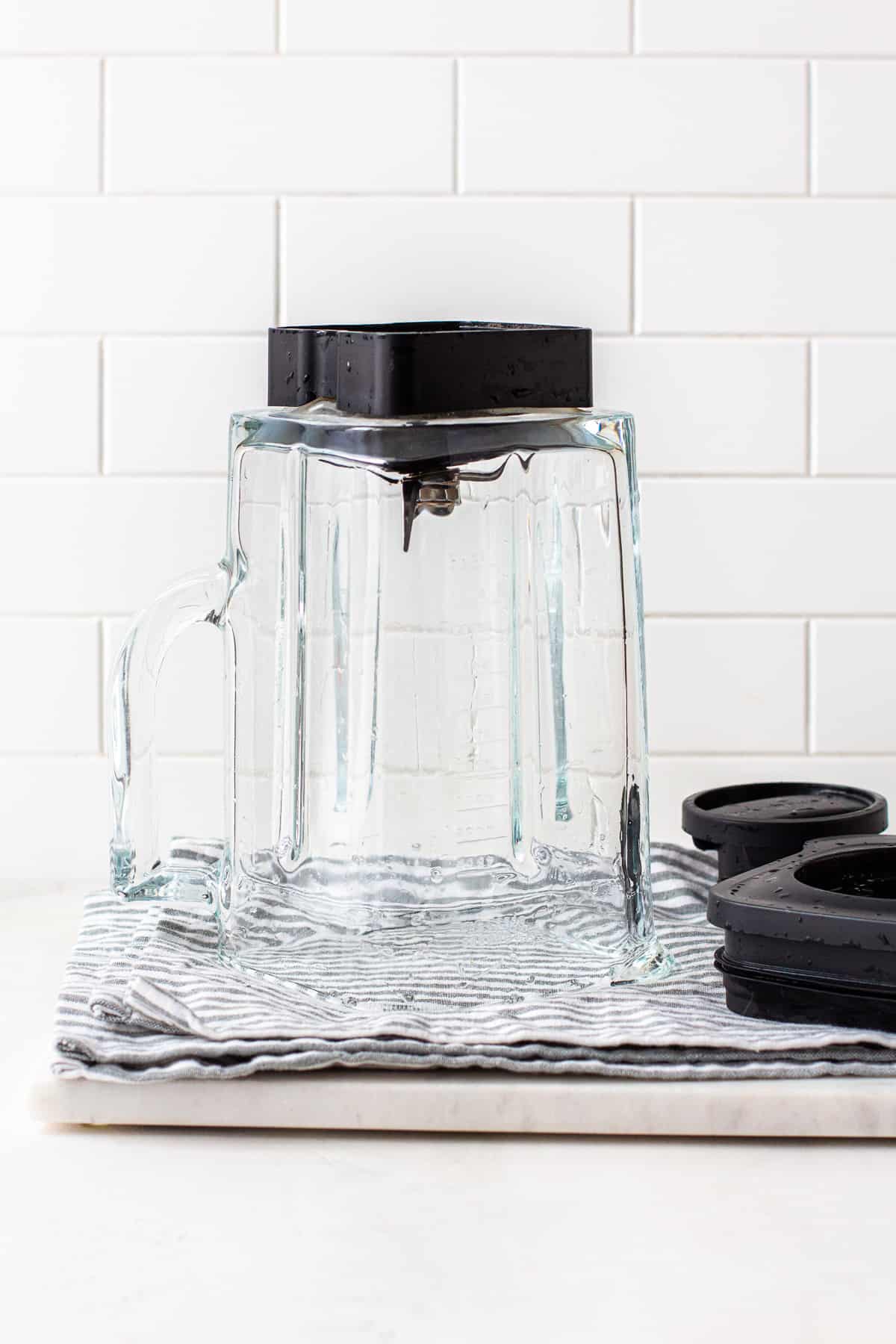 STEP 6: Rinse the blender jug again and let it air dry or wipe it dry with a clean towel. Finally, wipe the base with a damp microfiber cloth.
What I love about the Kitchenaid K400
The versatility. I love that you can use it for smoothies, nut butter, pesto, dressings, sauces, soups, purees (including baby food), and more. Being able to make nut butter is actually what sold me on it.
Overall smoothness. Every single thing I blend with the Kitchenaid K400 blender has an incredibly silky consistency. The textures are a lot finer and creamier compared to a small and handy personal blender or an immersion blender. You can even barely feel all the raspberry seeds in smoothies!
Super quick blending process. It blends even the thickest and hardest ingredients (e.g., frozen fruits) in less than 30 seconds.
The integrated programs. I love the ice-crush program when I make cocktails with crushed ice for friends and family, and I use the smoothie program on a daily basis as it really provides the best results in no time.
Hot ingredients. The blender jug is resistant enough to blend hot foods and you can remove the top part of the lid to let the steam escape. I use it for soups all the time.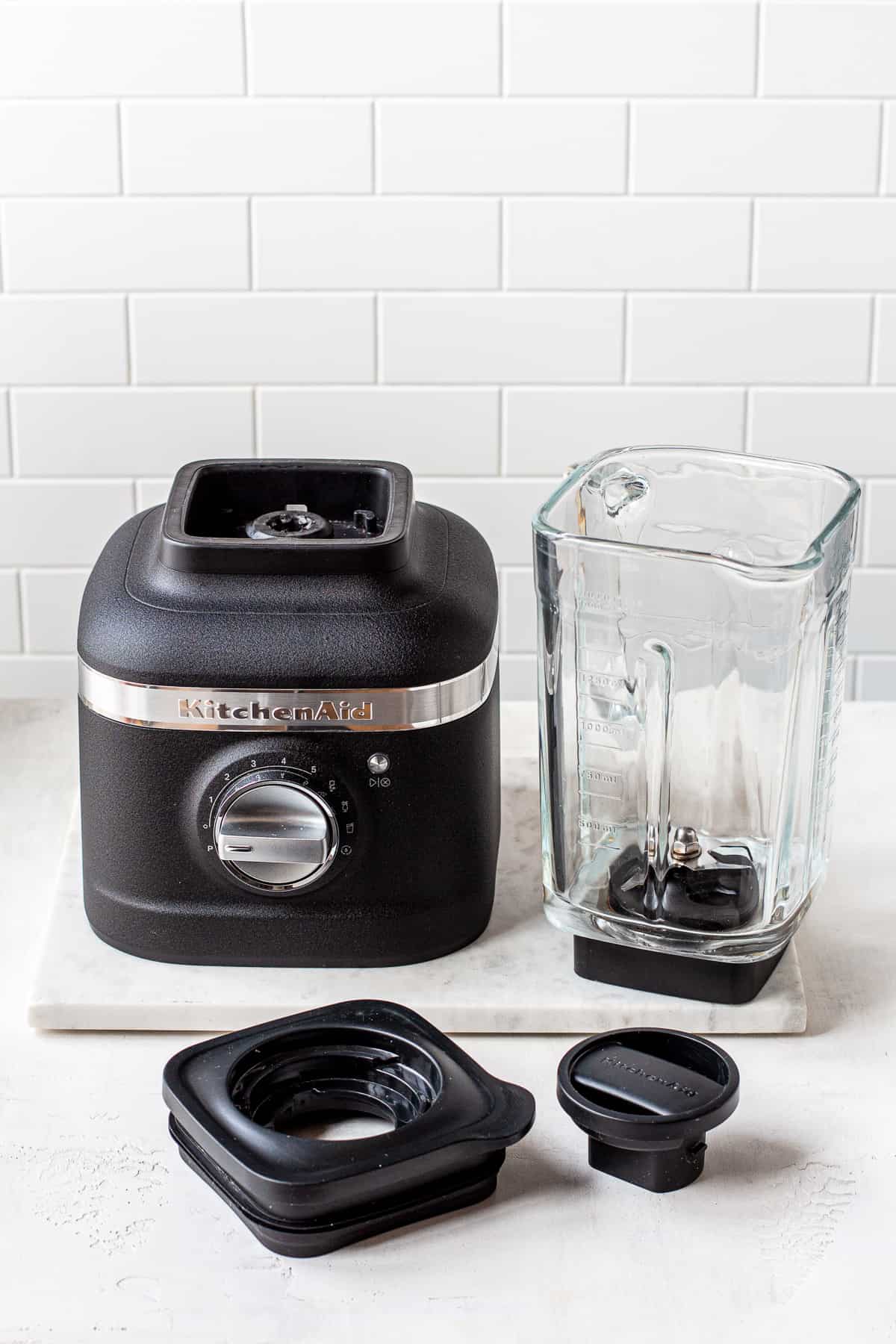 More features I love
The cleaning cycle. It's never been easier to clean a blender! You simply rinse it, add 2-3 cups of water and a drop of dish soap and let the machine do its thing. It really propels the water to the top and leaves no residues around the blade. No need to go in with a sponge afterward (except for maybe nut butter) as long as you clean it right after using it.
The glass blender jug. I love that there are no greasy residues after cleaning it. It also prevents stains, which you could get on plastic blender jugs (e.g., from blending turmeric in smoothies).
However, during my research, I found out that only the Kitchenaid K400 (ARTISAN 5KSB4026) sold in Europe and the UK comes with a glass jug. The Kitchenaid K400 (KSB4027BM) sold in the US has a thick BPA-free plastic jug. All of the other features are the same though!
Additional accessories. You can get a tamper for recipes with thick consistencies (e.g., super thick smoothie bowls, or nut butter), a smaller 16-oz (500 ml) jar that's perfect for on-the-go smoothies, and an even smaller 6-oz (200 ml) jar for dressings, and marinades. The latter both have a lid and make it super practical to store the finished product in the refrigerator without having to transfer it to another container.
The robustness and durability. I've been blending frozen fruits with that blender every single day for years and the blades are still super sharp. My glass blender jug also fell on the ground once and nothing happened (YAY)!
The overall look. The Kitchenaid K400 is modern and has a high-end look to it. It comes in an incredibly wide variety of colors in a shiny or matte finish for every taste and kitchen design.
Replacement pieces. I love that you can keep the motor base and buy a new blender jug (with new blades) if needed. No need to buy a whole new blender, which is a lot more cost-efficient compared to small personal blenders.
The pain points
It's loud. I'm not going to lie, this blender makes quite some noise when on full speed. Low speeds are totally fine, though. However, it's not any louder than comparable blenders of competitor brands. If that really bothers you, you should probably consider purchasing a blender with an integrated soundproof lid (although those usually have a much higher price point). Alternatively, you can buy a sound-enclosure box.
It's chunky. This may be a problem if you have very little counter space. But it does look nice as a display on the counter thanks to its modern design.
It's heavy. You really want to have it stay in one spot and not move it around too much.
It's designed for medium batches of food. The 56 oz jar may be too small for large preparation for bigger families. For small-batch preparations, such as smoothies, you can always use the smaller-sized jars (8-oz and 16-oz jars) that are sold separately.
The price
The Kitchenaid K400 is a mid-priced blender with a manufacturer's suggested retail price (MSRP) of US$ 289.99. Overall, it's a really fair price for such a powerful blender.
What you can use it for
Here are some of the recipes I make with my Kitchenaid blender on the regular. You'll see 4 different textures and varieties of food that you can make using it.
Smoothies. The Kitchenaid K400 is phenomenal for smoothies of all types! You can use it for your regular daily smoothies (e.g., this green smoothie) or even for thick smoothie bowls. It's perfect to crush frozen fruits and provides extra smooth results.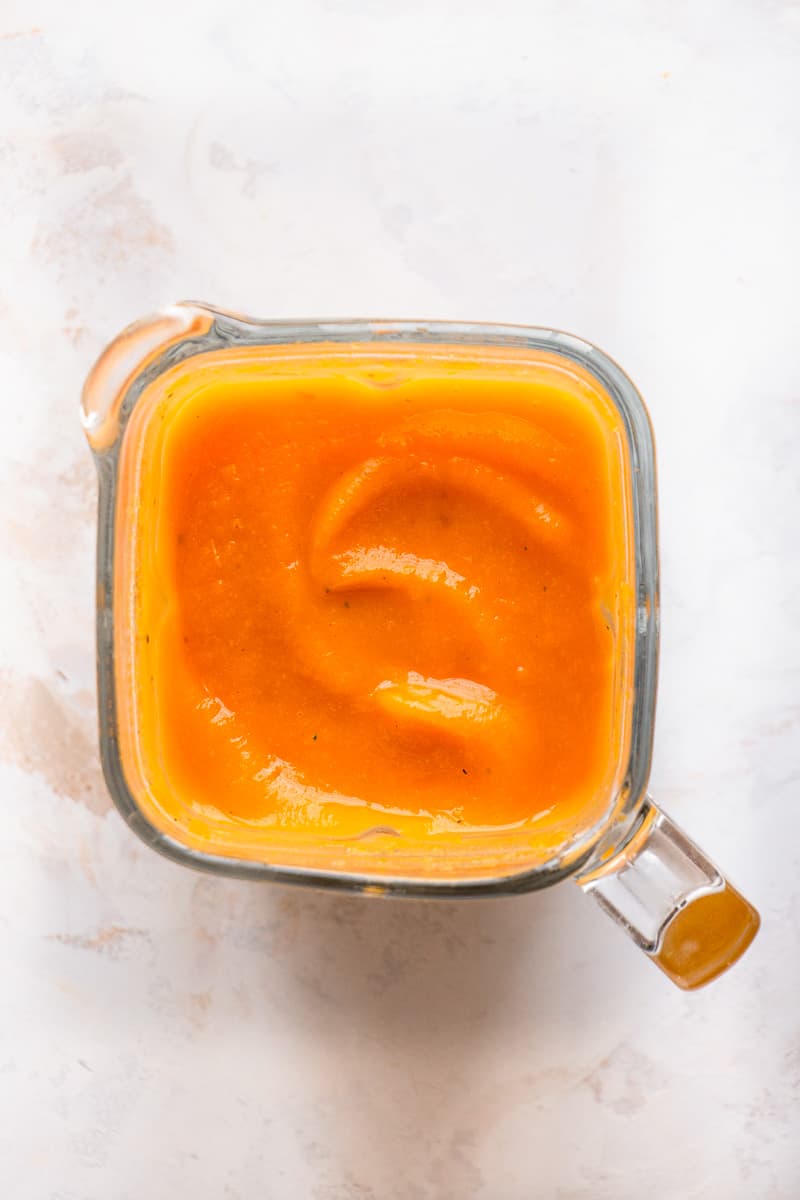 Soups. I've switched from blending soups with my immersion blender to using my Kitchenaid because the creaminess is incomparable. This 3-ingredient butternut squash soup and this tomato soup are great examples. The only downside is that you have to blend it in two separate batches due to the limited jar size of 56 oz (1,4 L).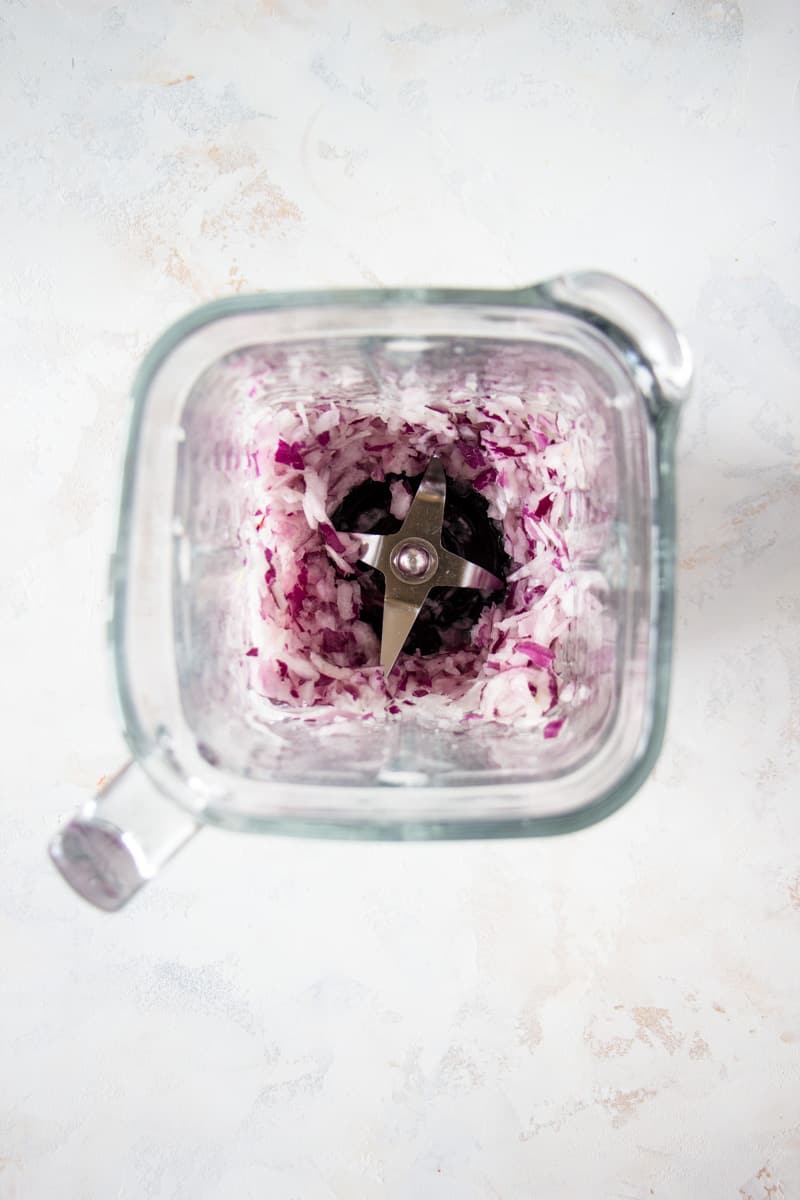 Chopped veggies. Let's be clear, the Kitchenaid K400 is not a food chopper but it does the job. I use it to chop onions and hard veggies like carrots and celery on the regular (see lentil bolognese recipe). However, know that the veggie pieces are not all of equal size and that you may need to scrape down the sides of the blender jar a few times.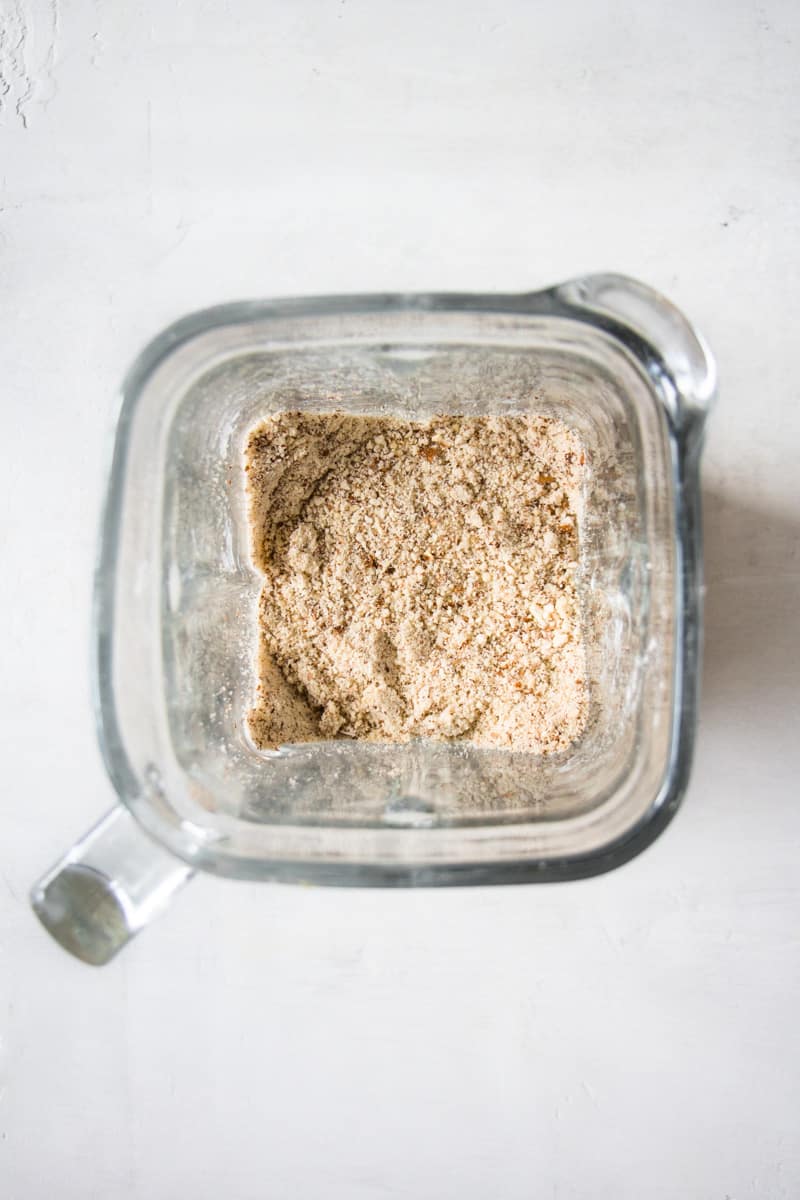 Oat flour and ground almonds. The Kitchenaid is incredible to make oat flour. I love making mine at home as it's a lot cheaper than buying it at the store. I also use it to make almond meal from whole unpeeled almonds. You do have to add about three cups of almonds at a time and run it through a fine-mesh sieve afterward for best results. It's a little rougher than almond flour but works great in cakes, muffins and banana bread.
Smoothie recipes using the Kitchenaid K400
Frequently asked questions
The takeaways
The Kitchenaid K400 is a really powerful, robust, mid-priced high-speed blender that provides ultra-smooth results and does not disappoint. It is a great countertop option for everyday use for the home-cooks. It is a little loud and chunky, but nothing to worry about if you plan to let it sit on your kitchen counter. It's a really good choice if you're a smoothie lover and an avid blender user.
Personally, I love my Kitchenaid blender. It's honestly one of the best investments I've made in the last few years for my health and definitely my favorite kitchen appliance. As a smoothie lover, I use this blender every single day and it gets the job done insanely well. And as I mentioned before, I'm even using it to blend soups now because the smoothness is just next level.
If you're using the Kitchenaid K400, I would love to read about your experience.
Don't forget to join the Cooking With Elo newsletter. You'll get gluten-free and vegan dinner ideas sent right to your inbox.