Do you want to make the best hot German wine that tastes just like the ones they serve on Christmas markets? Then, follow this easy Glühwein recipe to learn how to make traditional German mulled wine. It is super flavorful, perfectly spiced, lightly sweetened and tastes better than any store-bought mulled wine. You might also like this non-alcoholic virgin mulled wine recipe.
Jump to:
What is Glühwein?
Glühwein is nothing else than mulled wine. Literally translated, it means "glow wine" because of the warming feeling it provides on cold winter nights during the Christmas holidays.
In Germany, Glühwein is what Christmas markets are all about. You will also find it as "vin chaud" in France (especially in the Alsace region) or "glogg" in Nothern European countries. Some people like to serve it at holiday gatherings or drink it after skiing.
This special winter drink is a combination of red wine, citrus fruits, spices and a little sugar. While it might sound complex, making mulled wine is actually really easy: add all the ingredients to a pot, heat it over low heat for about half an hour and let it rest. Once it's ready, sip it slowly until your mug is empty. You can also drink German spiced wine "mit Schuss", meaning that you can add a shot of rum, brandy or whiskey.
Glühwein ingredients and spices
Red wine is the base of this recipe. I gathered my best tips on how to choose a good wine for Glühwine down below.
Orange juice naturally sweetens the wine and adds a citrusy touch. I like adding juice rather than only infusing the wine with orange slices for a more pronounced citrus taste.
Sugar is needed to balance out the acidity of the wine. You can use regular white sugar, brown sugar, coconut sugar or maple syrup for a slight toffee or maple flavor.
Spices are an essential component of Glühwein. This recipe calls for cinnamon, cardamom, cloves and black pepper. You could also add star anise, vanilla or ginger. Most grocery stores also sell spice bags or mulled wine spice kits (also known as Glühfix in Germany), which are very handy if you don't want to buy each spice separately. We would however recommend buying a kit that contains whole spices instead of powder.
Secret ingredient: I love adding a bag of cinnamon tea to our Glühwein. Although that might not be part of the traditional hot German wine recipe, it makes a huge difference in flavor. The "Hot Cinnamon Spice" from Harney & Sons is my absolute favorite.
What is the best wine for Glühwein?
Type: choose a young red wine that is dry or semi-dry with low tannin content. If you choose a sweet wine, it can be difficult to adapt the amount of sugar in the recipe and it can quickly become overly sweet.
Variety: you can choose a German Dornfelder or Trollinger. Merlot, Syrah, Pinot Noir or Cabernet Sauvignon wines also work extremely well for mulled wine.
Price: no need to splurge on an expensive bottle, simply choose a wine of mid-range quality. Avoid expensive wines as the spices and heating process will alter their taste. But also stay away from very cheap wines as you will be able to taste the poor quality (they might be too acidic and you'd have to compensate with additional sugar).
Elo's tips
Dry roast your spices: dry roasting means roasting the spices in a heated skillet without added oil. The reason you should not avoid this step is that it makes a huge difference in flavor by releasing all the aromatic compounds.
Peel the oranges before you slice them to avoid the wine from getting bitter.
Add a sweetener: sweetening your wine is crucial to making the most delicious mulled wine and preventing it from being too acidic. This recipe calls for brown sugar and maple syrup. You could however also sweeten your wine with just orange or apple juice.
Do not boil the wine to prevent the alcohol from evaporating. Keep it over low heat (below 78°C / 172°F) for about half an hour.
Let it rest for another hour once you remove it from the heat. During the resting time, the flavors expand and intensify.
Step-by-step with pictures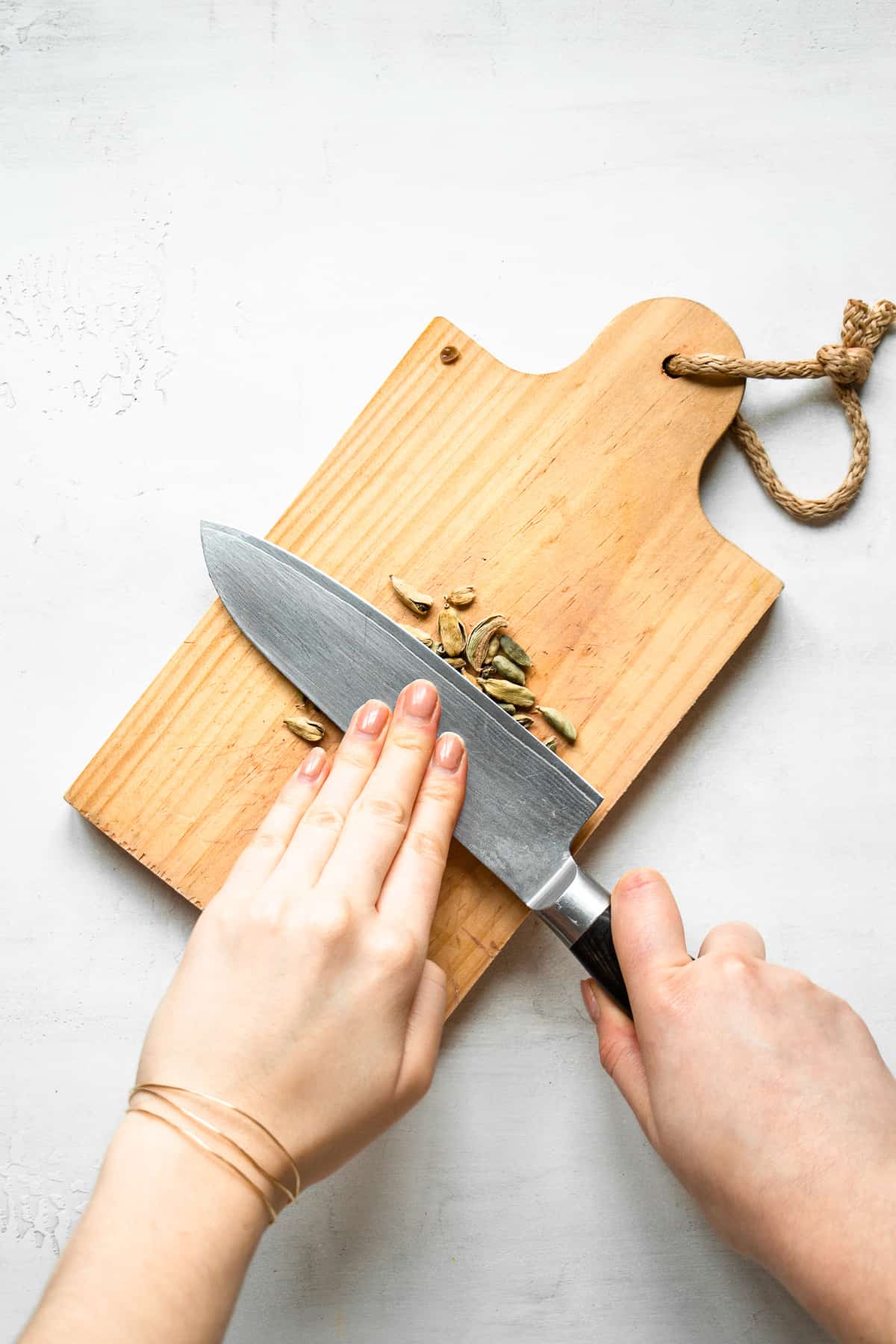 STEP 1: Crush the cardamom pods with the back of a knife to release their aroma.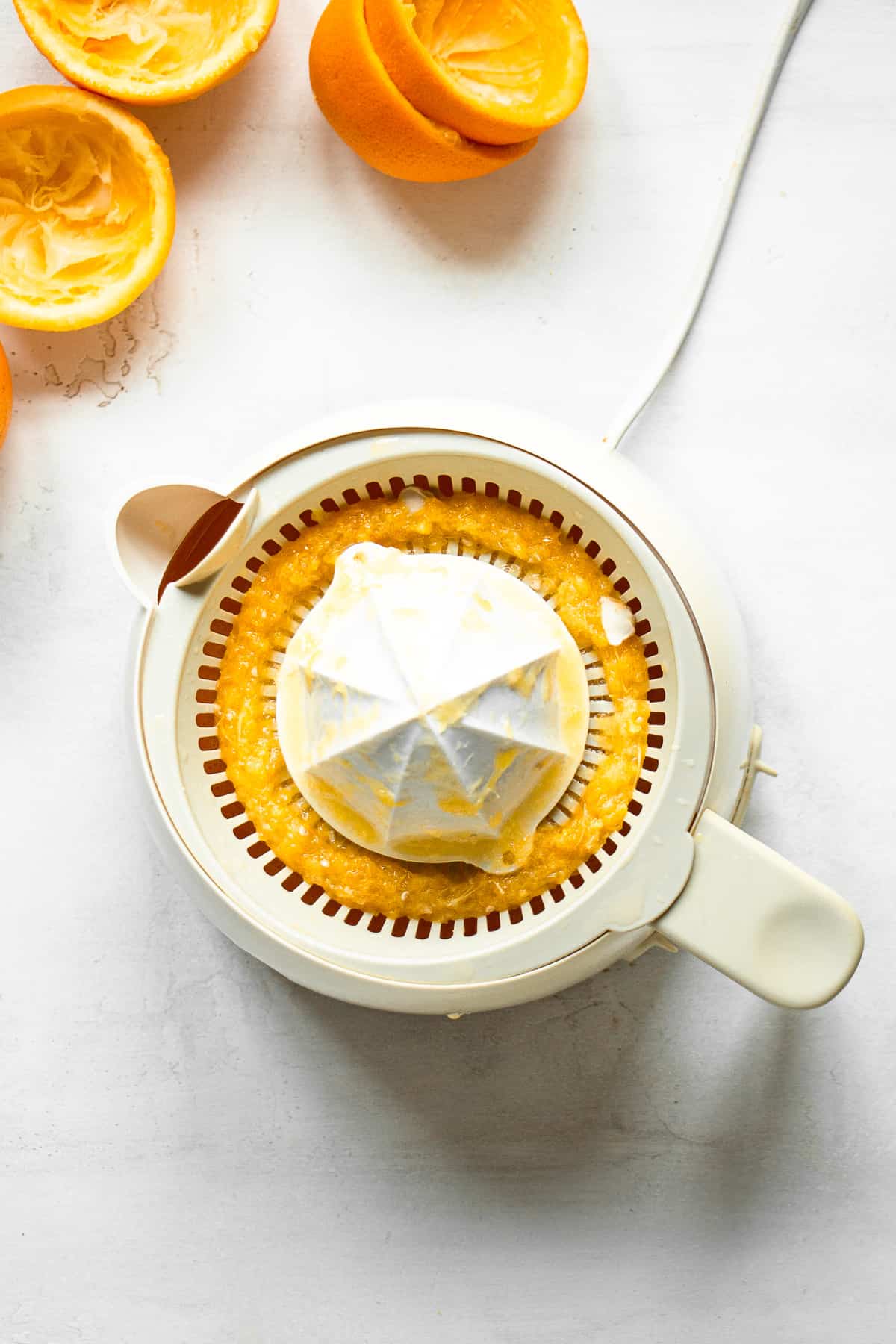 STEP 2: Prep the oranges. Juice 3 oranges with a citrus juicer. Peel and slice two other oranges.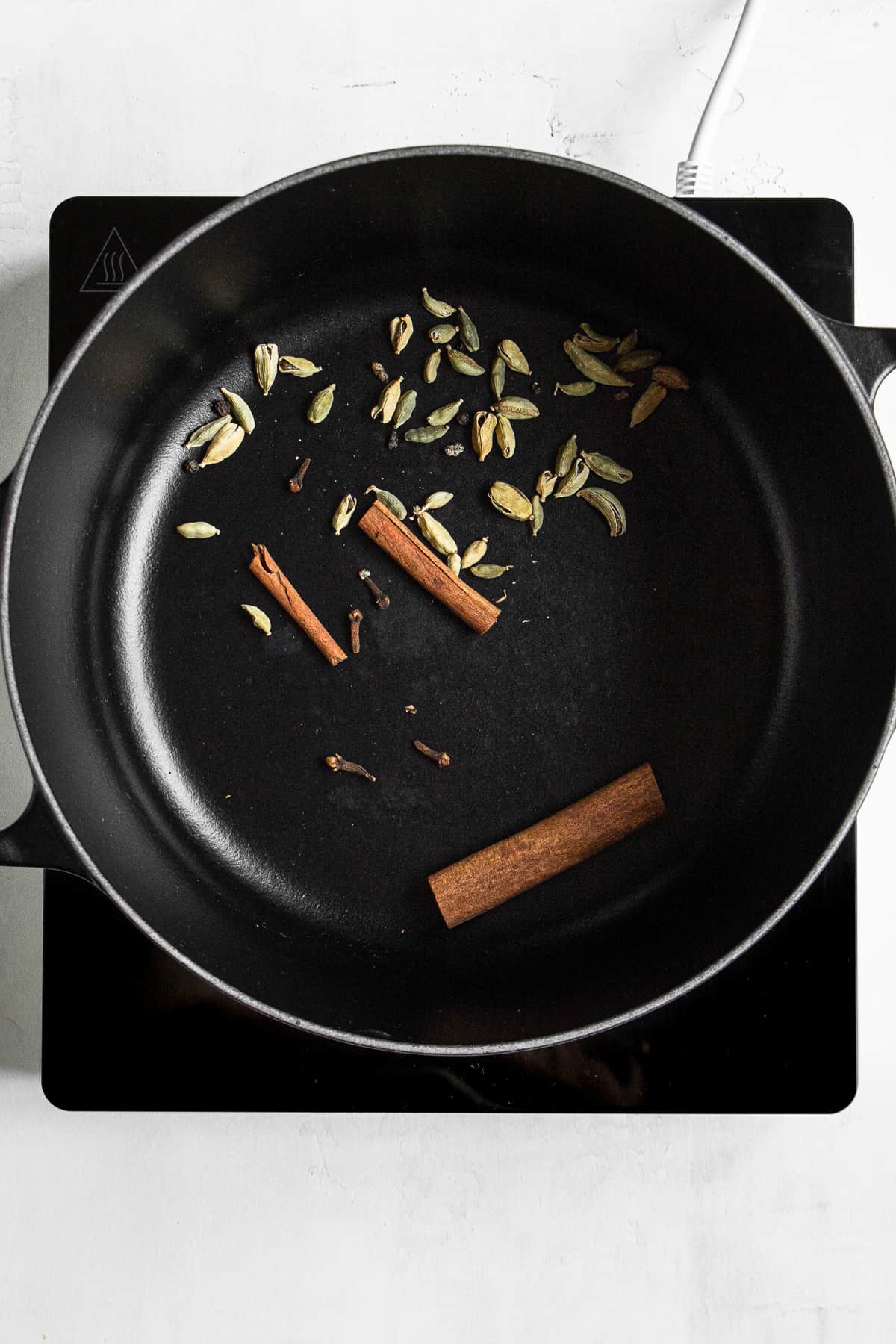 STEP 3: Dry-roast the spices. Add the spices to a large pot or Dutch oven and dry-roast them (without oil) over medium heat for 5 minutes. Stir continuously to prevent them from burning.
STEP 4: Pour the wine and the orange juice into the pot. Then, add the orange slices, sugar, maple syrup and the teabag (if using).
STEP 5: Simmer over low heat. If time allows, let it rest for another hour once you remove it from the heat source.
STEP 6: Strain and serve. Use a fine-mesh sieve to strain the Glühwein to remove whole spices and orange slices.
Storage and reheating tips
Refrigerating tips. First, let the hot German wine cool down completely. Then, transfer it to a bottle using a funnel or use an air-tight container (e.g., Weck jar). The Glühwein can be stored in the fridge for 3 days.
Freezing tips. Mulled wine can be frozen for up to 3 months. Make sure to leave a little room in the container to prevent overflow. You can freeze single-cup portions or an entire batch. Defrost the wine in the fridge overnight before reheating it.
Reheating tips. You can reheat the wine over low heat on the stovetop or in the microwave. In either case, make sure the wine is not boiling to prevent alcohol evaporation. Reheat it at 20-30 seconds intervals if using the microwave.
Frequently asked questions
What's the difference between mulled wine and Glühwein?
There is absolutely no difference between mulled wine and Glühwein. Glühwein is the name commonly given to hot spiced wine in Germany and Austria.
What does mulled wine taste like?
Mulled wine (or Glühwein) tastes like cinnamon, cloves and other spices used in the recipe. It usually has a citrusy taste that comes from oranges (or other citrus fruits) that were infused in the wine. It's usually on the sweeter side, although it can have a slightly acidic taste from the wine.
Is mulled wine alcoholic?
Mulled wine is an alcoholic beverage made from red wine. Some of the alcohol may evaporate during the heating process but most of it will remain even after cooking. Most mulled wines have an alcohol content between 7% and 14%.
Can mulled wine be drunk cold?
It is recommended to drink mulled wine when it is warm to experience the full spectrum of aromas that develop when the wine is hot.
What do Germans eat with Glühwein?
In Germany, it is common to eat a "Bretzel" (a salty pretzel), a slice of "Stollen" (a Christmas fruit bread) or burnt almonds at the Christmas market with a mug of Glühwein. Some people enjoy it with a savory meal.
Can you gift homemade mulled wine?
Homemade Glühwein is the perfect Christmas gift to add to your wine basket. Make it the day prior to gifting and advise the person you're gifting it to, to store it in the fridge and drink it within the next 2 days.
How do you make non-alcoholic mulled wine?
Non-alcoholic mulled wine is usually made from grape juice. For a complete ingredients list and detailed directions, have a look at this recipe.
Don't forget to join the Cooking With Elo newsletter. You'll get gluten-free and vegan dinner ideas sent right to your inbox.
The recipe
Hot German Wine (Glühwein)
This hot German wine recipe (also known as Glühwein) made with orange juice tastes just like the ones served at Christmas markets.
Print
Pin
Ingredients
Spices
1

tablespoon

cardamom pods

3

cinnamon sticks

or ½ teaspoon cinnamon powder

5

cloves
For the Glühwein
1

bottle of

red wine

4

oranges

1

tablespoon

brown sugar

1

tablespoon

maple syrup

or another tablespoon of sugar

1

bag of

cinnamon tea

optional
Instructions
Peel 1 orange and cut it into slices. Juice the other 3 oranges.

Crush the cardamom pods with the flat side of a knife (see step-by-step pictures in post above).

Add the crushed cardamom pods, cinnamon sticks, cloves and peppercorns to a large pot or Dutch oven and dry-roast them for 5 minutes over medium heat while stirring continuously.

Add the wine, orange juice, orange slices, sugar, maple syrup and cinnamon tea (if using) to the pot.

Cover with a lid and cook over low heat for 30 minutes with the lid on. Stir occasionally. Make sure the wine is not boiling to prevent alcohol evaporation.

Remove from the heat. If time allows, let it rest for one hour for the flavors to intensify. Remove the cinnamon tea bag (if used).

Run the wine through a fine-mesh sieve to remove the orange slices and whole spices. Serve warm.
Video
Notes
Choose a young, dry or semi-dry red wine with low tannin content and of mid-range quality. German wines such as a Dornfelder or Trollinger work well. Merlot, Syrah, Pinot noir or Carbernet Sauvignon wines are also great for Glühwein.  
Adding a bag of cinnamon tea to the mulled wine really intensifies the cinnamon flavor. Our favorite tea is "Hot Cinnamon Spice" by Harney & Sons.
Storage tips: you can store the virgin mulled wine in an air-tight container in the fridge for 3 days or in the freezer for up to 3 months.
Nutrition
Calories:
239
kcal
|
Carbohydrates:
26
g
|
Protein:
1
g
|
Fat:
1
g
|
Fiber:
4
g
|
Sugar:
15
g
Leave a rating and comment below! Thank you!
Don't forget to mention @cookingwithelo on social media
More festive Christmas cocktails
If you're in the mood to make some more festive drinks to enjoy during the winter holidays, try this apple cider cocktail. The recipe also provides alcohol-free directions.
Loved it? Please rate it!
If you tried this recipe or any other recipe from the blog, make sure to let me know how you liked it by leaving a star rating and a comment below. Your feedback really matters! To never miss a recipe, follow me on Instragram, Pinterest and Facebook.