Let's turn the plain white cabbage into the most delicious, hearty, and buttery grilled cabbage wedges. They are minimally seasoned, totally satisfying, and make the ultimate grilled vegan element at a summery barbecue. The best part is that they are ready in 15 minutes – perfect for last-minute gatherings.
If you love these grilled cabbage wedges, take a look through the recipes in my vegan grilling series – you'll love these grilled sweet peppers, mushroom skewers, and whole grilled eggplants.
Jump to:
Why you'll love this recipe
Pretty presentation: This cooking method elevates the look of the plain cabbage and turns it into an elegant side dish. The golden brown char marks make it look extra special.
Minimal prep: This recipe is ready to get on the grill in 5 minutes; it also uses very little equipment and requires minimal wash-up. The lack of preparation required means you can throw these on the grill for last-minute gatherings and barbecues.
Simple but delicious: 5 simple ingredients, yet the result is a buttery, charred, smoky cabbage with crispy edges. The charring reveals the natural sweetness of the cabbage, which is such an underrated veggie, in my opinion.
Cost-effective: This healthy side dish is made with really basic ingredients and is very budget-friendly.
Key ingredients and substitutions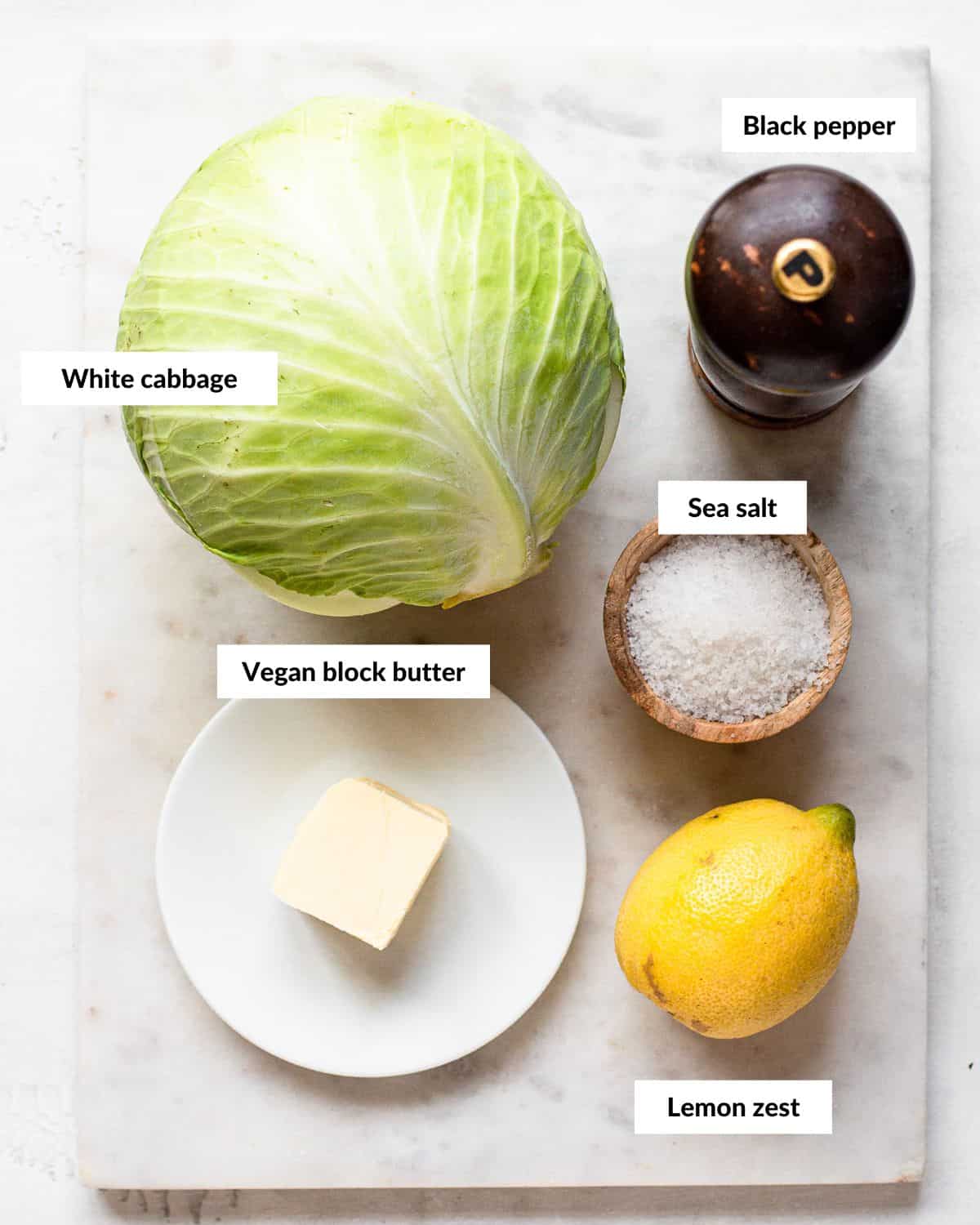 White cabbage – sometimes called green cabbage: When grilled, it has a mild flavor and crispy texture. Chose a rather small or medium head of cabbage without any bruising or browning. Use red cabbage as an alternative in this recipe if you like.
Plant-based butter: Look for a high-quality plant-based butter that melts well and adds a rich flavor to the grilled cabbage wedges. You can find various brands of plant-based butter made from ingredients like olive oil, soybean oil, or avocado oil. Make sure to use vegan block butter that's suitable for grilling and not spreadable margarine. Regular butter works just fine with these grilled cabbage wedges if you aren't vegan.
Sea salt: Opt for coarse sea salt or kosher salt for better texture and control over the amount of salt you use.
Cracked black pepper or red pepper flakes: Adds a mild heat and earthy flavor.
Fresh lemon zest: Use a fine grater or a zester to grate the outer yellow part of the lemon peel, not grating the bitter white pith beneath. Lime zest will work beautifully, too.
Elo's tips
Always slice THROUGH the root when cutting the wedges. That's what keeps the inner leaves together and prevents them from falling apart.
Add fresh lemon zest at the end to make the cabbage taste more summery.
Make this raw cabbage salad if you don't want to grill the entire cabbage head.
Cook the wedges in a single layer with space between each wedge. This prevents overcrowding of the area. If there are too many wedges piled on top of each other, they will steam instead of crisp.
Cook the cabbage wedges in a grill pan following the same instructions during winter. I absolutely love this affordable cast-iron grill pan and use it all the time.
Step-by-step instructions
STEP 1: Prepare the cabbage. Wash the head of cabbage and remove the outer leaves. Cut the cabbage down the center through the stem.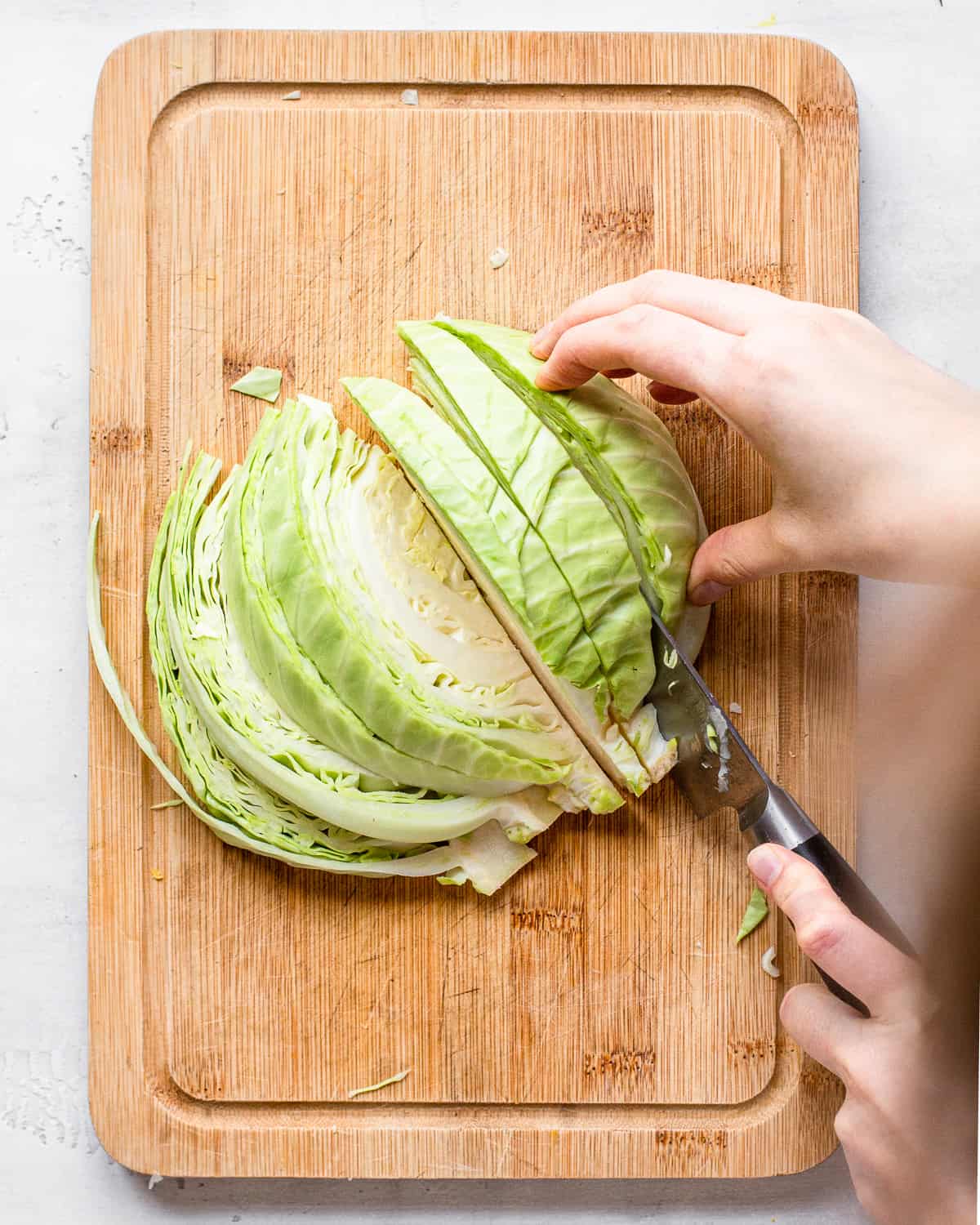 STEP 2: Cut it into wedges. Place the cabbage cut side down on a cutting board and slice it into 4 to 8 thick slices depending on the size of your cabbage.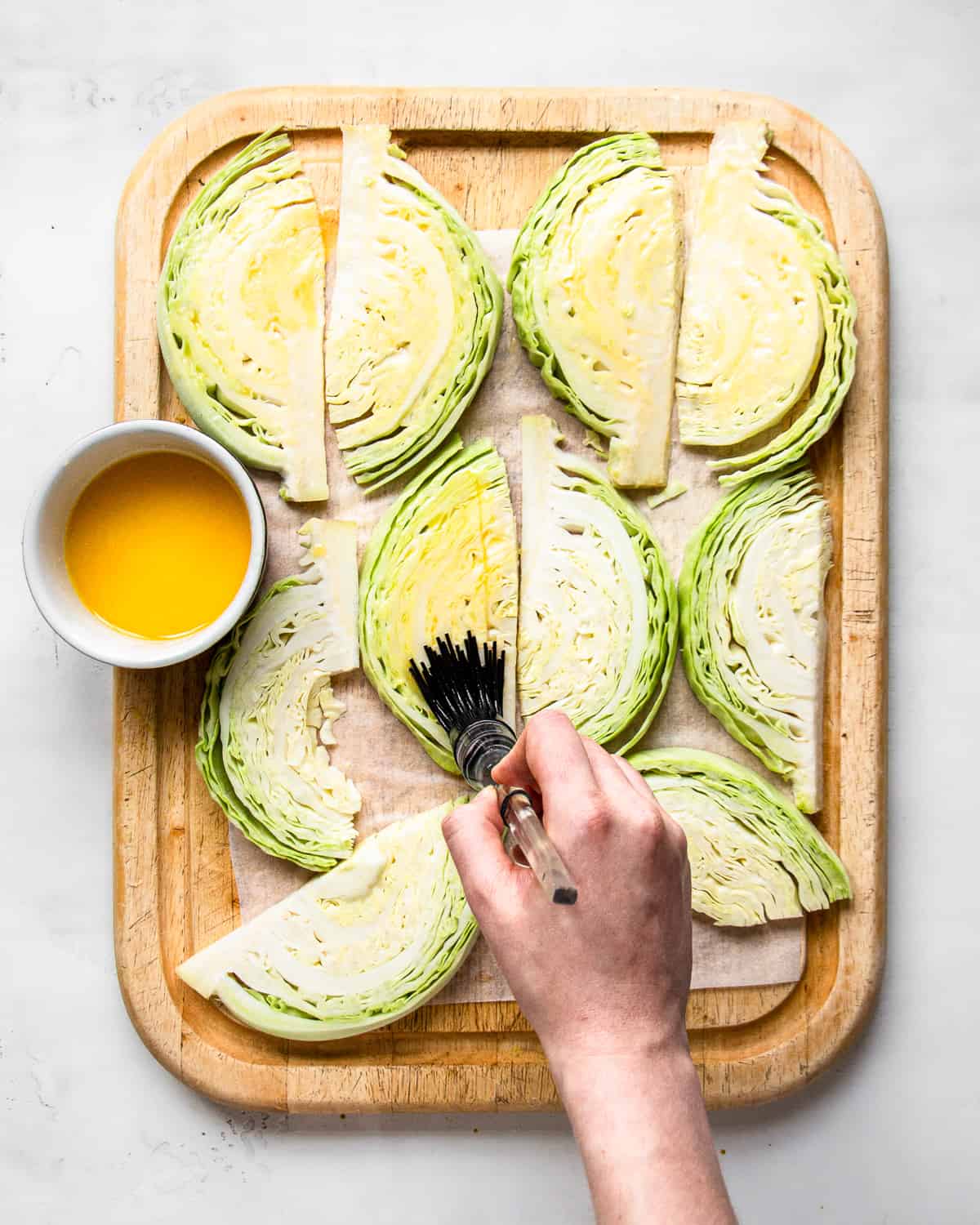 STEP 3: Season. Melt the plant-based butter. Brush half the butter onto the wedges and season them with salt. Save half the butter for later.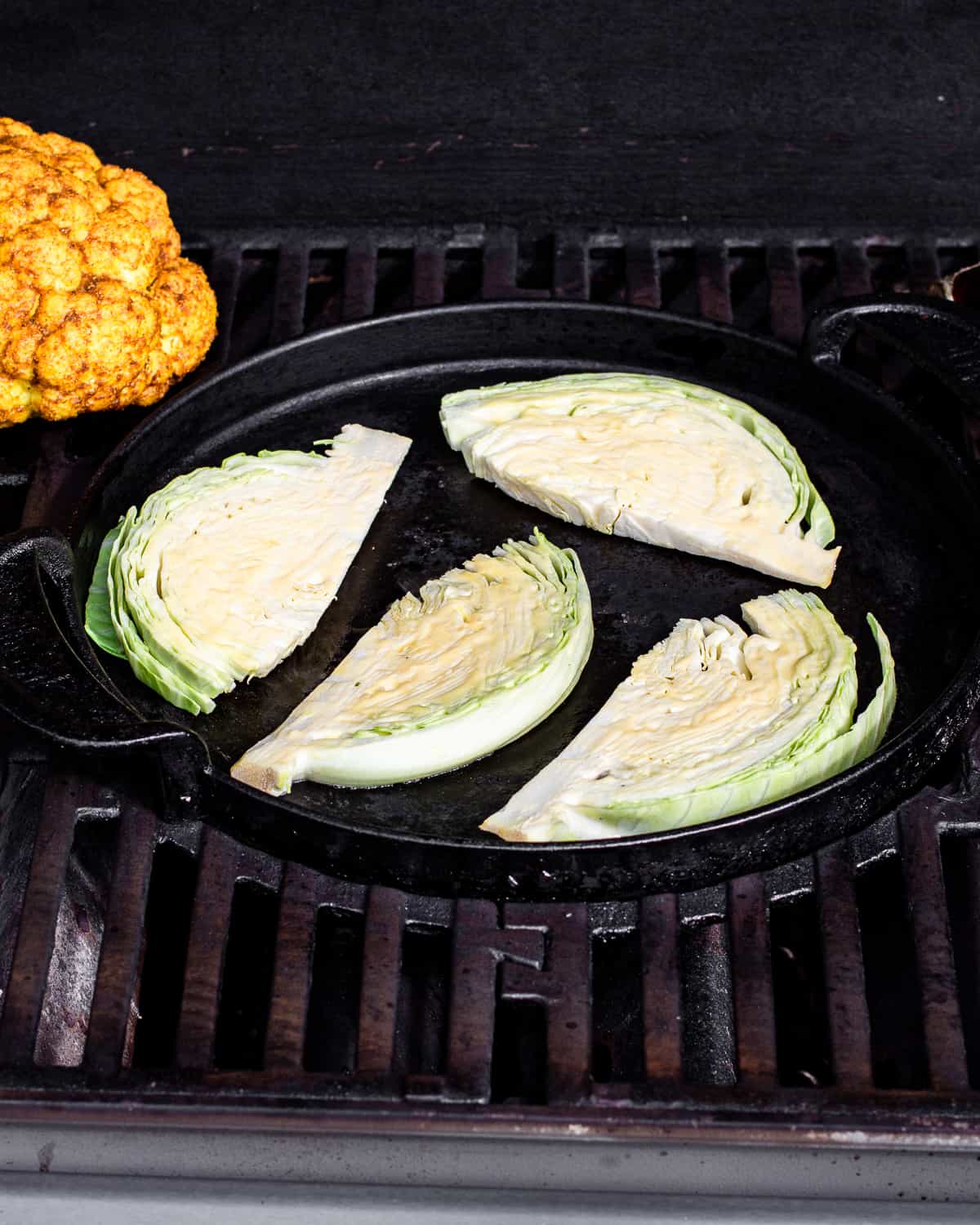 STEP 4: Grill. Preheat your gas grill or charcoal grill with the grill pan insert if available. Place cabbage wedges on the grill pan or an aluminum foil tray. Keep the burners at medium-high heat and close the lid. Char the cabbage wedges for 5-6 minutes.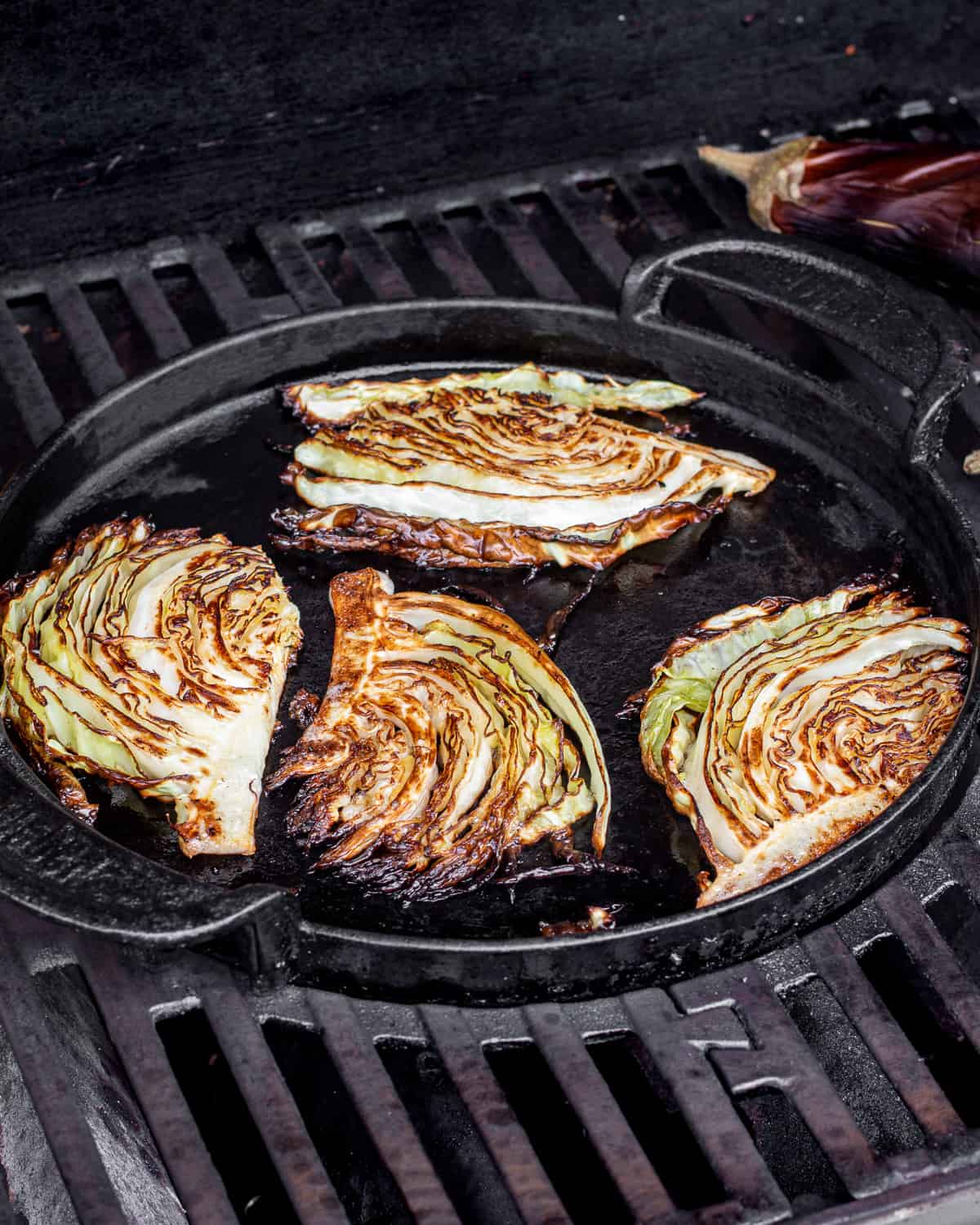 STEP 5: Flip the wedges with grilling tongs and cook for another couple of minutes or until tender. Keep the heat the same.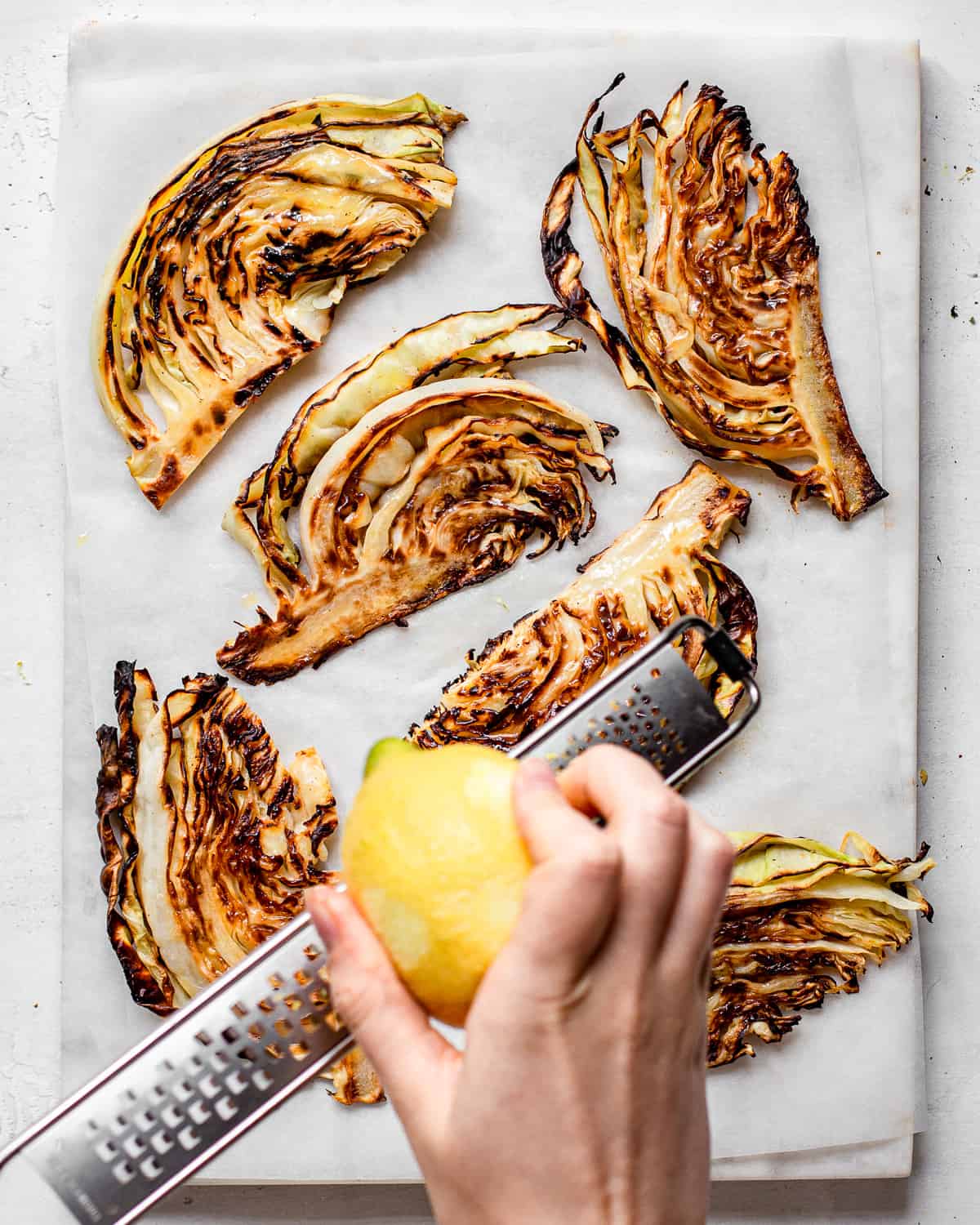 STEP 6: Serve. Transfer the cabbage wedges to a serving platter. Brush them with the rest of the melted vegan butter. Season with cracked black pepper. Sprinkle over fresh lemon zest and an additional pinch of salt, as needed.
Frequently asked questions
How to store leftover cabbage steaks?
You can store them in an airtight container in the refrigerator for up to 4 days.
How to reheat leftover grilled cabbage?
I recommend reheating in a skillet over low-medium heat for the butter to melt and gently reheat the cabbage without burning the outer leaves.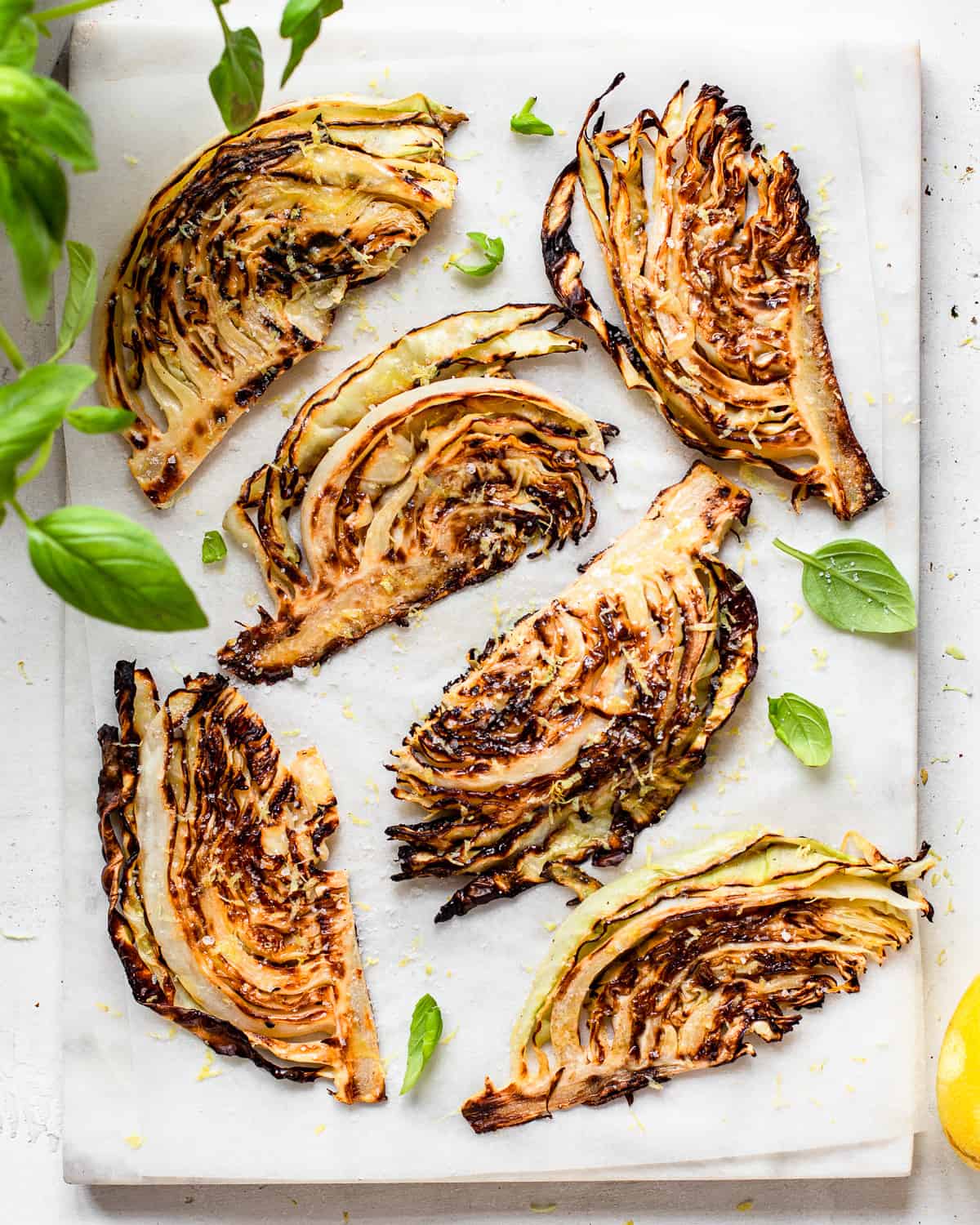 Don't forget to join the Cooking With Elo newsletter. You'll get gluten-free and vegan dinner ideas sent right to your inbox.
The recipe
Grilled Cabbage Wedges
This recipe turns plain white cabbage into the most hearty and buttery grilled cabbage wedges, which make a great vegan side dish for your summer BBQs.
Print
Pin
Ingredients
1

small white cabbage

sometimes called green cabbage

4

tablespoons

plant-based butter

divided

1

pinch of

sea salt

Fresh cracked black pepper

Fresh lemon zest

optional
Instructions
Prepare the cabbage. Wash the cabbage and remove the outer leaves. Cut the cabbage in half through the stem. Place it cut side down and cut onto the cutting board and cut it into 4 or 6 wedges. Make sure to always cut through the stem to keep the leaves together.

Season. Melt the plant-based butter. Save half of it for later. Brush it onto the cabbage wedges with a silicone brush. Sprinkle with sea salt.

Preheat the grill to 450-500°F (230-260°C) with the griddle insert if you have one.

Grill. Place the cabbage wedges on the griddle of your grill or on an aluminum foil tray to prevent the leaves from falling through the grates and being in direct contact with the flame. Keep the burners underneath at medium-high heat and close the lid. Cook for 5 minutes until nicely charred. Flip the wedges with a spatula and grill for another 5 minutes or until tender. Try to keep the grill between 400°F and 475°F (200-250°C) the whole time.

Serve. Remove the wedges from the grill and transfer them to a serving platter. Brush with the remaining melted plant-based butter and add cracked black pepper on top. Add freshly grated lemon zest (optional) and another sprinkle of salt if needed.
Nutrition
Calories:
157
kcal
|
Carbohydrates:
13
g
|
Protein:
3
g
|
Fat:
12
g
|
Saturated Fat:
2
g
|
Trans Fat:
2
g
|
Fiber:
6
g
|
Sugar:
7
g
Leave a rating and comment below! Thank you!
Don't forget to mention @cookingwithelo on social media
Loved it? Please rate it!
If you tried this recipe or any other recipe from the blog, make sure to let me know how you liked it by leaving a star rating and a comment below. Your feedback really matters! To never miss a recipe, follow me on Instragram, Pinterest and Facebook.