These white chocolate quinoa crisps are made from puffed quinoa and covered with the best homemade vegan white chocolate! They are my absolute favorite treat to have after dinner or in the afternoon and make the perfect easy vegan snack. It's so much better than a square of chocolate.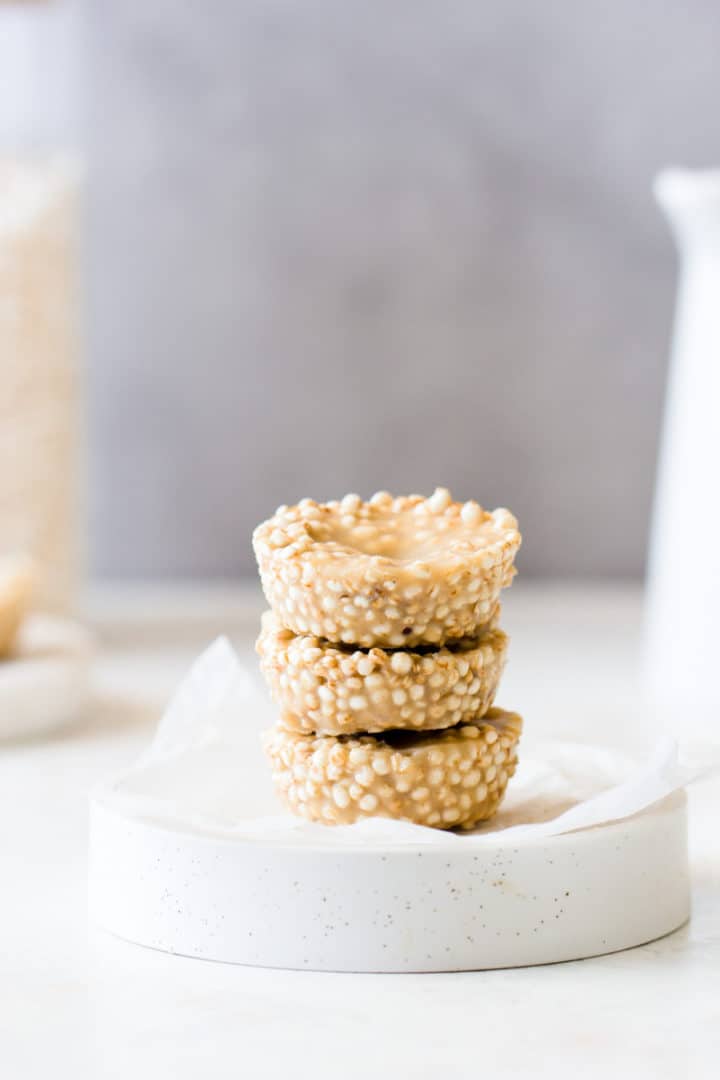 Jump to:
Quinoa crisps or white chocolate truffles?
These chocolate quinoa crisps are the most addicting puffed quinoa recipe. It's the perfect vegan and gluten free snack. Even though, to be honest, they are much more a treat than a snack. The cups are extremely creamy, they melt in your mouth and are absolutely delicious. Trust me, that added pinch of salt makes all the difference! I like to form them into cups but you could also totally form little heaps if you don't have a mini muffin pan (see below).
Ingredients you'll need
Puffed quinoa makes these quinoa cups fun and crispy.
Cocoa butter is a major component of white chocolate, milk and dark. It will give the mixture that distinct white chocolate flavor.
Coconut oil helps the mixture solidify in the fridge. The mixture won't taste like coconut at all.
Cashew butter makes it super creamy and gives it that beautiful white chocolate color. It also has a fairly neutral flavor that is not overpowering and perfect for making vegan white chocolate.
A little maple syrup, just enough to sweeten the white chocolate without making it too sweet.
Vanilla extract for that perfect white chocolate taste.
A pinch of salt is a must in the recipe as it balances out the flavors and makes it so much tastier (please don't skip this).
Where to buy cocoa butter?
You can usually find it at the baking or organic/allergen-free section of your supermarket. If they don't carry it, you might have more luck at an organic store. Or you can simply order it online (these white chocolate quinoa crisps are so worth it). Make sure to buy food-grade cocoa butter, which is usually sold in chunks or chips.
Where to buy puffed quinoa?
You can usually find it at the cereal section of your grocery store. Sometimes it will also be with the gluten free items. Organic stores usually also carry a large section of puffed cereals. If you can't find it in-store, you'll most definitely find it online.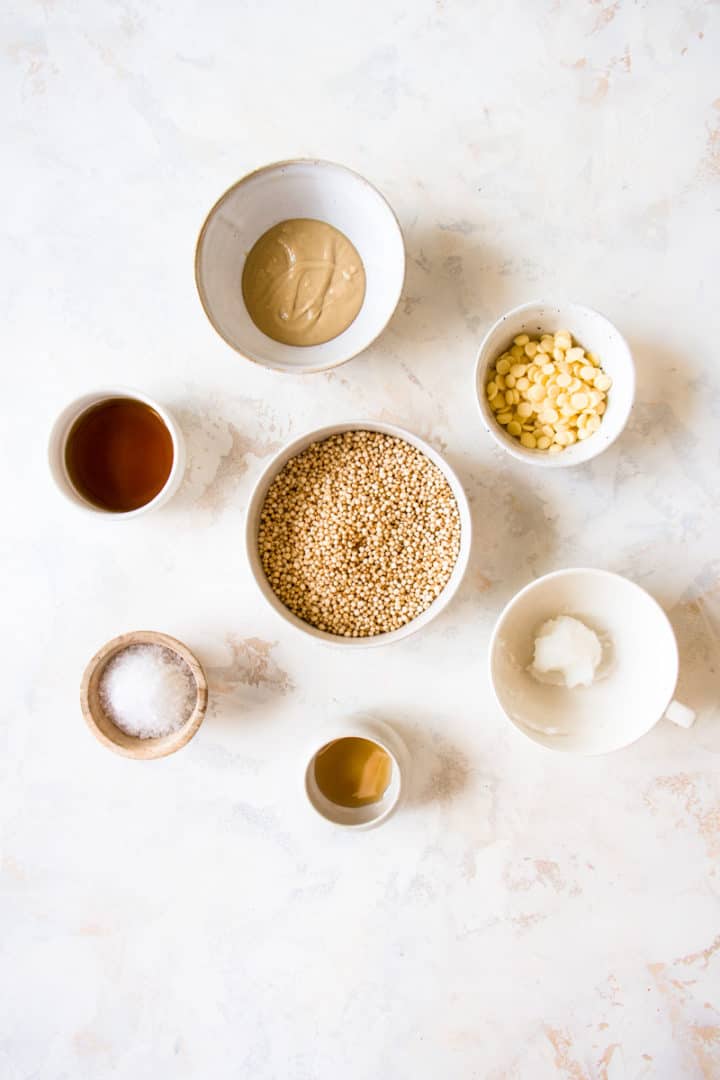 How to make vegan white chocolate
Making vegan white chocolate is much easier than you might think. I don't know why I waited years to make my own! The most important ingredients are cocoa butter, coconut oil and cashew butter. They can solidify at cooler temperatures (e.g., in the fridge) while remaining creamy when you eat them. All you need to do is melt the 3 ingredients over low heat and add maple syrup, vanilla extract and a pinch of salt. You can use it to make chocolate bark or add it to mixtures such as these white chocolate quinoa crips. It also make a great vegan white chocolate cake topping.
Step by step with pictures
Melt the cocoa butter and coconut oil. Add both to a saucepan or large mixing bowl. Melt them on the stove over low heat or in the microwave at 800W at 30-second intervals.
Add the remaining ingredients. Once the cocoa butter and the coconut oil are completely melted, stir in the maple syrup, cashew butter and add a pinch of salt. Combine and set a few tablespoons of the mixture aside. Then fold in the puffed quinoa.
Fill it into a mini muffin pan. You can line them with mini muffin papers first or add them straight to the muffin pan as I did. Finally, top each cup with some of the white chocolate mixture that you set aside. Put it in the fridge for an hour to solidify.
Form them without a muffin pan
If you don't have a mini muffin pan, you can simply form little heaps of the mixture onto a baking sheet lined with some parchment paper. Put it in the fridge until the chocolate has hardened.
Tips to remove them from the muffin pan
Tap the muffin pan against a flat surface. This helps loosen the quinoa crispy from the muffin cups. When you flip the pan over, they can easily fall out. This only works for non-stick muffin pans.
Run it under hot water for few seconds. Then insert a knife between the quinoa crips and the muffin pan to help pop it out. You might have to put the quinoa crips back into the fridge for 10 minutes if the chocolate has melted around the edges.
Line the muffin pan with muffin paper cups. That way you don't how to worry about getting them out of the pan.
Storage tips
Once cold, store the chocolate quinoa crisps in an air-tight container and keep them in the fridge. You can store them for up to 7 days. However, the puffed quinoa might become a little softer and less crispy after 3 days.
More easy vegan snacks recipes
The recipe
White Chocolate Quinoa Crisps (Vegan)
These chocolate quinoa crisps are made from puffed quinoa and covered with the best vegan white chocolate ever. They make an easy vegan snack.
Print
Pin
Servings:
12
quinoa crisps
Ingredients
30

g

cocoa butter chips

20

g

coconut oil

75

g

cashew butter

2

tablespoon

maple syrup

approx. 40g

½

teaspoon

vanilla extract

1

pinch

of salt

40

g

puffed quinoa

or any other puffed cereal
Instructions
Melt the cocoa butter chips and the coconut oil over low heat or in the microwave.

Add the cashew butter, maple syrup, vanilla extract and a pinch of salt to the melted mixture. Mix until combined (see step-by-step pictures in the post above). Save about 3 tablespoons of the mixture and set aside.

Stir in the puffed quinoa.

Fill the mixture into a non-stick mini muffin pan* (about 2 teaspoons per muffin cup). Tap onto a flat surface to even the levels.

Cover each cup with some of the vegan white chocolate you set aside.

Place in the fridge to set for at least 1 hour.

To remove the puffed quinoa treats from the pan, tap it a few times against a flat surface and flip it onto a plate. If necessary, flip the pan and run it under hot water for a few seconds before removing the quinoa cups from the muffin tin with a knife.
Notes
*You could also line the muffin pan with some mini muffin papers. If you don't have a mini muffin pan, simply place heaps of the mixture on a baking sheet lined with parchment paper.
Leave a rating and comment below! Thank you!
Don't forget to mention @cookingwithelo on social media
If you tried this recipe, make sure to let me know how you liked it by rating it and leaving a comment below! Your feedback really matters! Follow me on Instragram, Pinterest and Facebook to never miss a recipe.
Discover more recipes