This vegan Mediterranean pasta dish is a simple way to serve ripe summer vegetables. The ratatouille sauce is made with flavorful eggplants, zucchini and fresh tomatoes. Add a little bit of olive tapenade for an additional Mediterranean touch. You might also like this Mediterranean tomato and cucumber salad.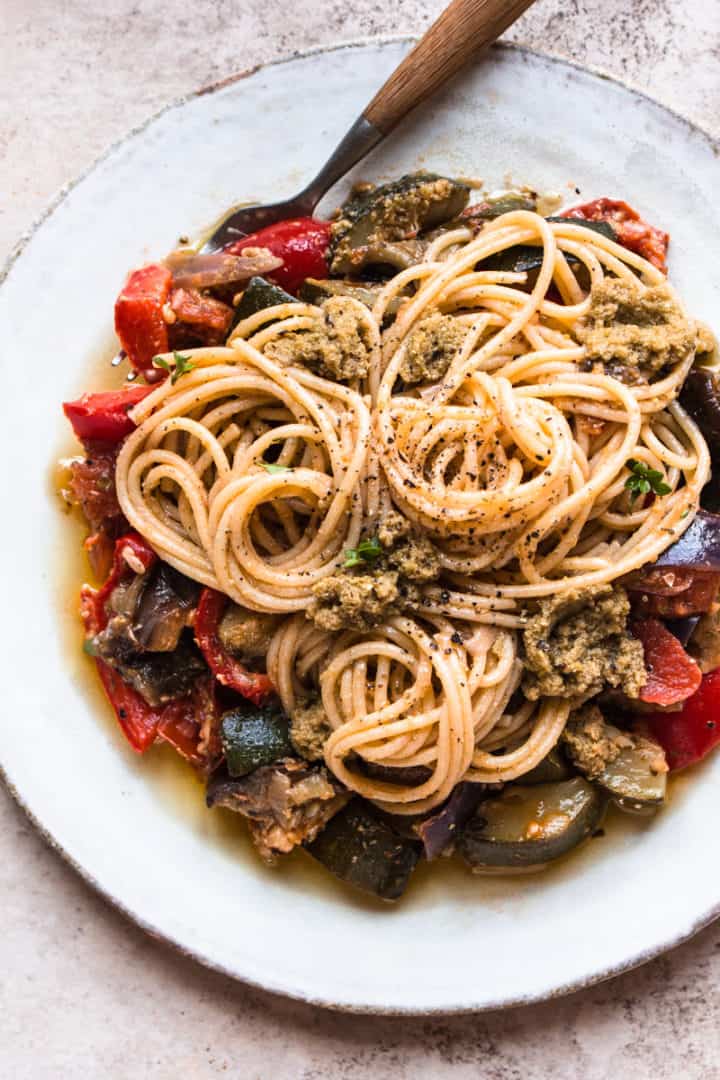 Jump to:
Step-by-step with pictures
Prep the veggies. Mince the onion and shallot and cut the veggies into bite-sized pieces.
Time-saving tip: use a food chopper to mince the onion and the shallot.
Sauté the veggies. Start by sauteeing the onion and the shallot in a frying pan with olive oil. When translucent, add the eggplant and zucchini and sauté until slightly golden.
Add the tomatoes and simmer. Once you have added the chopped tomatoes, cover the pan with a lid and simmer for 10 minutes. Then, remove the lid and season with salt and herbs. Simmer another 10 minutes uncovered.
Cook the pasta. Cook the gluten-free spaghetti according to the instructions on the box. Once cooked and drained, add the pasta to the pan with the ratatouille. This prevents the pasta from sticking and drying out, while it absorbs the flavors.
Elo's tip: for an additional Mediterranean touch, add olive tapenade to the dish when swirling the pasta in the pan.
How to pimp your ratatouille
Ratatouille is a vegetable stew from Provence that you can customize endlessly, which is why there are so many different ratatouille recipes in the world. They all use summer vegetables as a base and add additional ingredients to vary the flavors. Here are some options you could use to make your very own vegan Mediterranean pasta recipe.
Add olive tapenade. The taste of olives deepens the flavors of the ratatouille and goes surprsingly well with pasta.
Add sun-dried tomatoes. Those can be chopped or whole. Choose sun-dried tomatoes that are preserved in oil and add some of the oil to the ratatouille.
Add chili oil. If you like it spicy, add about 1 teaspoon of chili oil.
Add olives. For a Mediterranean touch, add some pitted black or Kalamata olives.
Add artichokes. I like to use canned artichoke hearts that I cut into quarters.
Add a squeeze of lemon juice and about 1 teaspoon of lemon zest. Choose organic lemons.
Frequently asked questions
What can I serve with ratatouille?
You can serve ratatouille as a warm dish with gnocchi or any other type of pasta. Ratatouille also makes a great side dish and goes well with polenta, roasted potatoes or potato mash. If you would like to serve it cold as an antipasto, it tastes great on toasted bread (rubbed with a little bit of garlic).
Can you eat ratatouille cold?
Ratatouille can easily be eaten cold. Serve it with cold pasta as pasta salad or with some baguette as an antipasto.
Can I freeze leftover ratatouille?
You can freeze ratatouille for up to 3 months. Place the leftover ratatouille in an air-tight container before freezing. The best way to defrost it is to place it in the fridge overnight.
How much is one serving of pasta?
In general, 2 ounces equals one serving of pasta. For two people you can cook between 4 and 5.7 ounces (120-180 g) of pasta.
More vegan Mediterranean recipes
Don't forget to join the Cooking With Elo newsletter. You'll get gluten-free and vegan dinner ideas sent right to your inbox.
The recipe
Vegan Mediterranean Vegetable Pasta
Uncomplicated vegan Mediterranean vegetable pasta dish served with a flavorful ratatouille sauce made from eggplants, zucchini and fresh tomatoes.
Print
Pin
Ingredients
1

onion

1

shallot

2

clovesof

garlic

1

eggplant

2

zucchini

4

tomatoes

2-3

teaspoons

herbes de Provence or orgenao

1

pinch of

salt

2

servings of

gluten-free spaghetti

4

teaspoons

green olive tapenade

optional but recommended
Instructions
Mince the onion and the shallot in a food chopper or with a knife.

Wash the veggies. Cut the eggplant and zucchini lengthwise in quarters, then into bite-sized pieces. Roughly chop the tomatoes.

Heat a large lidded pan or skillet with olive oil. When hot, add the chopped onion and shallot. Sauté until transulcent over medium-high heat (about 3 minutes).

Add the eggplant and zucchini to the pan and sauté until lightly colored (about 5 minutes).

Add the tomatoes. Cover with a lid and simmer over medium heat for 10 minutes. Then, remove the lid half and season with a pinch of salt and herbes de Provence. Simmer without lid for another 10 minutes.

In the meantime, bring water to a boil. Cook the pasta according to the instructions on the package. Drain them when cooked.

Swirl the drained pasta into the finished ratatouille.
Nutrition
Calories:
175
kcal
|
Carbohydrates:
39
g
|
Protein:
8
g
|
Fat:
2
g
|
Saturated Fat:
1
g
|
Fiber:
14
g
|
Sugar:
23
g
Leave a rating and comment below! Thank you!
Don't forget to mention @cookingwithelo on social media
Did you try this recipe? Make sure to let me know how you liked it by rating it and leaving a comment below! Your feedback really matters! Follow me on Instragram, Pinterest and Facebook to never miss a recipe.
Discover more recipes