Super flavorful roasted zucchini dip that does not taste bland even though it's made without cheese and nuts. This zucchini dip is a must-have at any summer party. It's also great as a zucchini pesto on pasta or as a zucchini spread on a sandwich.
Jump to:
You chose: dip, spread or pesto
This zucchini sauce is very versatile! It's delicious whether you want to eat it hot (as a pasta sauce) or cold (as a dip or spread).
Healthy dip: this roasted zucchini dip is super healthy very flavorful and has a Mediterranean touch. Roasting the zucchinis first makes all the difference!
Veggie spread: when it comes right from the fridge, it's great on toasts or even on a sandwich as a vegetable spread.
Pesto or zucchini pasta sauce: I love this zucchini sauce on gnocchis!
Ingredients you'll need
Zucchinis are (obviously) the base of this dip. Roasted them in the pan before blending develops a whole new range of flavors that make this dip incredibly delicious.
Garlic adds a savory note. The dip can taste a little bland without it.
Olive oil adds that Mediterranean touch that I love. Vegetables sautéed in olive oil rather than another vegetable oil just taste different (and I personally love it).
Fresh basil for that herby note that everyone loves. Also gives the zucchini dip a pesto-like taste.
Lemon juice for a fresh, zesty kick.
Sea salt makes all the difference!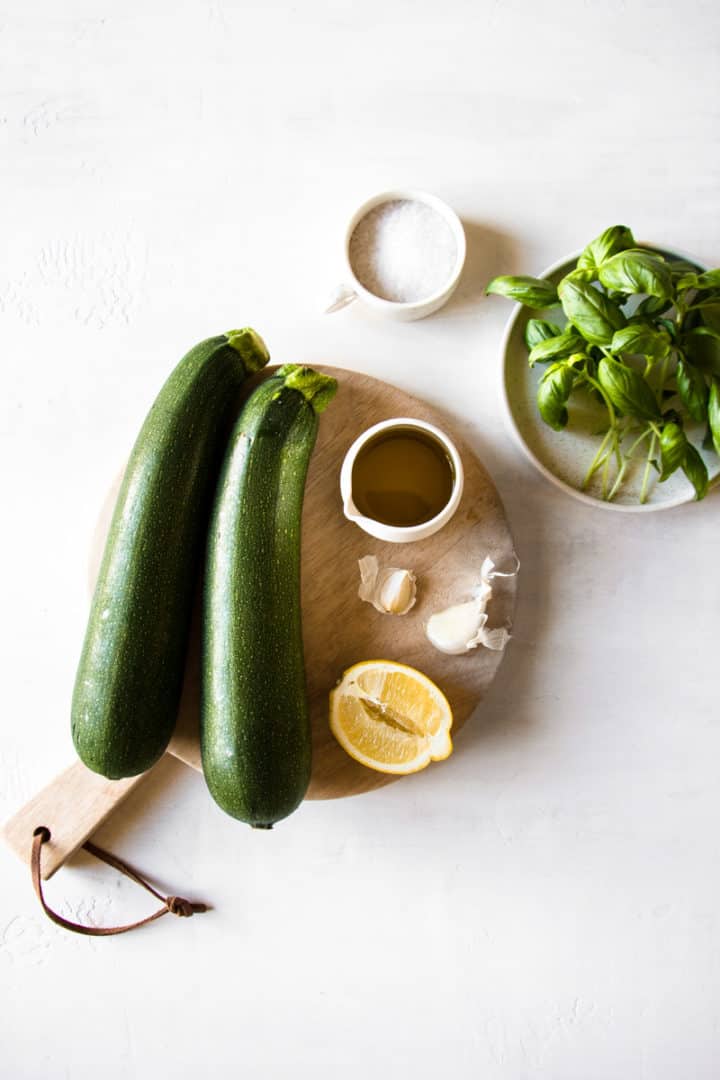 Step by step with pictures
Wash and cut the zucchinis. Gently wash the skins of the zucchinis. Cut them in 4 and then in bite-size pieces. The size doesn't really matter as it will all be blended up later on. Preferably the pieces are not too big for them to cook more quickly and be a little more golden and caramelized.
Sauté the garlic. Peel and crush the garlic. Then, sauté it in a pan with a generous amount of olive oil.
Sauté the zucchinis. Add the zucchini to the pan and sauté until soft and golden-brown. This is what will give the dip so much flavor.
Blend it all up. If you have a blender, where you can unscrew part of the lid, you can blend it all right away. Add the zucchinis with their oil, basil, lemon and salt to the blender or food processor and blend until smooth. Make sure to unscrew the top part of the lid to let the steam escape and start blending on low to prevent splashes. You could also add the zucchinis to a high container and blend the ingredients with a stick blender. Or simply let it cool down before blending.
Storage tips
After blending, add it to one or two air-tight containers (depending on the size) and let it cool down. Then store it in the fridge for up to 3 days. You can make it ahead of time and serve it as a dip if you have friends coming over or use it as a zucchini pasta sauce. You can freeze this zucchini sauce, too.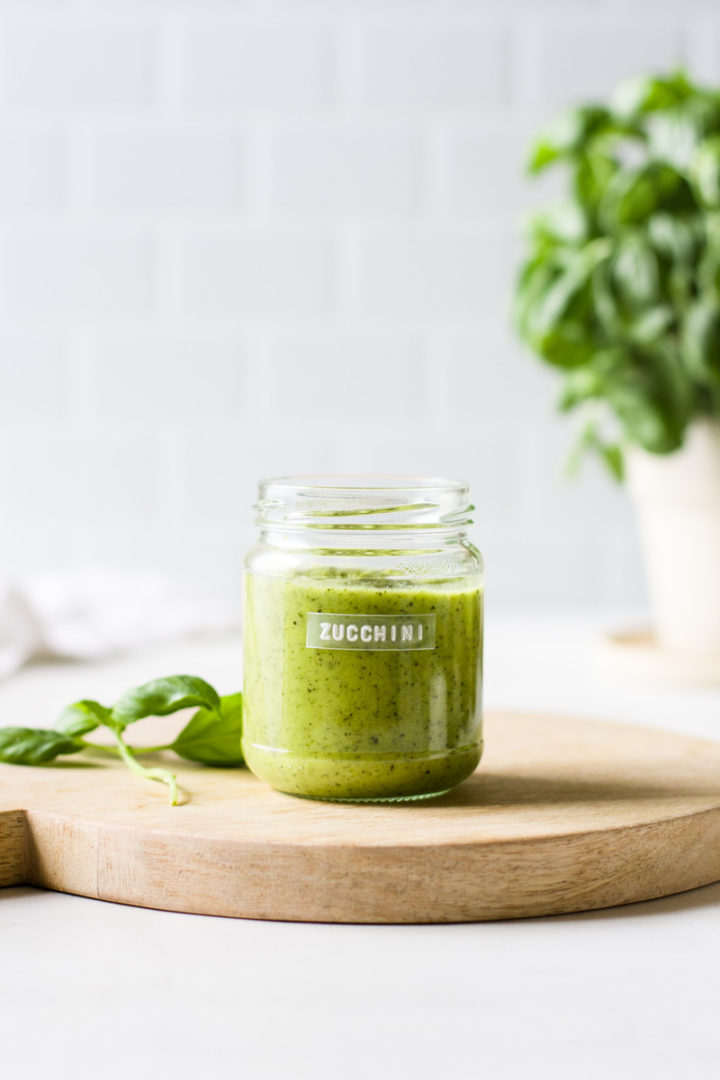 More dips and veggie spreads
Sundried tomato tapenade
White bean dip with roasted cherry tomatoes
The recipe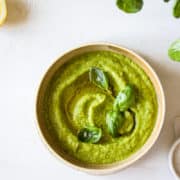 Zucchini Dip/Zucchini Spread
This roasted zucchini dip is a must-have at any summer party. It's also great as a zucchini pesto on pasta or as a zucchini spread on a sandwich.
Print
Pin
Ingredients
2

large zucchinis

2

cloves

of garlic

Olive oil

½

lemon

½

bunch

of fresh basil

1

pinch

of coarse sea salt

1-2

teaspoon

vegan pesto

optional
Instructions
Wash the zucchinis and cut them into 1-cm pieces. Mince the garlic. Wash the basil and juice the lemon.

Heat a little olive oil in a large pan or skillet. When hot, add the zucchinis and the garlic. Sauté over medium-high heat until golden brown. Reduce to medium heat once golden but not completely soft yet. They should be done after 10 and 15 minutes.

Add the roasted zucchinis to the blender with the basil, lemon juice and salt. Optionally add 1 or 2 teaspoons of vegan pesto for a more intense basil flavor. You might have to add a little bit of water to help the blending process.

If you have a blender, where you can unscrew part of the lid, you can blend everything right away. Make sure to unscrew that top part of the lid for the steam to escape and start blending on low to avoid splashes. Otherwise, let the zucchinis cool down first or use a stick blender. Blend until smooth.

Add it to a bowl of pasta as a zucchini pesto when hot or place it in the fridge to cool down completely before serving it as a dip or using it as a vegetable spread.
Leave a rating and comment below! Thank you!
Don't forget to mention @cookingwithelo on social media
If you tried this recipe or any other recipe from the blog, make sure to let me know how you liked it by rating it and leaving a comment below! Your feedback really matter! Follow me on Instragram, Pinterest and Facebook to never miss a recipe.
Pin it for later
Discover more recipes