YES, you can actually make overnight oats without chia seeds! Although they do provide a thicker texture to the oat and milk mixture, they are absolutely optional. Here's how to make creamy overnight oats with a slightly thinner, less sticky consistency.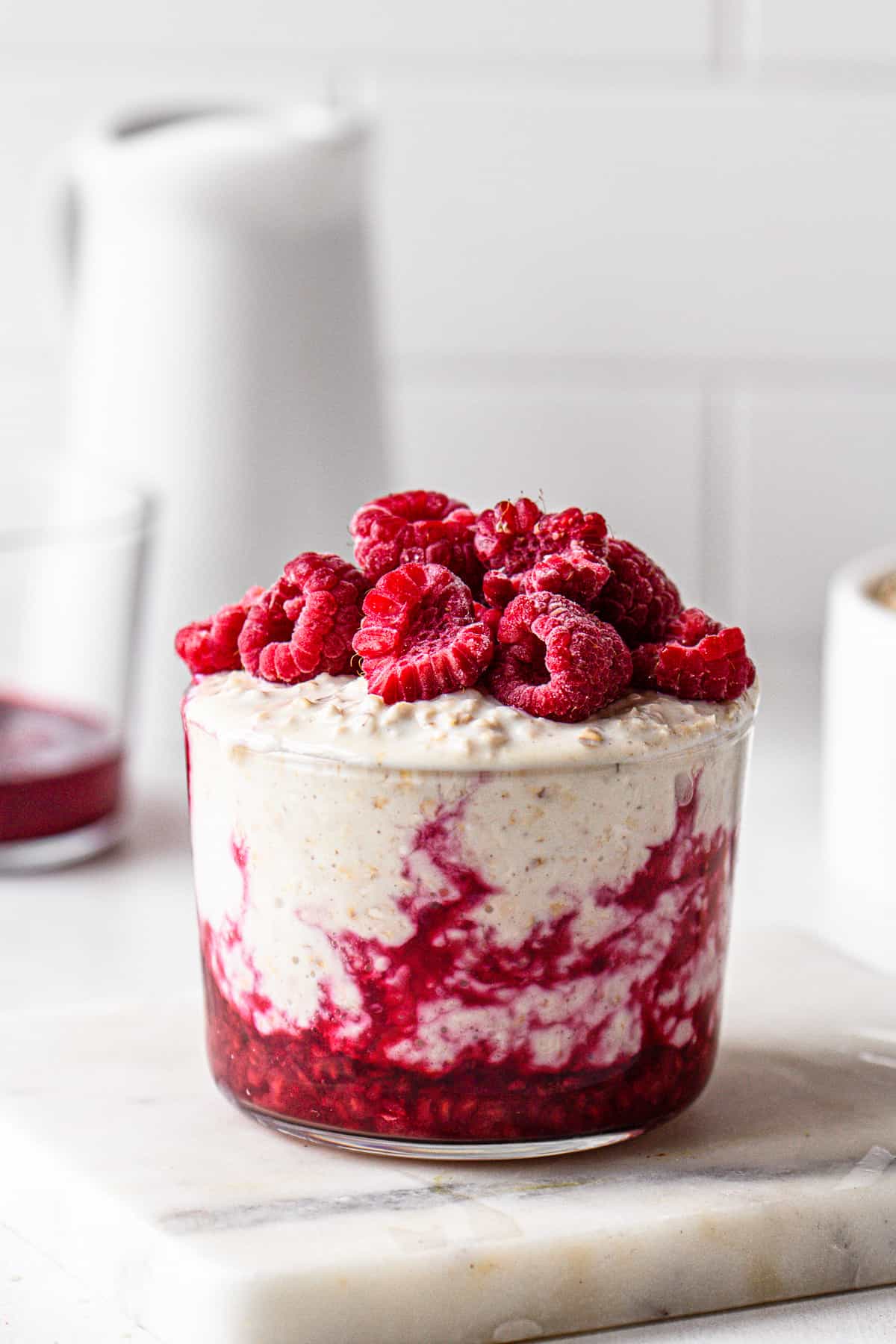 Whether you don't like chia seeds, have gut issues, or simply ran out, this recipe is for you. It's pretty basic to give you the freedom to add your favorite toppings and vary the flavors. However, if I may suggest one recipe, I highly recommend trying these tiramisu overnight oats without chia seeds. They use coffee and cocoa powder and literally taste like dessert in a jar.
I must say that I love both overnight oats with and without chia seeds (I have a whole guide with my overnight oats base recipe WITH chia seeds). However, I like to alter between the two to vary the textures and to make my breakfast more versatile.
Jump to:
What are overnight oats?
Overnight oats are basically cold oatmeal made by soaking rolled oats in milk for an entire night. You can keep them very basic or get creative with different add-ins and toppings.
Why you'll love this recipe
No-cook make-ahead breakfast that's ideal for busy mornings
No chia seeds or substitutions (e.g., flax seeds, psyllium)
Minimal prep.
Great during the hot summer months as you can eat your oatmeal cold.
Healthy breakfast that's nutritious and filling.
Ingredients and substitutions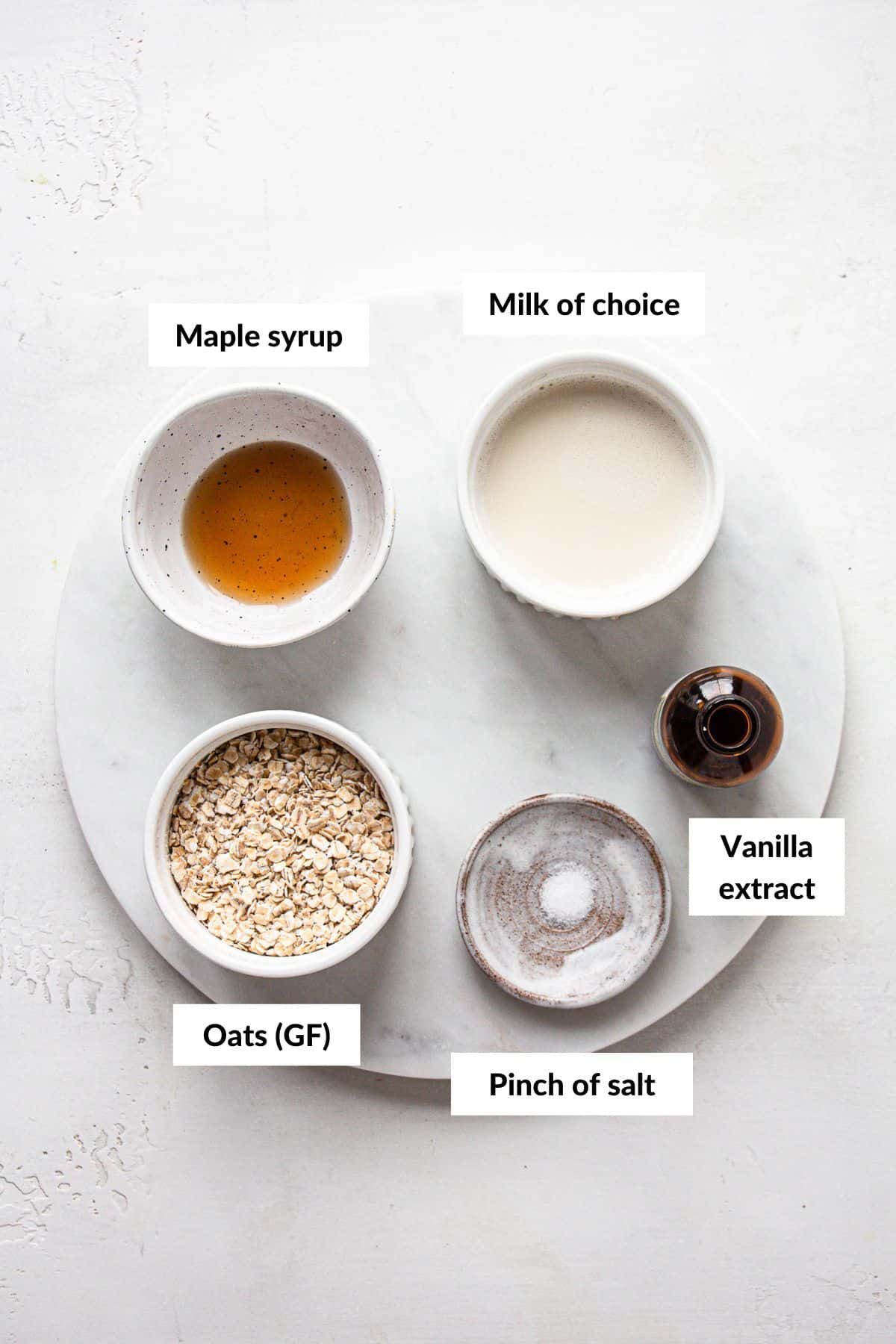 Rolled oats are the best choice for overnight oats. They provide texture and don't get soggy. You can replace them with quick-cooking oats (also known as quick oats or thin rolled oats) that have thinner flakes and provide a gooier texture, but I recommend eating them within 48 hours in that case. Make sure to use gluten-free oats if you're on a gluten-free diet.
Non-dairy milk of choice. The milk you chose largely determines the flavor of your oats. You can either go for more neutral milk such as soy milk, rice milk or oat milk (certified gluten-free if needed). Or you can choose nutty kinds of milk such as almond milk or even coconut milk. I highly recommend varying the milk depending on your toppings (see variations below).
Yogurt makes the oats thick and creamy. Don't skip this ingredient when leaving out chia seeds. You can use Greek yogurt if not vegan.
Maple syrup lightly sweetens the oats. You can leave it out completely if you don't have a sweet tooth or if you're adding sweet toppings.
Vanilla extract adds flavor to this basic recipe and really makes it all come together.
A note about steel-cut oats: I don't recommend using steel-cut oats for overnight oats as their shell hinders the absorption of liquids. They really have to be cooked for a porridge-like result.
Elo's tips
Make a big batch of overnight oats to last you for several days. Use 4 times the amounts indicated in the recipe card.
Add a pinch of salt to really elevate the flavors. A tiny bit is enough and won't make your oats salty.
Make your oats in a sealable container if you plan to eat your breakfast on the go.
Step-by-step instructions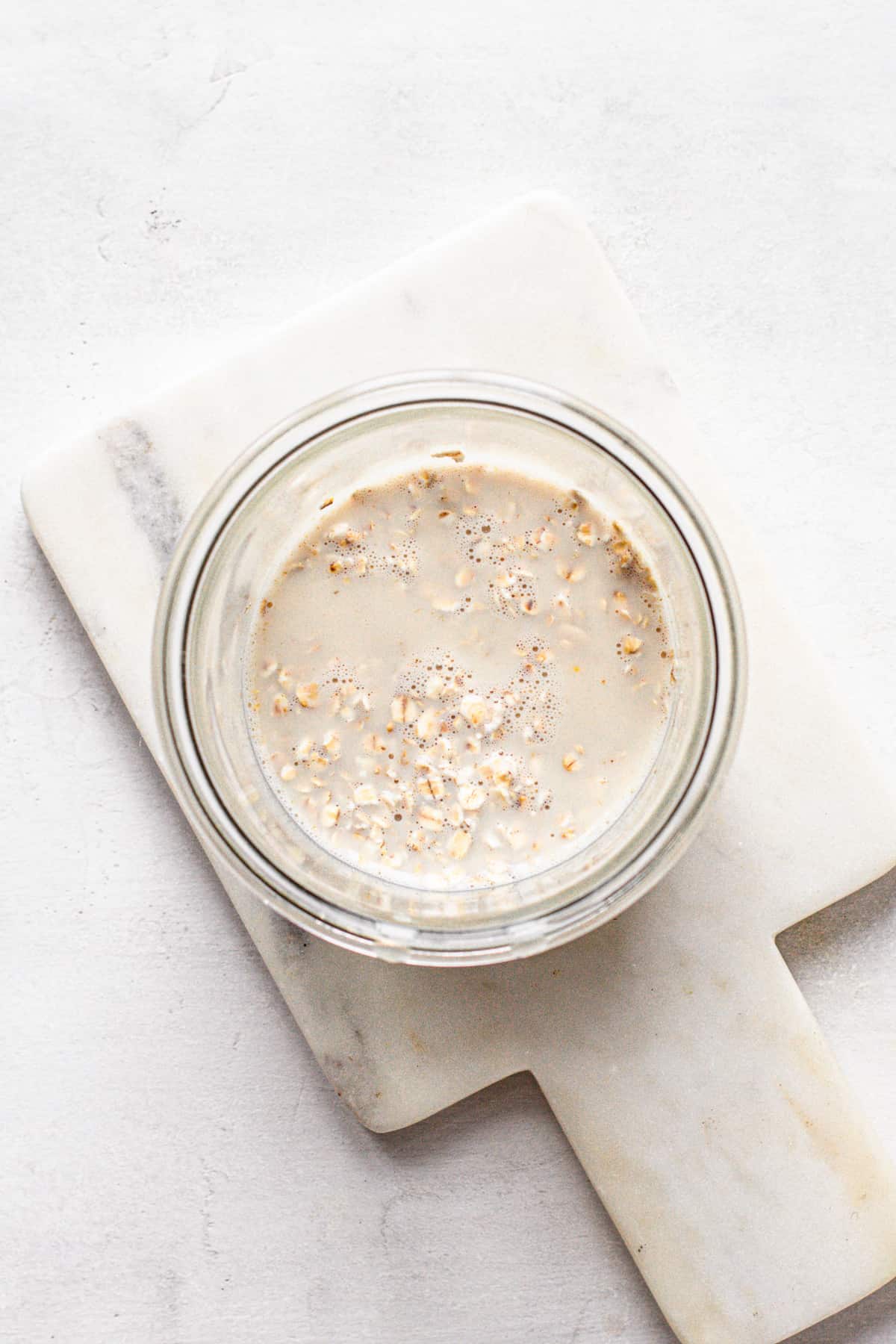 STEP 1: Add all the ingredients to an airtight container (e.g., Weck jar, Mason jar). Start with the oats, then pour in the milk, maple syrup and vanilla extract. I like the 16 oz Weck jars as they leave plenty of room for toppings and the extra space avoids spillage when combining the ingredients.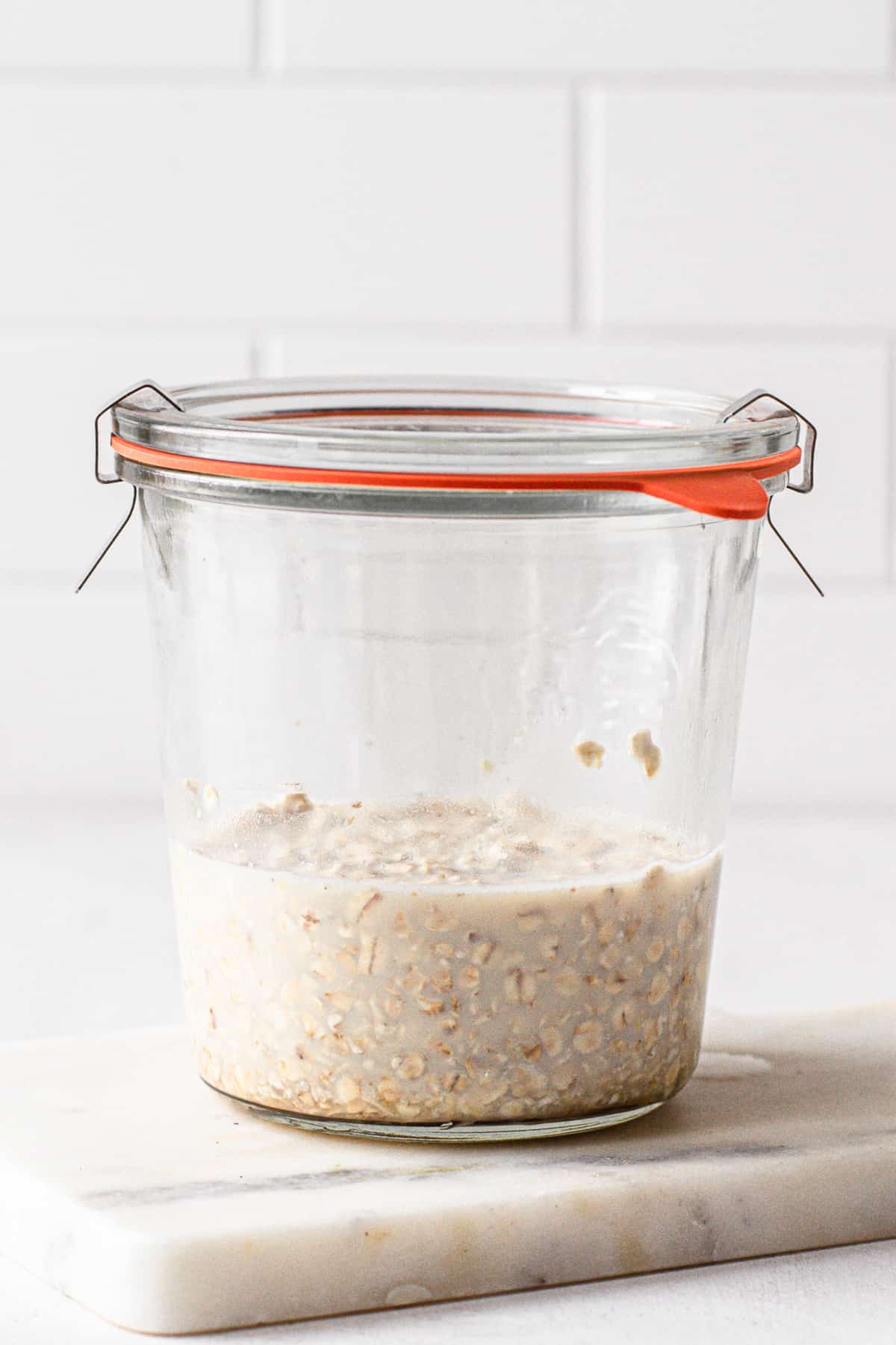 STEP 2: Give it a good stir. Close the jar airtightly with a lid or cover it with plastic wrap (or a sustainable alternative).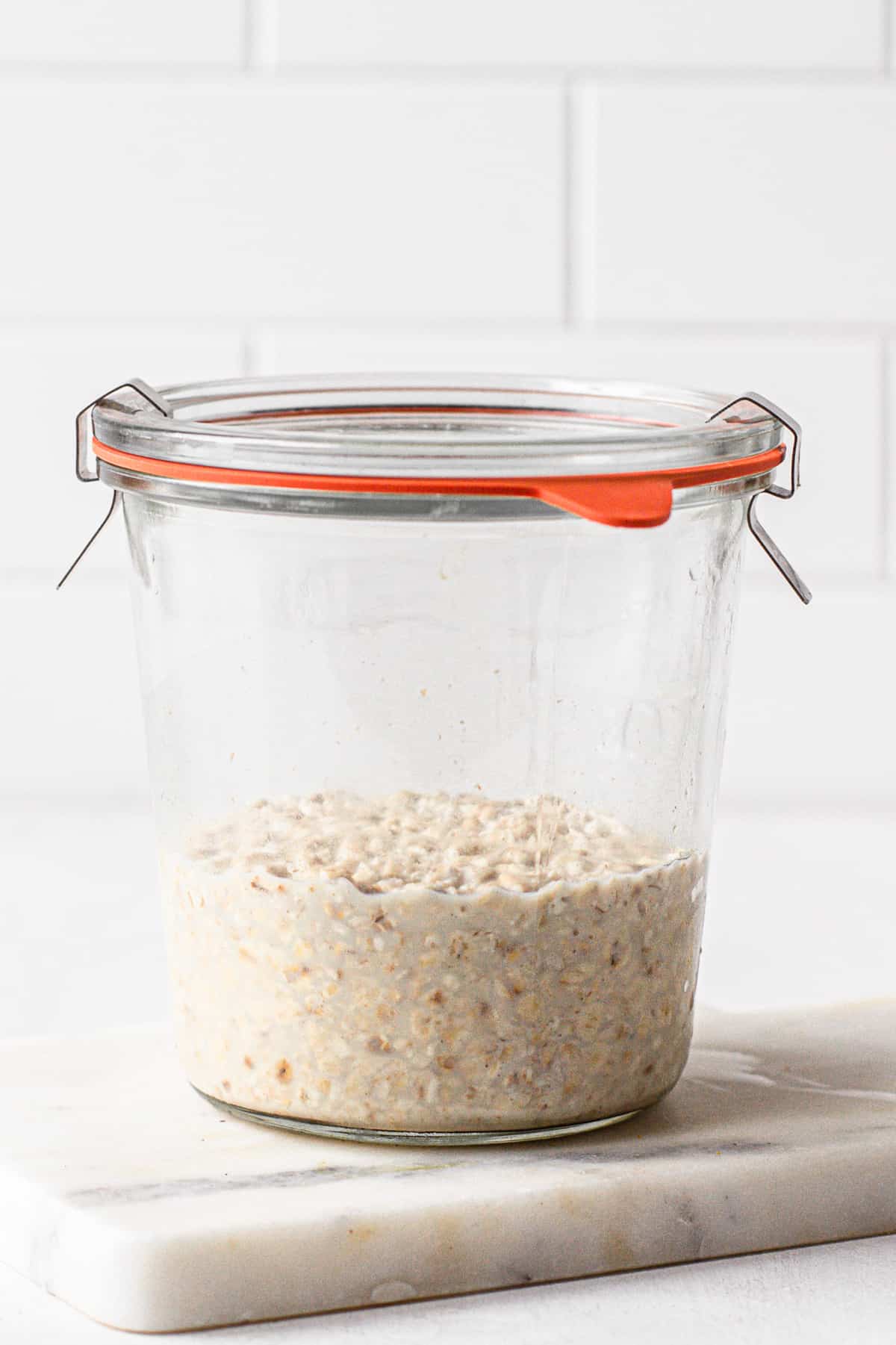 STEP 3: Let the oats sit overnight. They will absorb the liquid and turn into a porridge-like consistency. If there's still some milk left in the jar that's not a problem. Simply stir it up.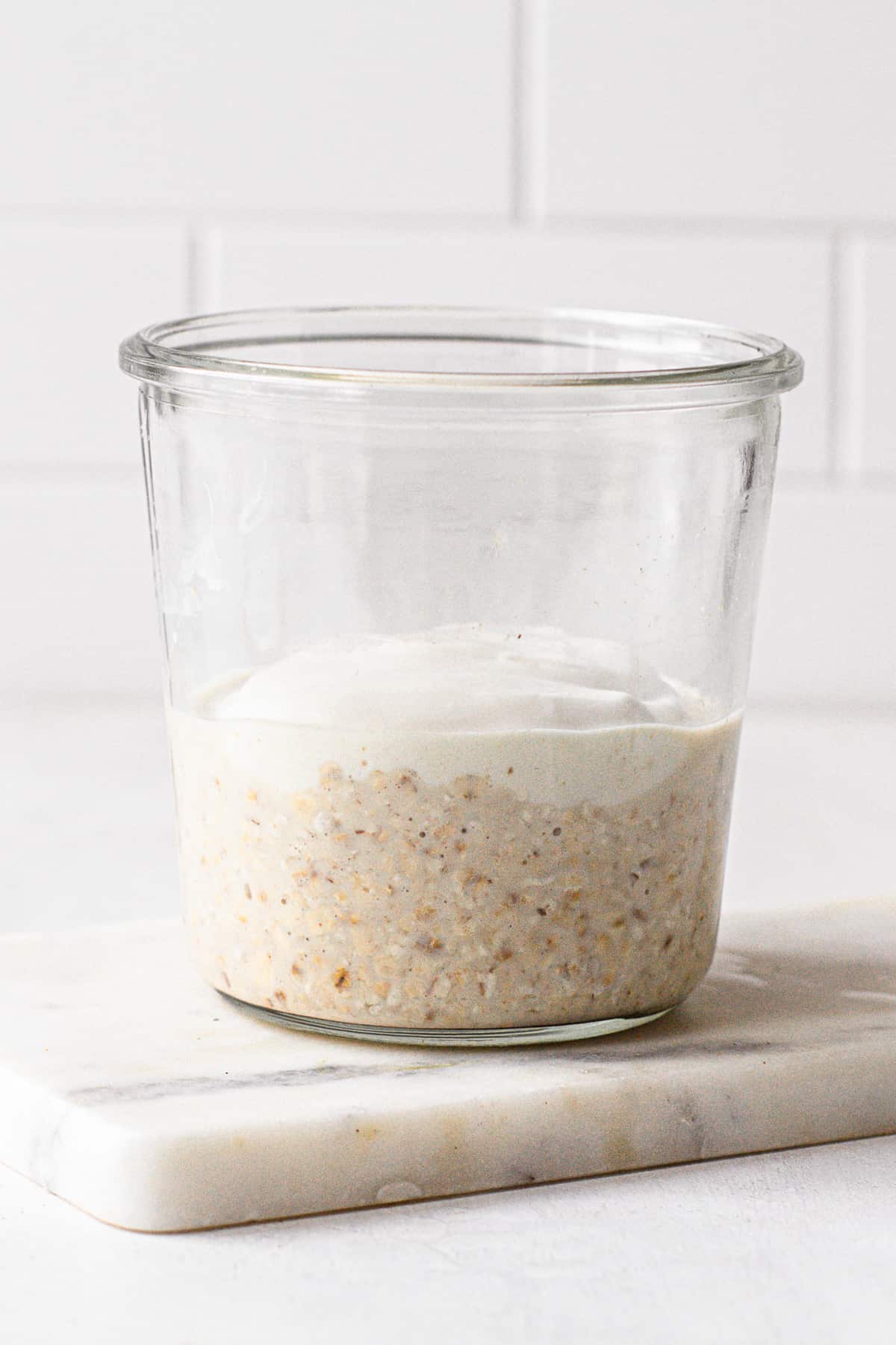 STEP 4: Stir in the yogurt. Adding yogurt in the morning makes the oats extra creamy.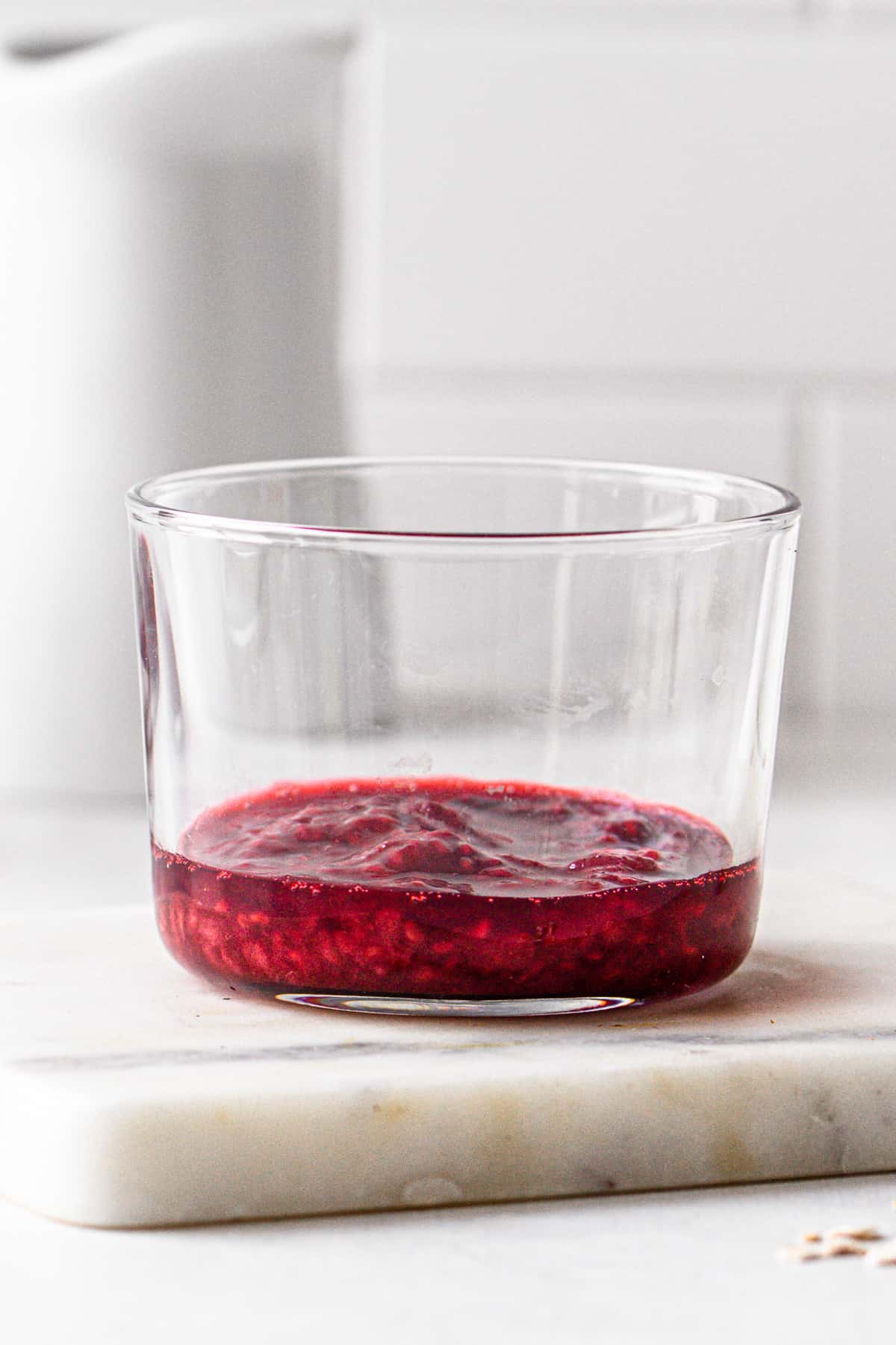 STEP 5: Add your toppings to the Mason jar or transfer the mixture to another glass first. I like to add mashed raspberries at the bottom.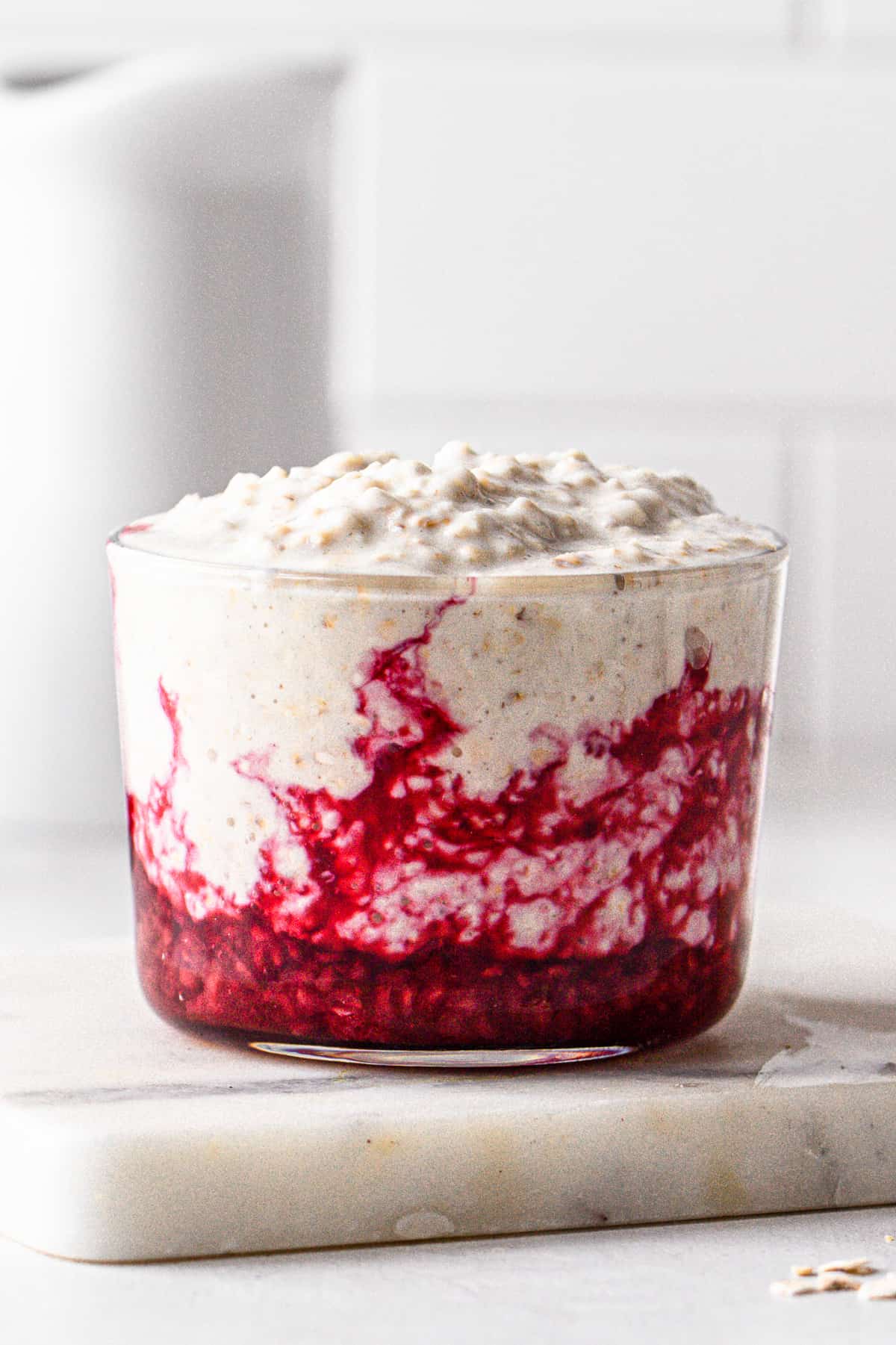 STEP 6: Garnish. Top with fresh fruit, almond butter, seeds, cacao nibs, and everything your heart desires.
Variations
Here are some of my favorite flavor combinations to make your overnight oatmeal fun and versatile:
Tropical oats – use coconut milk for the oat and milk mixture and top it with banana, mango, and coconut flakes.
Chocolate oats – add cocoa powder to the oat mixture and top it with chocolate chips or cacao nibs. Almond milk works great as a base.
Berries – mash some fresh berries or thaw frozen berries for a tart topping that pairs incredibly well with the vanilla oat mixture. You can add a dash of cinnamon if you'd like.
Protein – adding protein powder can be a great way to thicken the oats without using chia seeds as protein powder usually soaks up liquids, too.
For more decadent overnight oat recipes, check out my snickers overnight oats, chocolate raspberry overnight oats, and cinnamon overnight oats. You can simply leave out the chia seeds in all these recipes.
Frequently asked questions
Can you make overnight oats without milk?
Yes, you can! There are different ways to substitute milk in overnight oats, including water. This post includes 4 different ways you can try out if you run out of milk.
Can you reheat overnight oats?
You can definitely reheat overnight oats in the microwave or on the stove if you prefer warm oatmeal. You may want to add a splash of milk if they look a little dry.
How long do overnight oats have to sit?
Preferably let the oats sit overnight for them to soften and fully absorb the milk. However, the texture is already pretty good after 4 to 6 hours of sitting.
How long do overnight oats last?
They will last for 4 to 5 days if stored in an airtight container in the refrigerator.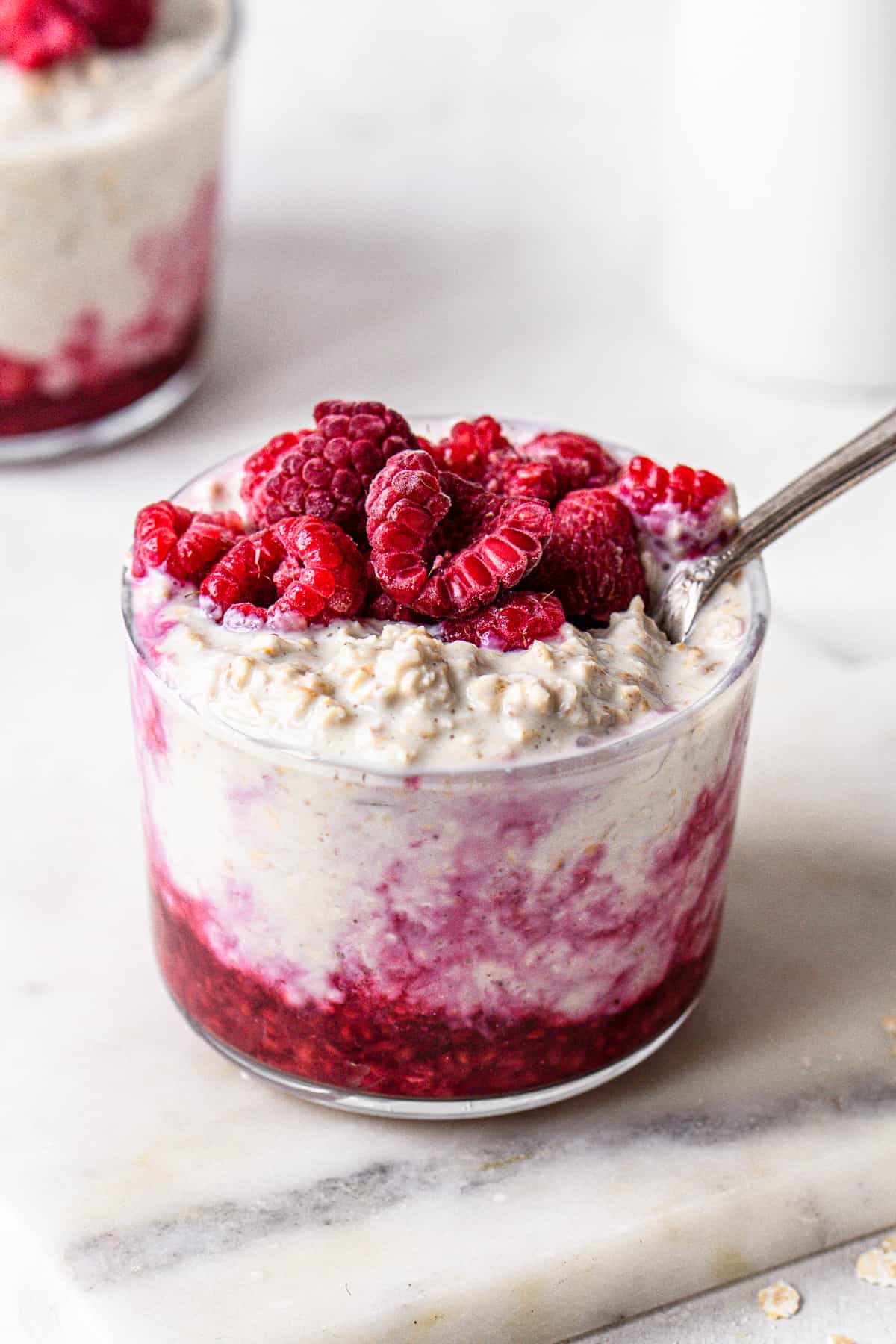 Don't forget to join the Cooking With Elo newsletter. You'll get gluten-free and vegan dinner ideas sent right to your inbox.
The recipe
Overnight Oats Without Chia Seeds
You can easily make overnight oats without chia seeds and replace them with yogurt for a thick and creamy consistency.
Print
Pin
Ingredients
Toppings
¼

cup

frozen raspberries

thawed

1

dash of

cinnamon
Instructions
Add the oats, milk, maple syrup, vanilla extract, and a tiny pinch of salt to a sealable container (e.g., Weck jar, Mason jar).

Stir to combine. Close the jar airtightly and place it in the refrigerator overnight (or for at least 4 to 6 hours).

The next day, stir in the yogurt and add your favorite toppings. I used thawed raspberries, mixed with a dash of cinnamon.
Notes
The best oats to use for overnight oats are old-fashioned rolled oats as they will soften but still keep a firm texture. You can use quick-cooking oats, also known as thin rolled oats (NOT instant oats), which provide a softer, gooier texture. *I used quick-cooking oats for this recipe because they are the only gluten-free certified ones I could find in my area.
The milk you chose largely determines the flavor of your oats. You can go for more neutral milk such as soy milk, rice milk or oat milk, or you can choose nutty kinds of milk such as almond milk. Coconut milk provides a more tropical flavor. I highly recommend varying the milk depending on your toppings (see variation ideas above).
Nutrition
Calories:
298
kcal
|
Carbohydrates:
52
g
|
Protein:
10
g
|
Fat:
6
g
|
Saturated Fat:
1
g
|
Fiber:
7
g
|
Sugar:
17
g
Leave a rating and comment below! Thank you!
Don't forget to mention @cookingwithelo on social media
Loved it? Please rate it!
If you tried this recipe or any other recipe from the blog, make sure to let me know how you liked it by leaving a star rating and a comment below. Your feedback really matters! To never miss a recipe, follow me on Instragram, Pinterest and Facebook.