100% pure cranberry juice makes an incredible base for smoothies. Its slightly sweet and sour taste gives every smoothie a refreshing and mood-boosting kick. Combine it with orange juice, raspberries, and beet (or bananas) for the ultimate healthy pink smoothie.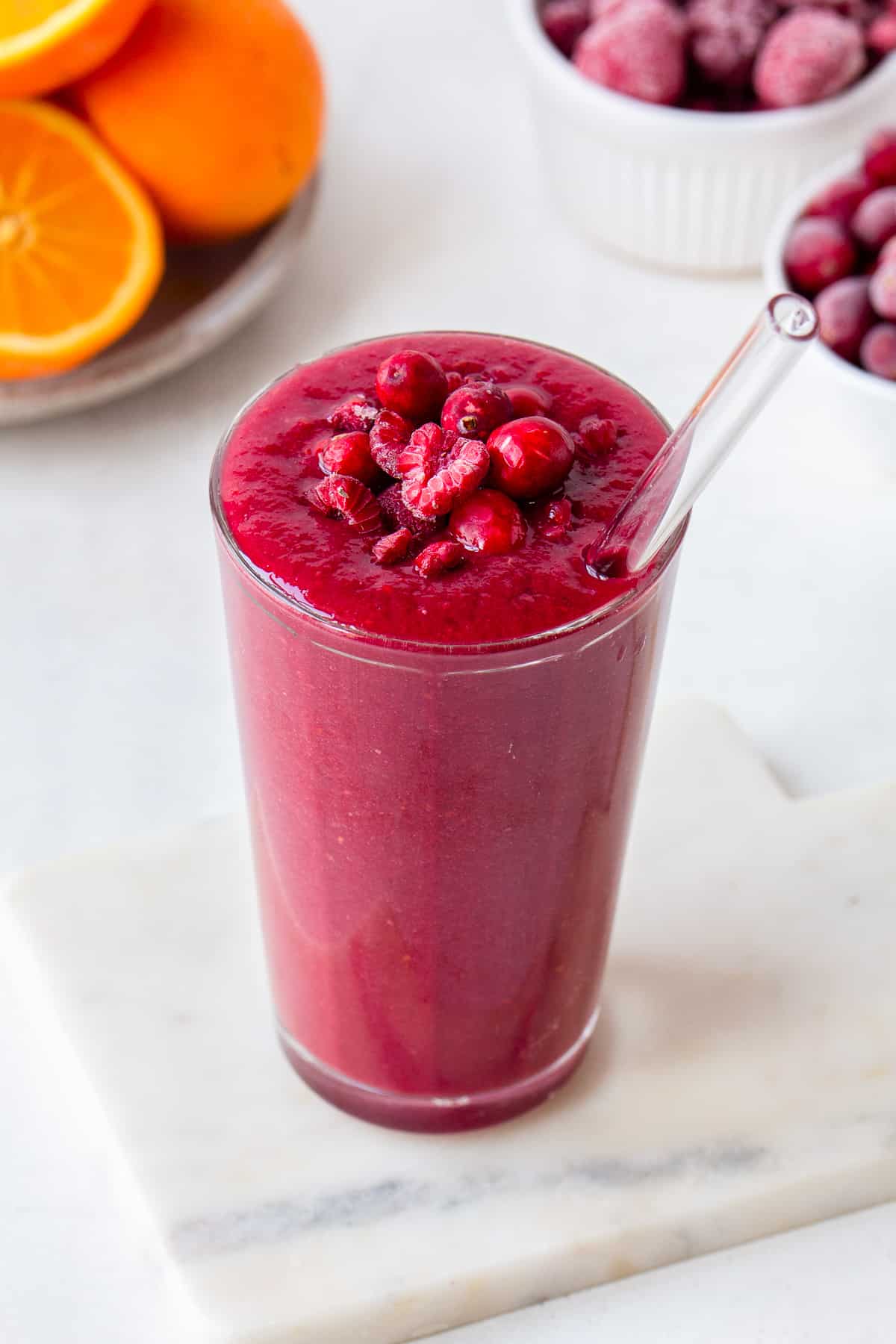 This cranberry juice smoothie has an overall fruity flavor from the orange and raspberries with a pleasant tartness from the cranberries. You can definitely slightly taste the beets, which is why I recommend substituting them with bananas if you don't like them.
For more vibrant pink smoothie recipes, check out this berry breakfast smoothie and this cherry dessert smoothie.
Jump to:
What you need to know about cranberry juice
Cranberry juice is an excellent source of vitamins C and E (source).
It's rich in antioxidants, which prevent oxidative stress at cell level (source).
It's believed to prevent the growth of bacteria in the stomach and urinary tract (source).
Research on urinary tract infections and cranberry juice is mixed. Some have seen a positive association while others didn't (source).
Even though it has a pretty sour taste, unsweetened cranberry juice is quite high in natural sugars, with 12 grams of sugar per 100 g.
Many store-bought cranberry juices contain lots of added sugar. Always check the ingredient list and look for those that contain 100% cranberries.
Why you'll love this recipe
This cranberry smoothie comes together in less than 5 minutes.
You can drink it in the morning or as an afternoon snack.
It's naturally dairy-free and packed with vitamin C.
It's definitely less conventional and perfect to switch up your smoothie routine.
Key ingredients and substitutions
Pure unsweetened cranberry juice (also known as cranberry juice concentrate) made from 100% fresh cranberries is what you want to look for. Avoid the sweetened and watered-down alternatives. Since pure cranberry juice is really intense, I like to use half juice and half water.
Whole orange adds a natural sweetness and pairs incredibly well with cranberries. You can use fresh orange juice but using the whole orange adds fiber to the smoothie.
Beetroot (sub banana) is a great way to sneak in an extra serving of vegetables for the day. I use pre-cooked vacuum-sealed beets that are super convenient and blend easily. If you don't like beets, you can substitute them with the same frozen banana slices.
Frozen raspberries provide a thicker, frozen texture. They also naturally cool the drink without having to add ice cubes. You can replace them with frozen cherries.
My juice of choice made from 100% cranberries is the cranberry juice from Lakewood. It's pasteurized juice pressed from fresh cranberries not made from concentrate. On top of that, it's certified organic and free from preservatives.
Elo's tips
Carefully read the labels when buying cranberry juice. Those stating "100% cranberry juice" actually only contain cranberries while those stating "100% juice" also contain other types of juices such as apple and grape juice. To be safe, always double-check the ingredient list.
Clean your blender right after making the smoothie. It makes the cleaning process a lot easier.
Make a beet salad with the leftover pre-cooked beets. They taste amazing with olive oil, balsamic vinegar, and dried oregano.
Step-by-step instructions (with pictures)
STEP 1: Peel the orange. Cut off the top and the bottom of the orange. Run a paring knife along the rind. Make sure to remove all the bitter white bits.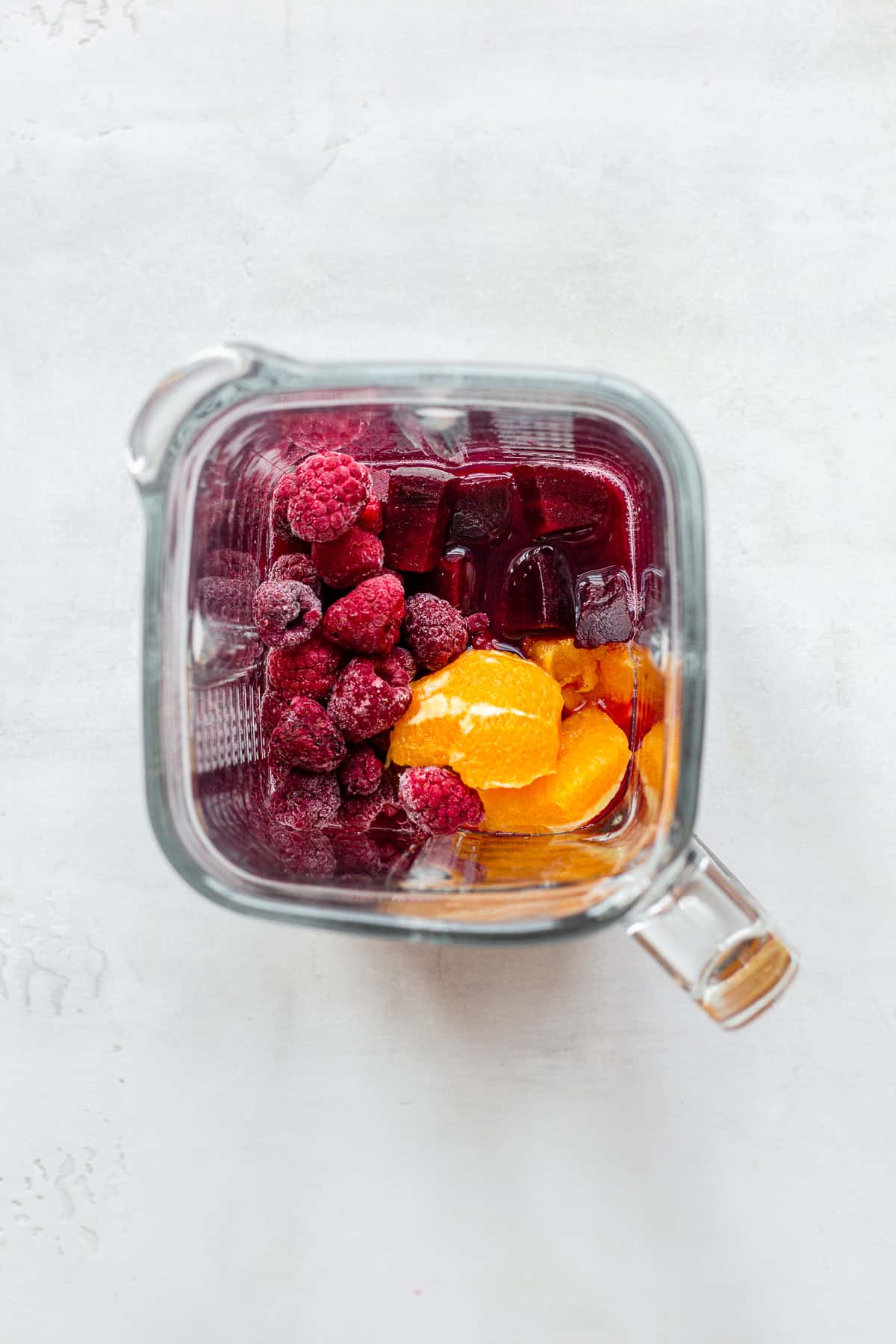 STEP 2: Add everything to a blender. Start with cranberry juice, water, and orange juice. Then add in the beet and frozen raspberries.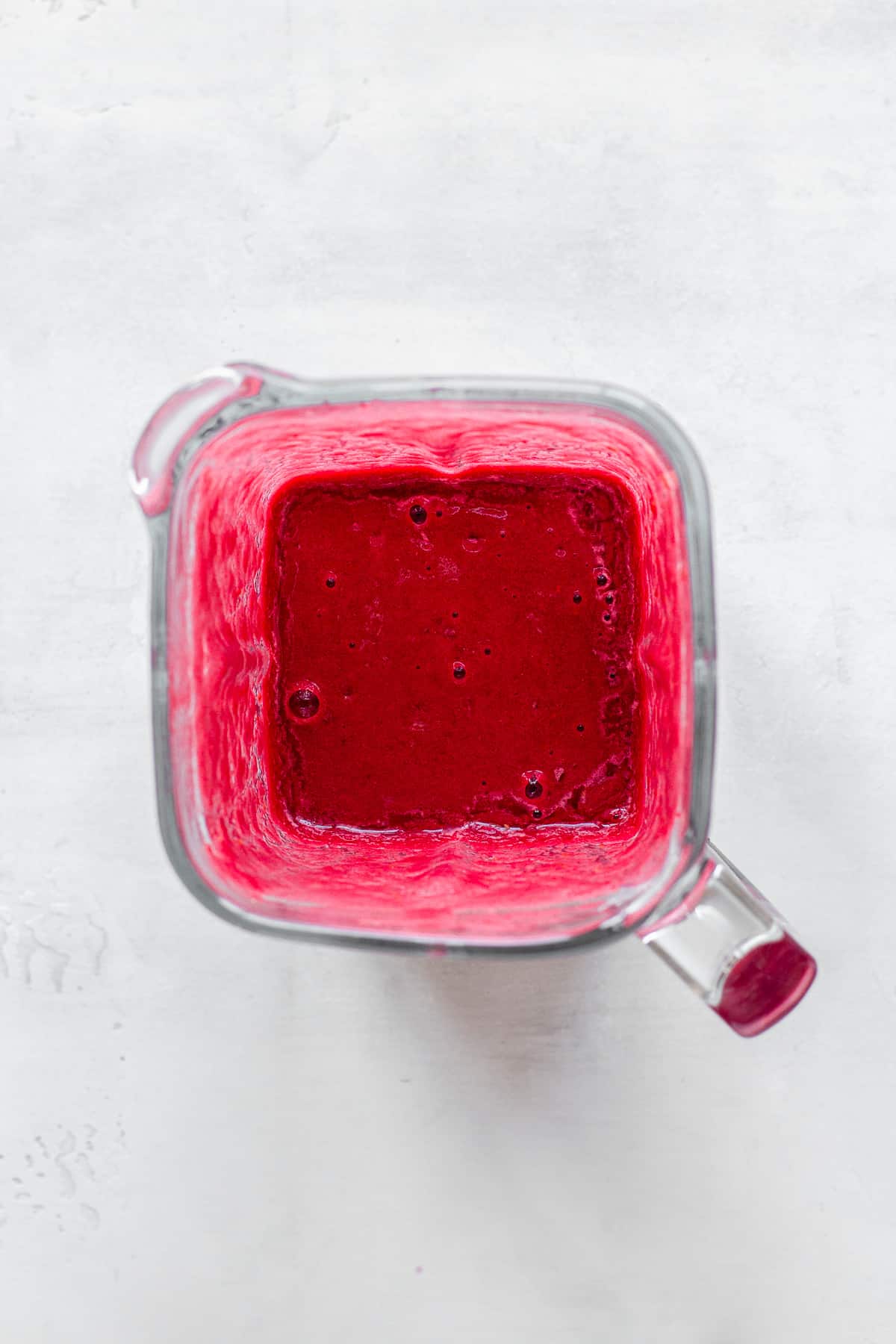 STEP 3: Blend until smooth. Use the smoothie program of your blender if it has one.
STEP 4: Pour the smoothie into a tall glass and enjoy right away.
Equipment
I love using my high-speed Kitchenaid blender for all my smoothies. But a regular smoothie blender would work well for this recipe as it contains lots of liquids.
As a smoothie lover, I invested in a high-quality blender several years ago and it was definitely a great investment. Make sure to read my honest review about the Kitchenaid K400 if you're considering getting a high-speed blender.
Variation ideas
Pineapple – sub the raspberries for pineapple for a more tropical flavor.
Yogurt – add your favorite unsweetened plant-based yogurt (or Greek yogurt if not vegan) for extra creaminess.
Spinach – add in a handful of spinach for an extra serving of veggies. I promise you won't taste it.
Frequently asked questions
Cranberry juice vs. cranberry juice cocktail
Both are made from cranberries but while cranberry juice is made of 100% cranberries, cranberry juice cocktail contains added sugars to balance the tartness. Make sure to use pure unsweetened cranberry juice for this smoothie recipe.
How to substitute cranberry juice?
The best alternative to cranberry juice is pure pomegranate juice. You can buy some at the store or make your own by blending pomegranate seeds and then straining the juice.
Can you blend raw beets?
Yes, you can totally use raw beets to make this cranberry juice smoothie. I do recommend using a high-speed blender in that case for best results. I like pre-cooked beets as they provide a silky smooth texture.
Can you make this smoothie with fresh cranberries?
I have not tested this recipe with fresh or frozen cranberries since it has been specifically developed to use cranberry juice.
What are some unsweetened cranberry juice brands?
Lakewood has very high-quality cranberry juice made from fresh pressed cranberries. Ocean Spray and R.W. Knudsen Family have 100% cranberry juice made from concentrate. Great value organics, Walart's organic brand also carries 100% cranberry juice from concentrate.
Don't forget to join the Cooking With Elo newsletter. You'll get gluten-free and vegan dinner ideas sent right to your inbox.
The recipe
Cranberry Juice Smoothie
100% pure cranberry juice makes an incredible base for smoothies. Its slightly sweet and sour taste gives this smoothie a refreshing kick.
Print
Pin
Ingredients
¼

cup

(

60

ml

)

100% pure cranberry juice

¼

cup

(

60

ml

)

water

1

(

120

ml

)

orange

½

cup

(

100

g

) ready-to-eat cooked beets

cut into cubes, sub frozen banana slices

½

cup

(

75

g

)

frozen raspberries
Instructions
Peel the orange and cut it into quarters.

Remove a precooked beet from its packaging and cut it into cubes.

Add the cranberry juice, water, orange juice, beets, and frozen raspberries to your blender jar.

Blend on high until perfectly smooth.
Video
Nutrition
Calories:
196
kcal
|
Carbohydrates:
49
g
|
Protein:
3
g
|
Fat:
1
g
|
Fiber:
8
g
|
Sugar:
35
g
Leave a rating and comment below! Thank you!
Don't forget to mention @cookingwithelo on social media