This Martini Bianco Spritz is pure summer in a glass. It's bubbly, slightly sweet and makes the perfect boozy refreshment. You can easily make it for one or for a crowd.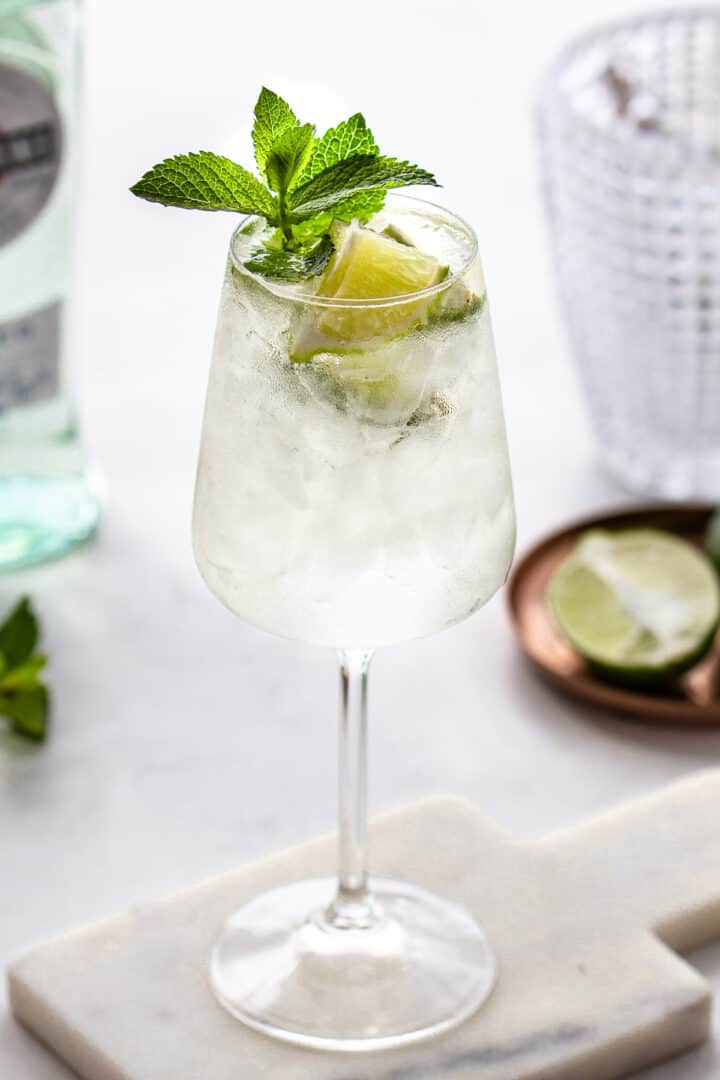 Martini Bianco 1-0-1
What is Martini Bianco?
Martini Bianco is a clear, medium dry vermouth. In this case, white wine has been infused with herbs and botanicals to produce an aromatized liqueur. It's sweeter than the extra dry vermouth from the same manufacturer.

What does Martini Bianco taste like?
This Martini has a floral aromatic base with a subtle touch of vanilla and lemon.
Is Martini vegan?
According to Barnivore, all Martini products contain traces of animal products and are not vegan friendly. It's apparently due to the use of gelatin of animal origin during the filtration process.
Barnivore is a crowdsourced platform, where vegans from all over the world ask producers if their products are vegan and share the answers online.
How do you drink Martini?
The most common way to drink Martini is over ice. However, it's also a fantastic mixer that you can drink with soda water or lemonade, or use in cocktails such as this Martini Spritz.
What is a Spritz?
A Spritz is a cocktail made with Italian liqueur, Prosecco and sparkling water. It's usually made with Aperol, Campari, Martini or Cynar. Spritzes are commonly served as an aperitif in Italy. The most popular one is probably the Aperol Spritz made with orange bitter.
Why you'll love this recipe
This Martini Spritz is made with only 2 main ingredients, Martini and prosecco.
You don't need a cocktail shaker or bartender skills to make this cocktail recipe.
It's a great alternative to the classic Aperol Spritz if you're not a fan of Aperol.
It's the perfect aperitivo to enjoy with snacks and good company before a meal.
Key ingredients
Martini Bianco is the liqueur used for this cocktail recipe. I like the sweetness of the Martini Bianco (versus Martini Extra Dry) for this Spritz. However, both work great.
Prosecco is an essential part of a Spritz. I recommend a relatively dry prosecco (often labeled a "brut" or "semi-brut" as the Martini liqueur is already quite sweet.
Sparkling water or soda water makes the drink extra fizzy.
Lime and fresh mint make beautiful garnishes but also add a pleasant acidity and freshness. You can also use an orange peel twist to enhance the citrus flavor of the drink.
See recipe card for exact quantities.
Elo's tips
Place your wine glasses in the freezer for 30 minutes before serving for an ice cold drink.
Make the Spritz in a large jug if you're hosting a summer party. You'll need 16 fluid ounces (480 ml) of Martini for a bottle of Prosecco. Serve it up quickly to prevent the Prosecco from going flat.
Step-by-step (with pictures)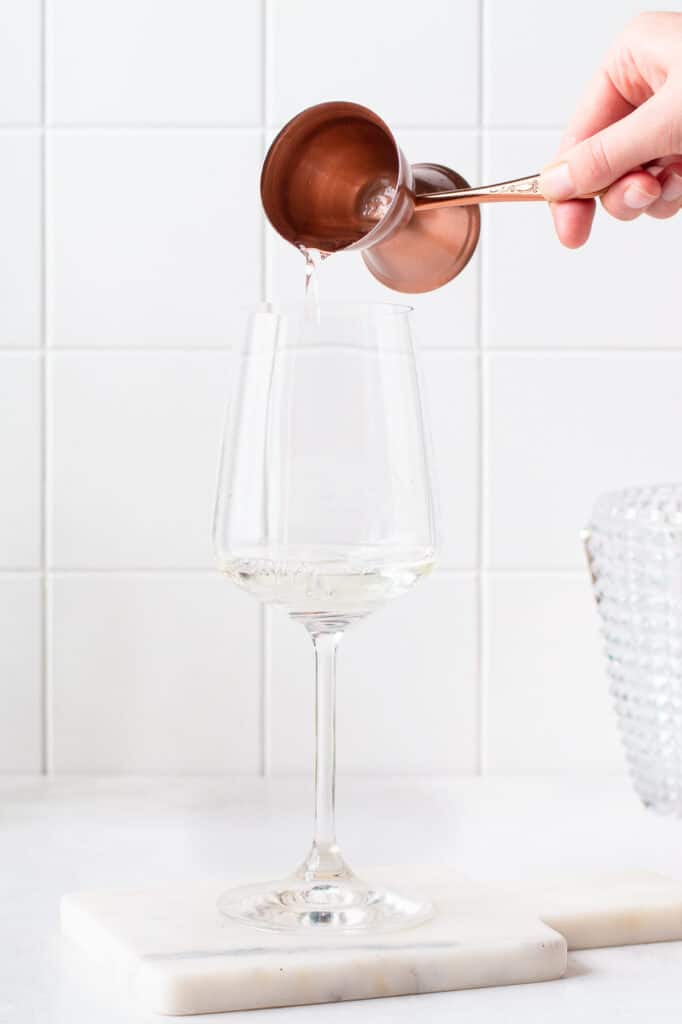 STEP 1: Pour the Martini into a wine or ballon glass.
STEP 2: Fill it up with lots of ice. I like to use crushed ice for a refreshing cocktail but ice cubes work, too.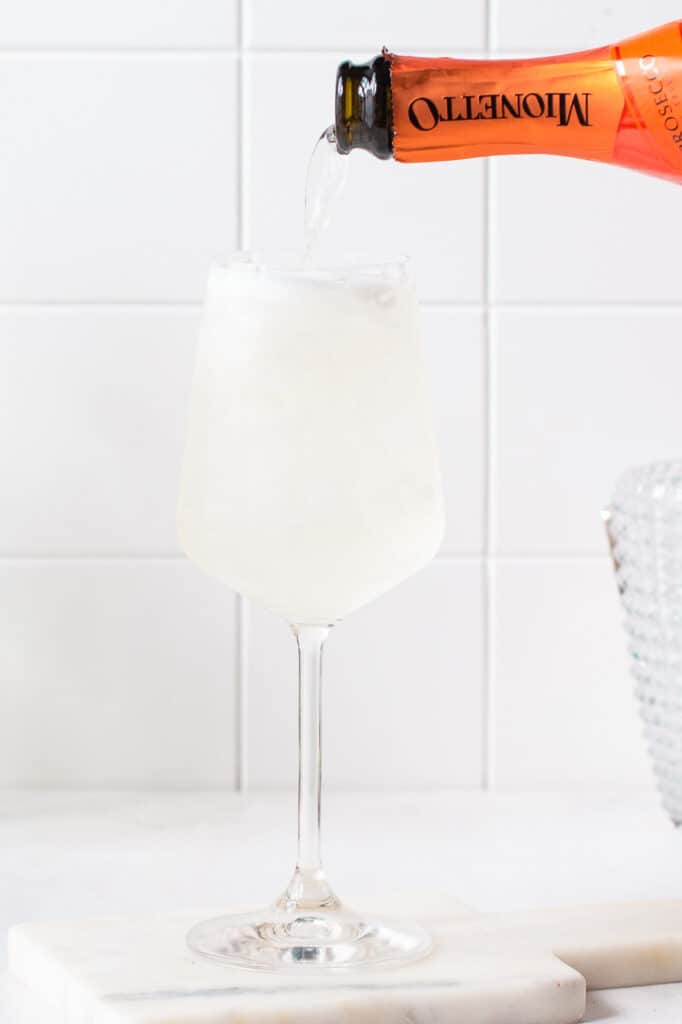 STEP 3: Top it off with prosecco and a splash of soda water. You can eyeball it or measure it out with a cocktail jigger. Give it a quick stir.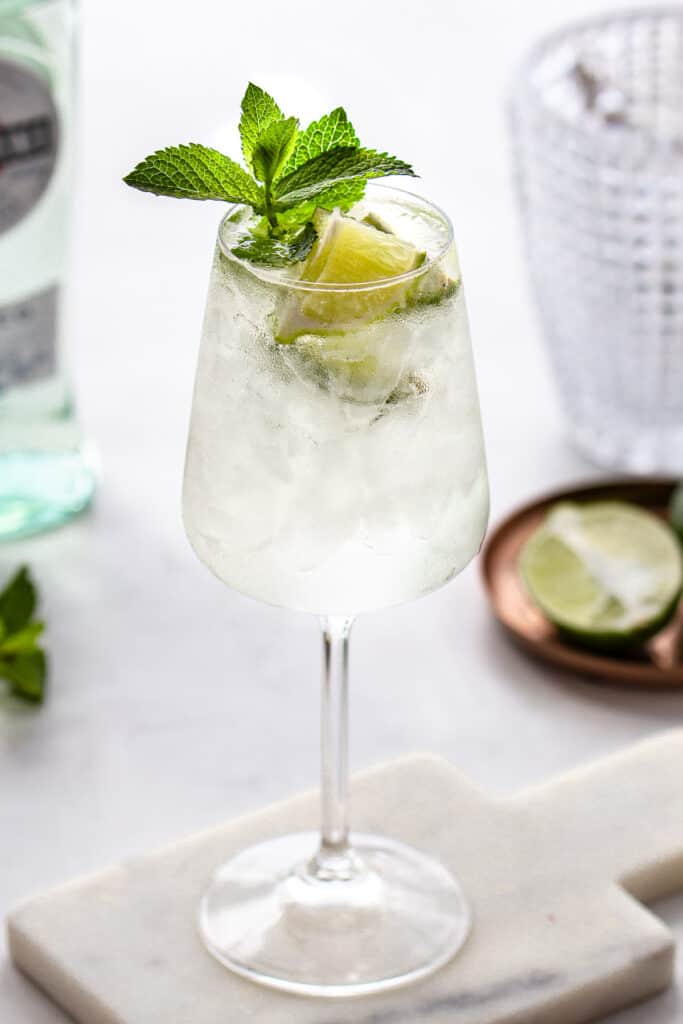 STEP 4: Garnish with lime wedges and fresh mint. Serve right away.
Frequently asked questions
Where can you buy Martini Bianco?
You can buy any type of Martini at well-stocked liquor stores. Check the liqueur sections (next to the Campari). Alternatively, you can also find it online.
What can you use instead of prosecco?
You can substitute prosecco with other sparkling wines such as Cava or champagne. Tonic water is also a great alternative to prosecco (check out our Martini Tonic recipe).
Don't forget to join the Cooking With Elo newsletter. You'll get gluten-free and vegan dinner ideas sent right to your inbox.
The recipe
Martini Spritz (Martini Bianco Cocktail)
This Martini Bianco Spritz is pure summer in a glass. It's bubbly, slightly sweet and makes a perfect boozy refreshment.
Print
Pin
Ingredients
1.5

oz

(

45

ml

)

Martini Bianco

3 tablespoons

Crushed ice

2

oz

(

60

ml

)

Martini prosecco

¼ cup

1

splash of

sparkling water

2-3

lime wedges

1

sprig of

mint
Instructions
Add the Martini to a wine or balloon glass.

Pour in the Prosecco and finish it off with a splash of sparkling water.

Garnish with lime wedges and a sprig of mint.
Video
Nutrition
Calories:
73
kcal
|
Carbohydrates:
6
g
|
Fiber:
1
g
|
Sugar:
1
g
Leave a rating and comment below! Thank you!
Don't forget to mention @cookingwithelo on social media
Loved it? Please rate it!
If you tried this recipe or any other recipe from the blog, make sure to let me know how you liked it by leaving a star rating and a comment below. Your feedback really matters! To never miss a recipe, follow me on Instragram, Pinterest and Facebook.
Discover more recipes