Sauteed broccolini is great as a side dish and can be eaten hot or cold during fall, winter and spring. The 4-ingredient Asian dressing brings the flavors to the next level and won't disappoint you.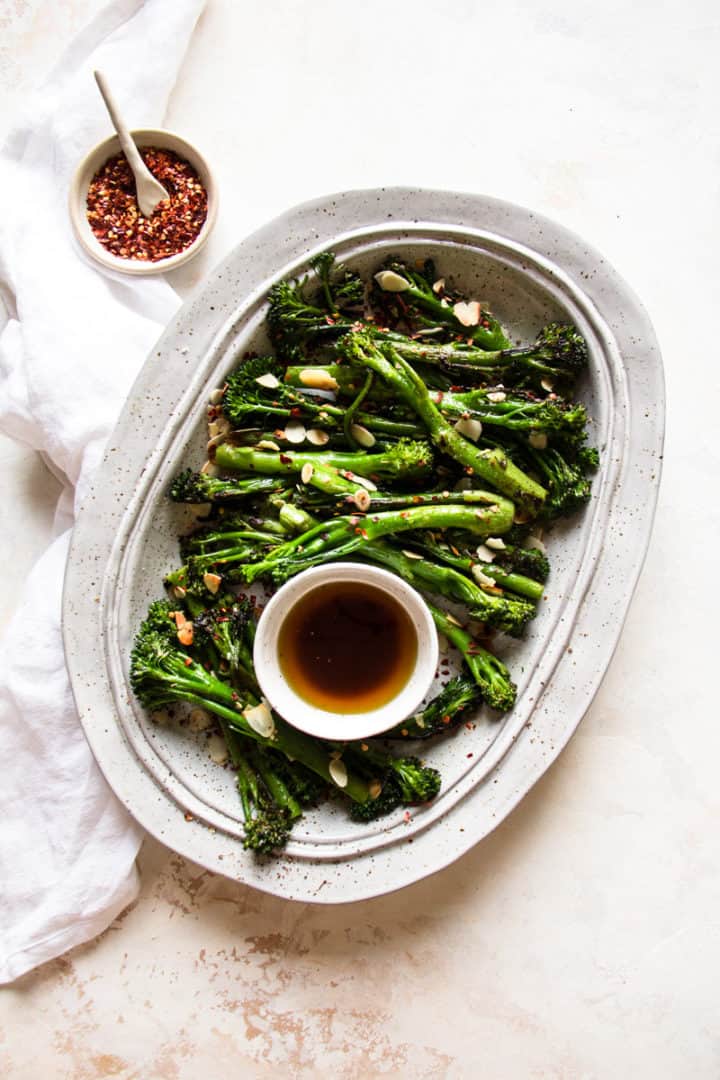 Jump to:
Let's chat about broccolini
Origin. Broccolini is originated from Japan. It is a hybrid plant made from cross-breeding broccoli and Chinese broccoli (it is not a genetically modified vegetable). The leafy vegetable is commonly used in Asian cuisine.
Season. The peak season of broccolini is from October to April, so from autumn until spring.
The difference with broccoli. Broccolini is a cross-breed between different types of broccoli resulting in long and thin stems with smaller florets. They cook more quickly than broccoli but taste very similar.
Buying broccolini. Look for broccolini with strong and fresh bases.
Cooking. Common ways to cook broccolini are steaming, sauteeing and oven-roasting.
Healthy side dish
Serving sauteed broccolini as a side dish is a great way to load up on vegetables. Eat them with baked potatoes and a source of protein for a nutritious meal. It's also a great vegan option to serve to guests or family members, who follow a vegan or vegetarian diet.
How to cook broccolini in a pan
The easiest way to cook broccolini is to sautee it in a pan. You don't need to pre-cook it in water. Simply place the broccolini stems in a hot pan with vegetable oil and sautee for 5 minutes without flipping them. They should turn golden brown. Flip the stems, add a splash of water and cook them for 3-5 additional minutes until the water has evaporated.
4-Ingredient Asian marinade
Our favorite way to serve broccolini is to toss in an Asian-inspired marinade made from:
Vegetable oil. By default I use olive oil but you can use your favorite vegetable or dressing oil.
Sesame oil.
Tamari. I like to describe tamari as a concentrated, gluten free soy sauce (most soy sauces contain wheat and are not gluten free).
Maple syrup. The sweetness of the maple syrup goes really well with the tamari and sesame oil.
Substitutions
Tamari. You can use any gluten free soy sauce instead of tamari.
Maple syrup. You can use agave syrup to replace maple syrup.
Slice almonds can be substituted by any other type of nuts or seeds (if nut-free)-
Frequently asked question
Can I use broccoli instead of broccolini?
If you can't find it at your local grocery store or if you want to avoid imported produce, you can easily substitute broccolini with broccoli. However, since broccoli has a longer cooking time you might want to pre-cook it in boiling water for 10 minutes before sauteing it.
More salads and side dishes
The recipe
Sauteed Broccolini With Asian Marinade
Sauteed broccolini can be eaten as a hot or cold side dish. The 4-ingredient Asian marinade doesn't fail to bring the flavors to the next level.
Print
Pin
Ingredients
For the broccolini
400

g

broccolini

1

pinch

of sea salt

1

teaspoon

red pepper flakes

more to taste

2

handfuls

of sliced almonds
Instructions
Heat a large pan with olive oil. When hot, place the broccolini stems next to each other in the pan. Sauté on one side for 5 minutes over medium-high heat. Flip the stems, add a splash of water and sauté until the water has evaporated (3 to 5 more minutes). Season with sea salt.

In a small bowl, combine the olive oil, sesame oil, tamari and maple syrup.

Place the broccolini on a serving plate while still hot or wait until it has completely cooled down. Top with the marinade, red pepper flakes, sliced almonds and toss. Serve right away.
Notes
*You might need to cook the broccolini in 2 batches if your pan is not large enough.
**You can use broccoli instead of broccolini for this salad. Make sure to cook the broccoli in boiling water for 10 minutes before sauteeing it.
Leave a rating and comment below! Thank you!
Don't forget to mention @cookingwithelo on social media
If you tried this recipe or any other recipe from the blog, make sure to let me know how you liked it by rating it and leaving a comment below! Your feedback really matters! Follow me on Instragram, Pinterest and Facebook to never miss a recipe.
Discover more recipes