If you have ever wondered how to cook tofu and get it crispy, this recipe is for you! Discover how to make the best, cashew-crusted pan fried tofu in just 25 minutes! It's the perfect addition to your veggie stir fry, tofu bowl, tofu wrap or even spring rolls! Plus you only need 4 ingredients for the tofu marinade!
Jump to:
Pan fried tofu
This tofu recipe is one of the basic recipes you need if you're on a plant-based diet or trying to reduce your meat consumption. It's no secret that tofu is a great plant-based protein source, especially when you cut out animal products.
If you don't have an air-fryer and don't want to wait for baked tofu to be done, this quick and easy pan fried tofu recipe is the one you need to try! Get rid of that plain tofu taste by adding the marinade and make it even more crispy by adding ground cashews. Note that the cashews won't perfectly coat the tofu (as shown in the pictures), but it will all crisp up together in the pan. You can add this to any of your meals and transform it into the perfect tofu dinner.
How to make tofu crispy
The secret to get the tofu extra crispy, is to let it sit in the pan over medium to high heat without stirring for about 5 minutes. That way, the sugar from the maple syrup can caramelize and the tofu will turn golden-brown. It should be just long enough to get it crispy without burning it.
Crispy tofu marinade
The tofu marinade is slightly sweet and somehow reminds of teriyaki sauce. However, it doesn't require as many ingredients and is way easier to make. You can either let the tofu marinate in it before pan-frying it or add the marinade to the pan and wait until it's hot before you add in the tofu (as described in this recipe). The 4 ingredients you need are:
Olive oil acts as a base and allows you to cook the tofu in the marinade, as described in the recipe below.
Sesame oil adds that extra little something and reminds me of a teriyaki sauce.
Tamari (or gluten free soy sauce) is a must in any tofu marinade!
Maple syrup balances out the sodium of the tamari or soy sauce and adds a sweet touch to the marinade.
Step-by-step with pictures
Drain the tofu and cut it into cubes. To remove excess water, press the tofu between your hands. Cut it in slices and then into cubes.
Make the cashew crust. Blend the cashews in a blender or food processor.
Coat the tofu. add the ground nuts to the tofu cubes and mix. The tofu will not be perfectly coated.
Make the marinade. Simply add the olive oil, sesame oil, tamari and maple syrup to a small mixing bowl and mix. Add it to a large frying pan and wait until it's hot.
Pan-fry the tofu. Once the marinade is hot and starts bubbling, add the cashew-crusted tofu to the pan. Toss quickly, then let it sit for 5 minutes without stirring. Finally, let it cook for 5 more minutes while stirring regularly.
Subsitutions
This pan-fried tofu is vegan and gluten free.
Replace the cashews: if you want to make the recipe nut free, you can simply leave out the cashews or replace them with ground sunflower seeds. I'd however recommended using fewer sunflower seeds compared to cashews, as they have a stronger taste.
Replace the tamari: as stated in the recipe, you can replace the tamari with gluten free soy sauce or coconut aminos for the marinade. You can also use reduced-sodium tamari, but it will make the sauce slightly sweeter. If you want to avoid this, only add 1 teaspoon of maple syrup instead of 1 tablespoon.
Storage and reheating tips
Once the tofu has cooled down, transfer it to an air-tight container with a lid and store it in the fridge for 3 to 4 days.
The best way to reheat the tofu is to add it back to a pan with a little oil and let it crisp up. By reheating it in the microwave, the tofu will become soft and lose its crisp.
Recipes to try with pan fried tofu
The recipe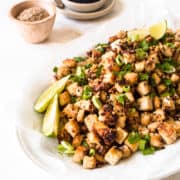 Pan Fried Tofu In A Cashew Crust
The best cashew-crusted pan fried tofu that is ready in 20 minutes. It's the perfect addition to a veggie stir-fry tofu bowl, tofu wrap or even spring rolls!
Print
Pin
Equipment
Cutting board and sharp knife

Small blender or food processor

Mixing bowls

Large pan
Instructions
Drain the tofu and press it between your hands to remove any excess water.

Cut the tofu block in 2 or 3 slices. Cut them into small cubes (see step-by-step pictures in post above).

Blend the cashews in a food processor until ground.

Place the tofu cubes and ground cashews into a bowl. Mix until the cubes are partly coated. The cashews will get a little wet due to the remaining moisture of the tofu.

To make the marinade, mix the olive oil, sesame oil, tamari and maple syrup in a small mixing bowl.

Add the sauce to a large pan and heat over medium-high heat until it small bubbles start to appear.

Add the tofu, toss and let sit without stirring for 5 minutes over medium-high heat.

Then, stir it all up. Brown 5 more minutes while stirring regularly.
Leave a rating and comment below! Thank you!
Don't forget to mention @cookingwithelo on social media
If you tried this recipe, make sure to let me know how you liked it by rating it and leaving a comment below! Your feedback really matters! Follow me on Instragram, Pinterest and Facebook to never miss a recipe.
Discover more recipes