This apple, cucumber, and spinach green juice smoothie tastes SO GOOD! The added lime and ginger give it a zingy and fiery kick that makes it super light, and refreshing. Trust me this green smoothie is the perfect addition to your morning routine.
This smoothie is perfect if you're at the beginning of your green juice journey as it combines both fruits and veggies. It has a mild, slightly sweet taste from the apple juice and mango, which makes it super easy to drink.
I love that it's hydrating and refreshing, which made me crave it on hot summer days. It's definitely become my go-to!
For more mild-tasting green smoothie recipes, check out this tropical spinach smoothie and this spinach avocado smoothie.
Jump to:
Why you'll love this recipe
This smoothie actually tastes like a delicious green juice.
It doesn't contain any earthy and grassy vegetables such as kale, celery, or other dark leafy greens.
It's ready in 5 minutes!
It makes you feel healthy and boosted for the day.
This green juice smoothie has more fiber than a regular green juice.
It's also a lot healthier than pre-made green smoothies, which often contain added sugar and flavorings.
It makes a great snack or addition to your breakfast (this smoothie is not conceived to replace a meal).
Key ingredients and substitutions
Cucumber has a high-water content (95% water) that makes this green smoothie extra hydrating. Choose an organic cucumber if you want to use it with the skin.
Baby spinach has a pretty mild taste and is not bitter compared to other vegetables.
Fresh mango provides a creamy consistency and makes the smoothie feel less fibrous. You can replace it with pineapple or leave it out if you don't mind a more liquid drink.
Apple juice cuts the grassy flavor of the cucumber skin. I use cloudy apple juice made from 100% apples that still contains some fruit pulp left and is richer in polyphenols. I also find it more flavorful than clear apple juice. To prevent the smoothie from being overly sweet I recommend using half apple juice and half water.
Fresh lime juice gives the smoothie a zingy touch and makes it extra refreshing. Don't skip it.
Ginger gives it a spicy kick. You can use fresh or ground ginger depending on what you have on hand.
Hemp seeds are a great source of plant-based protein with more than 3 grams of protein/per tablespoon. They are totally optional though.
Elo's tips
Use ground ginger if you don't have a high-speed blender or you may have fibrous bits and pieces in there.
Wash and cut the fruit and veggies ahead of time for super quick preparation. I usually cut up enough vegetables for 3 smoothies at a time and keep them in small airtight containers in the refrigerator.
Use frozen mango for a super cold and even creamier drink.
Keep the apple juice in the refrigerator for a cold smoothie.
Add 2-3 ice cubes, if it's not cold enough.
Add the liquids first. This allows the blender to suck the ingredients into the blades correctly and ensures a great blending process.
Step-by-step instructions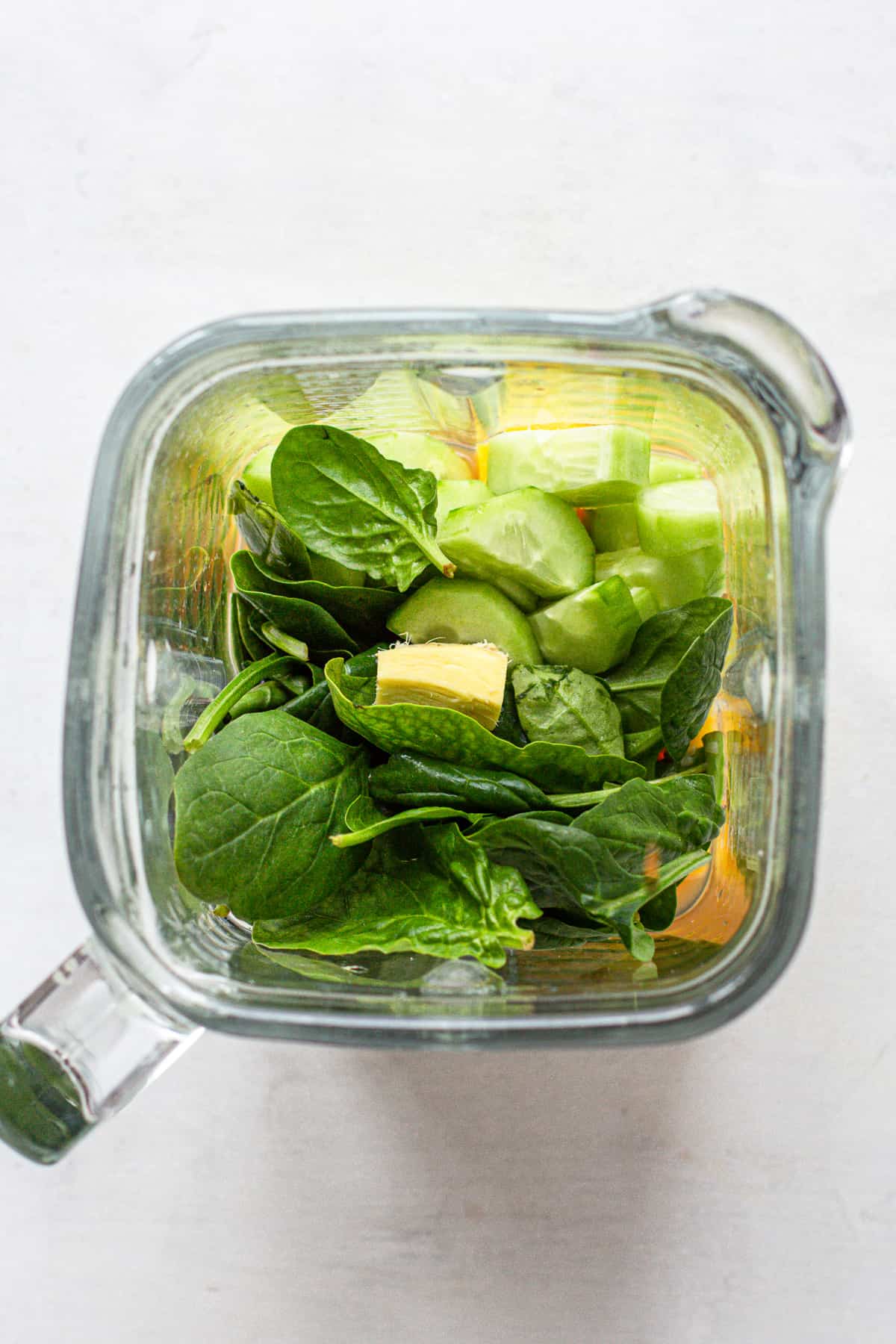 STEP 1: Add the ingredients to your blender. Start with water and apple juice. Then, add in the mango, cucumber, fresh spinach, lime juice, and ginger. Feel free to add hemp seeds for a protein boost.
STEP 2: Blend until perfectly smooth. It usually takes about 30 seconds. Make sure to use the smoothie program of your blender if it has one.
Watch how to make it
Favorite smoothie blender
I use the Kitchenaid K400 for all my smoothies and absolutely love it. It's extremely powerful, easy to use, and turns even the thickest and most fibrous ingredients into a creamy smoothie. If you're on the lookout for a high-speed blender, make sure to read my Kitchenaid K400 review to see if it might be a good fit for you, too.
Variations
Add 2-3 fresh celery stalks for an even greener smoothie. Add more water if needed.
If you don't want to add celery stalks, consider adding only the celery leaves. They are packed with calcium, potassium and vitamin C.
Replace the mango with fresh or frozen pineapple chunks or a juicy peach.
Add in a kiwi for some acidity.
Replace the apple juice with orange juice or passion fruit juice for a fruitier flavor.
Use coconut water instead of regular water. It's naturally sweet and packed with nutrients and minerals, such as calcium, magnesium, and potassium.
I don't recommend adding nut butter, or protein powder to this smoothie.
Frequently asked questions
Are green smoothies good for you?
Green smoothies can be considered healthy. They are a great way to include a few extra servings of fruits and veggies into your diet and help you meet your daily nutrient requirement. They are usually high in fiber, nutrient-rich and packed with vitamins and minerals.
Can you taste spinach in smoothies? 
You cannot taste the spinach in most smoothies, especially if they also contain fruits. This particular green smooth may have a very mild "green" taste from the cucumber if you leave the skin on.
Do you need to peel ginger for smoothies?
No, you can wash it and add it to your smoothie unpeeled. It won't taste any different and prevents you from wasting all the peels.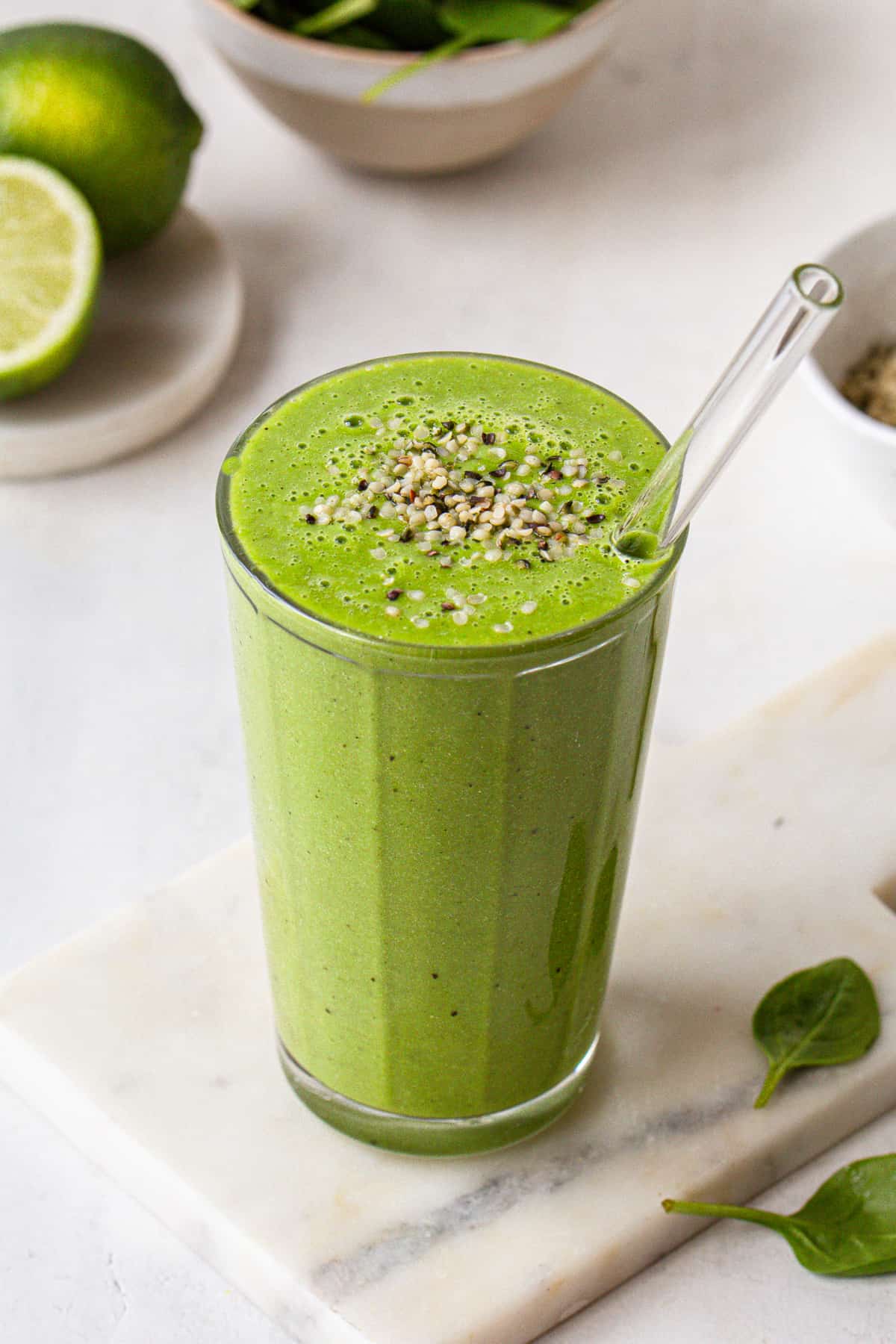 Don't forget to join the Cooking With Elo newsletter. You'll get gluten-free and vegan dinner ideas sent right to your inbox.
The recipe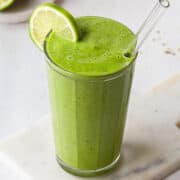 Green Juice Smoothie (No Banana)
This apple, cucumber, and spinach green juice smoothie actually tastes really good! The added lime and ginger give it a zingy and fiery kick that makes it super light, and refreshing.
Print
Pin
Ingredients
½

cup

(

120

ml

)

100% apple juice

½

cup

(

120

ml

)

water

½

fresh mango

⅓

cucumber

choose organic if leaving the skin on

½

lime

2

handfuls of

baby spinach

½

teaspoon

ground ginger

or 1 thumb-sized piece of fresh ginger

1

tablespoon

hemp seeds

optional
Instructions
Cut the mango lengthwise along the seed. Score the flesh with a paring knife in a criss-cross pattern. Scoop out the mango chunks.

Wash the spinach and cucumber. Optionally peel the cucumber and cut it into thick slices.

Add the apple juice, water, mango chunks, cucumber pieces, lime juice, baby spinach, fresh or ground ginger, and hemp seeds (if using) to a high-speed blender.

Blend on high until perfectly smooth or use the smoothie program of your blender.
Video
Nutrition
Calories:
232
kcal
|
Carbohydrates:
37
g
|
Protein:
7
g
|
Fat:
8
g
|
Saturated Fat:
1
g
|
Fiber:
4
g
|
Sugar:
28
g
Leave a rating and comment below! Thank you!
Don't forget to mention @cookingwithelo on social media
Loved it? Please rate it!
If you tried this recipe or any other recipe from the blog, make sure to let me know how you liked it by leaving a star rating and a comment below. Your feedback really matters! To never miss a recipe, follow me on Instragram, Pinterest and Facebook.